Windows Phone Basics: The People Hub
WPCentral's Guide to the Windows Phone People Hub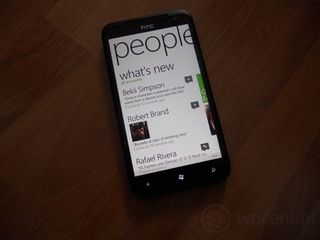 Our next helpful article for those who are new to Windows Phone covers the People Hub - the one stop for all your social requirements when on the go. The People Hub, as the name suggests, is where all your contacts are available to communicate with. Upon launching the hub from the home screen (tile is present by default - a mosaic of randomly generated photos) you'll be presented with your profile summary with latest Facebook status or tweet (if not simply swipe to the right - we'll keep things simple and start from the contacts list).
Underneath the Live ID photo and status is a list of synchronised contacts pulled down from your Windows Live account and any other account you have set up on your Windows Phone (Facebook, Outlook, Google, etc.). Settings can be manipulated to filter and show / hide friends from the various accounts (more on this in a second).
Selecting a contact will display available details for Facebook, Twitter, LinkedIn as well as numbers, addresses and other miscellaneous information. You'll notice in the app bar is a "link" option, selecting this will show similar contacts which can then be merged to keep things neat and tidy should you have the same contact on both Live and Facebook (or even Twitter and LinkedIn as well).
Swiping within a contact will reveal the "What's New?" pane, which is the RSS feed of social activity for that individual. Latest tweets, images, Facebook status updates and Live updates are located in this list. Swiping again moves us onto photos that are available on their Facebook and Live accounts. Photos can be downloaded, commented on, and applied as wallpapers - this is the beauty of how deep Windows Phone integration is. Last, and by no means least, we have the contact history. This pane lists all communications between yourself and that individual, whether it be SMS, email or previous phone calls.
It's all about Me
Moving back out of the contact view, let's take a look at the "Me" area of the People Hub. Selecting your photo at the top of the contact list will take you into your personalised Windows Phone social media HQ. The user is able to post messages to social networks; log into Messenger (and Facebook Chat); view Twitter, Facebook and LinkedIn notifications; and view your own "What's New?" - which can also serve as an preview of how other Windows Phone users would see your social updates.
As well as actually visiting your Me section of the People Hub, you can also pin a 'Me tile' to the home screen for more convenient access (check the pin option in the app bar).
So what is new?
The "What's New?" pane in the People Hub is much like the individual news feeds within contacts, except this feed pulls down all updates for all your contacts and display them in one easier-to-digest location. As with contact specific news feeds in the hub, you're able to comment, 'like', retweet / reply, view photos, and more.
What social networks are active in this feed is configurable, which is especially handy should you be a popular chap on Facebook for example.
Check your recents
Next to "What's New?" is the recent section, which displays a number of contact tiles you've recently communicated with (or accessed through the hub itself). Think of the history list in the Music and Videos Hub, this section of the People Hub provides easy access (and viewing) of recent communications or activity.
Join my group
Another neat feature of Windows Phone is groups. Contacts can be sorted into easily accessible groups that are displayed above the contact list. In the photo above we have a "family" group with some contacts added. Selecting the group will list all the contacts added into the group as well as a "What's New?" pane that'll bring down the feeds for the group only.
Groups can be pinned to the home screen, much like the Me tile, and act like the linked mailboxes with regards to convenience.
There's a setting for that
The People Hub settings can be accessed from the hub itself (via the "..." menu in the app bar) or through the main settings (settings > applications > People). Here the user is able to manipulate a number of options, including:
Import SIM contacts
Filter contact list (hide/show contacts from your social networks and accounts)
Hide/Show updates/posts from hidden contacts (see above option)
Sort (and display) contact list by first or last name
Allow hub to use location to find nearby places to check-in
Account (and email) management
The People hub is the social gateway for Windows Phone users, and while it may appear to be relatively light in functionality, everything from social network feeds to groups and communication history is all fully integrated without the requirement for third-party apps on the Marketplace.
Check out our quick look at the People Hub in the video below.
Be sure to check out our other tutorials, including a guide for the Pictures Hub.
Rich Edmonds is Senior Editor of PC hardware at Windows Central, covering everything related to PC components and NAS. He's been involved in technology for more than a decade and knows a thing or two about the magic inside a PC chassis. You can follow him over on Twitter at @RichEdmonds.
I understand there is a security setting within Facebook that prohibits third party apps like the people hub from accessing posts. I don't use the people hub much because many of my friends' posts don't show up. It's frustrating to have to use the Facebook app since this functionality is supposed to be built in. Is Microsoft (and Facebook) making any progress on this issue? I haven't heard anything on this for a while.

Yes, people can disable sharing to third party apps using the "How people bring your info to apps they use" area of Facebook's Privacy Settings. It is an overall good thing that Facebook gives this control to their users, but it does ruin the functionality of some otherwise good apps. I've pretty much given up on using Windows Phone's People Hub or the Xbox Facebook app for checking Facebook since neither of them show many of my friends' updates. There was talk about Microsoft trying to make People Hub a first party app, but I'm not sure how they could do that considering it is, by definition, not first party. So many of my friends have disabled everything sharing to third party apps that, like I said before, the People Hub is pretty much useless to me for Facebook.

Everyone in MS's contact list is either a model or has a really good photagrapher as a friend. :-)

People hub has some issues. When I try to edit a contact info, I choose the pencil icon and Windows Phone shows me a list of accounts from where that contact's info came from. The problem is some times WP show many instances of the same account, some times with different information.

Login to windows live on your computer and you can clean up your contacts to remove most duplicates

The people hub and me tile could be such killer phone/os selling points if they could fix the third party issue with facebook. it is still nice to have as it is, but could be so much more.
I know Microsoft develops their facebook app in-house and it is still considered first party. I guess they would need to get facebook directly involved with the os portion of the phone to do something like that.
right now I use it to post quickly, check in, and to view twitter. but facebook is what I really want to use it for in the future. Let's keep our fingers crossed they figured something out with the apollo update!

My people hub has been showing all of my Facebook friends posts for almost 2 months, before that I had alot people that I wanted to see posts from and couldn't, but now do, I doubt my friends changed their settings. I know for sure 1 good friend still has 3rd party apps blocked and I get her posts in the people hub. Before that fix it was my biggest complaint about WP and FB. Maybe its just taking FB a while to update all of their servers.

I definitely still miss many posts from Facebook in the People Hub. I just did a comparison and found quite a few missing. Nothing has changed as far as I'm concerned, but I really wish Microsoft would fix this!

My people hub was also fixed a month back or so. I see all the posts that I see on FB on the most recent sorting.

I wish like in regular FB that I could not show all of the game requests. I don't care if someone needs bread or lava or wants me to play something. I just want real status updates... That would be awesome.

The way I avoid frustration with facebook feeds is by keeping a relevant list of friends and ensuring that settings on their side and mine are just fine.
That said, I don't find it easy to follow feeds within the Peoples Hub, I would like to see a Nokia N9 type implementation with event view just a swipe away.
I noted a few things on peoples hub which are irritating to me e.g. 1) I have to get into a group to add a contact to that particular group and I wonder why?? I would have expected an 'add to group' option when am scrolling all the contacts 2) No option for selecting and deleting multiple contacts - seriously? & 3) No avatars under 'What's New.
I like the Windows Phone smoothness but I expect some of the small things to improve going forward. I believe MS & Nokia will have exciting products in the near future. My Nokia Lumia 710 is not bad for a start in the world of Windows Phone.


I have a group designated for just twitter people and I pin the group and sometimes I go into the group and when I slide over to what's new side it says no news to share right now and itsl says that on a blank page, while on my live tile I can see some of the posts from my group contacts and also some of my twitter contacts are not in my people contacts even after I sync my twitter
Windows Central Newsletter
Thank you for signing up to Windows Central. You will receive a verification email shortly.
There was a problem. Please refresh the page and try again.