Windows Phone Central 155 - Missing things in Windows Phone, 7.8 and don't have kids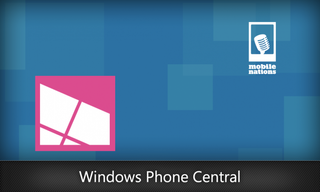 The Windows Phone Central Podcast is back! Join Daniel and Jay as we talk about Windows Phone 7.8, things missing from Windows Phone 8 this weeks apps and games and what's coming up for Mobile World Congress. Plus, as always, we take your questions!
Listen in above or watch the HD video below, your choice! Show length: 90 minutes.
Windows Phone Central podcast, episode 155 for 06 February, 2013
The big stories
The apps
The rest
Community
Credits
You can find us all on Twitter @wpcentral (opens in new tab), @daniel_rubino (opens in new tab), @coppertop004 (opens in new tab), @RichEdmonds (opens in new tab),
@JayTBennett (opens in new tab), @segacon, @WithinRafael (opens in new tab), @Big_D5 (opens in new tab), @groovepoint (opens in new tab), @samsabri (opens in new tab)
This has been a Mobile Nations podcast, go to Mobilenations.com (opens in new tab) for more great shows covering everything mobile, or head over to the WPCentral Forums (opens in new tab) if you'd like to get involved with our community in discussing more about Windows Phone news, devices and apps.
Thanks to the WPCentral Store (opens in new tab) for sponsoring the podcast. Thanks also to these great artists for the music and to CCMixter.org (opens in new tab) for offering a great database of Creative Commons music!
Daniel Rubino is the Executive Editor of Windows Central, head reviewer, podcast co-host, and analyst. He has been covering Microsoft here since 2007, back when this site was called WMExperts (and later Windows Phone Central). His interests include Windows, Microsoft Surface, laptops, next-gen computing, and arguing with people on the internet.
Hey is there any chances of windows phone 7.9 ? Please reply anyone

Many phones won't even get 7.8 so don't even dream about it.

Lol no... That's it for WP7. Nokia mobiles may get some extra crumbs, but that's it for the OS

I was in the live chat and I believe someone asked this question so listen to the podcast but I think people should enjoy 7.8 but look forward to upgrading to W8 as soon as its possible for them our hardware won't ever get WP8 so why keep pushing Microsoft to make updates we need to push them to fix things the WP8 users are unhappy with. My 900 isn't even a year old and I have fully accepted this

Really enjoyed the podcast but what's the point of Microsoft saying that 7.5 phones will be upgraded to 7.8 making us wait a lifetime and then, we'll, don't really expect your phone to be updated? Wow! Thanks for the XDA guys for the CAB method. And one other point, am I the only user who thinks every Windows Phone should be able to rent and purchase movies and TV shows directly on the device? I'm surprised that didn't make the cut.

Maybe they should've said "you'll get the update outside the US, otherwise you're gonna have a bad time" :P

For real though. We waited a lifetime for this.lol

No you're not the only one. I do a bit of traveling and I would love to be able to rent or purchase media and watch it on my L900.

Had fun during the live chat im going to listen again later

Guys, hurry up and update to WP8 before it's too late! Are you sure Lumia 920 will update to WP9? If you wait too long you may find out your Lumia 920 has been abandoned by Microsoft some 5 months after you bought it, so hurry up and let MS have your $$$'s before you pay them for another revolutionary device running WP9!

Except Microsoft said 18 months of OS update and support for Windows Phone 8 devicess, so...

MS said a lot of things. Where are the carrier independent updates? Where is the update program for enthusiast users? Yeah, right...

You're adding things. They never said anything about "carrier independent updates". Also, last I checked they have delivered on way more than they have not, meaning your one case ("enthusiast program") does not negate everything they say they are planning to do.

Did they actually say "OS updates" or just "support"?

Sorely missed Dan's cats ( Freckles and Buttercup, I think their names are) roaming around in the background.

lol, their names are a little more pedestrian: Jack and Zoe ;)

That's right folks don't have Kids! (But do aquire a clouder of Cats...) :D

Something wrong with that? :D

All I want in 7.8 is Bluetooth share, screen shot and maybe ringtone maker. And I shall be a happy kid. This is for my HTC Radar obviously.

I'm happy with 7.8 I'll upgrade to a 920 in April and I'm happier with 7.8 than my friends with android 2.3 devices that just frezze it reboot my lumia 800 is still a great phone.

I'd be just happy with using a pin for purchases, multiselect for messages (seriously do we need multiselect for WiFi networks???), multiselect for photos, full resolution photo emails, and smart dial. Semi basic functions. :(

This talk about folders is a bit worrying. Using the Tile interface makes folders obsolete. Thats why Apple and Android have folders. Sounds like Daniel wants to see the OSs merge into one. I think this is one area where WP needs no help. I do believe some third party will provide some sort of solution for this in the future. I think folders lead to junking up your phone. The tiles force you to use your realestate more wisely by forcing you to get rid of things you don't need.

Maybe, better than folders would be a possibility to rename the Apps or to give them a tag (long press on App, then "Tag").
Sometimes, Apps have very strange names and I have a hard time to find them quickly (there are some I do use mybe every 2 Months or so)

I'd be happy with 7.8 whenever the hell I get an update notification. I definitely can't get the force update to work on my desktop or MacBook.



ok.....how about giving us a free Nokia Lumia 920? and make us sign another 2 year contract. Otherwise a whole bunch are going to move to android or something like that. we waited for the upgrade and never got it. Its april already. I love my Lumia 900 but could use the different size and color tiles damit.
Windows Central Newsletter
Get the best of Windows Central in in your inbox, every day!
Thank you for signing up to Windows Central. You will receive a verification email shortly.
There was a problem. Please refresh the page and try again.