Unofficial Google Maps app gMaps bumped for Windows Phone 8 support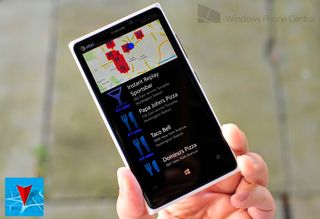 Although we know many of you are diehard Bing fans and loathe anything by Google, we won't look down upon you at all if you so occasionally choose to flirt with Google Maps on Windows Phone. While Google has infamously declared they have no plans for any official Windows Phone apps, developer Alexey Strakh has been working on his clone, gMaps, for quite some time now on Windows Phone.
Version 2.0 for the Pro version went live at the beginning of January and now its free sibling also just received a nice bump, including some Windows Phone 8 support. Although no changelog is posted, we can tell you that for Windows Phone 8 it does now support a doublewide Tile in addition to the smaller Tile...
gMaps also has the super important fast-resume function, meaning the app won't re-launch when you tap the Tile again but instead will resume from where you last left it. That's crucial for mapping apps as presumably it is something you'll hop in and out of frequently.
The app itself also benefits from new Windows Phone 8 programming as it seems quite fast and efficient on our Lumia 920. Of course users on 7.x can also use version 2.0 on their phones
We don't think we'd shock you if we mentioned that gMaps features just about everything Google offers in their official apps and is probably better than what they could do, right? Third party developers have always gone above and beyond what a lot of official sources tend to offer and that's the case here.
gMaps offers your location, map layers (including traffic and weather), your speed, compass support, driving directions, location discovery, Google Latitude, Street View, Share, Route to Contact, Night Mode and Live Tiles, to just name a few. It basically has the whole Google kitchen sink thrown into a nice little app.
The app comes in two flavors, both updated to 2.0: there's the free, ad-supported one, which can be found here or the ad-free Pro version here for $1.99. All Windows Phone versions are supported.
If Google Maps is your thing, there really is no other choice.
Via: Windows Phone Italy
Get the Windows Central Newsletter
All the latest news, reviews, and guides for Windows and Xbox diehards.
Daniel Rubino is the Editor-in-chief of Windows Central, head reviewer, podcast co-host, and analyst. He has been covering Microsoft since 2007 when this site was called WMExperts (and later Windows Phone Central). His interests include Windows, laptops, next-gen computing, and for some reason, watches. Before all this tech stuff, he worked on a Ph.D. in linguistics, watched people sleep (for medical purposes!), and ran the projectors at movie theaters because it was fun.
For you maybe. There are no Bing/Nokia maps for where I live

Needed for bicycle directions/ bicycle lane map. Also subway directions are much better on google maps.

Lets give Nokia some time, its still in beta

The only thing missing is the ability to navigate whilst in street view. Otherwise an almost great app.

It sucks, because you can't download maps...

Not for wp7, wp8 you can. Any navigation app in wp8 can use your downloaded maps

Really, how can you download *google* maps and have them avaialble for other apps to use?

Haha wait... in the app itself, is one of the options to get directions for driving by moped? Am I seeing that icon right? LOL

Its actually bicycle directions, but yea not sure why they use a segway for the icon.

I'll stick with Nokia products :) thanks though.

I wish Nokia Maps worked nearly as well as Google Maps. My main issue is POIs. The Nokia database for POIs in North America is horrid compared to Google. I understand this may be a completely different story outside of North America, but as it stands, for someone living in North America, Google is by far the best for POIs followed closely by Bing. Nokia is just horrible.
That said, I am a happy owner of a Lumia 920 and really enjoy Nokia and their other apps. Just very disappointed in their Maps... very disappointed.

Totally agree. Nokia sent me into a condo complex 20 min away when I was looking for radio shack. It also put me a mile off a 70yr old hotel in downtown DC, total garbage on poi

Keep pressuring them by tweeting @nokiacareus I'm in the middle of a string of tweets right now. Help put the pressure on them!

In my experience (South Florida), Google and Bing are pretty comparable as far as POI's go. Possibly, Google has the slightest edge, if any at all. What cannot be denied is that both Bing and Google POIs are lightyears ahead of those on Nokia Maps.

Keep pressuring them by tweeting @nokiacareus

I'm in the middle of a string of tweets right now. Help put the pressure on them!

Google map is still hand down the best map on the market because of its street wise infomation. For instance, it lists small businesses and restaurants as well as other tiny details missed by Nokia or Bing maps (which are, as many have pointed out, essentially the same). Gmaps is a great app so. Well done to the developers!
I personally don't see the benefits of being a fanboy/gal and stick with just that one company all the way. I'm not sure if that mindset is helpful. We as consumers should be able to pick and choose whatever products we feel most benefited from, regardless of whom develops the apps, tablets or laptops.

gMaps wp8 app is AWESOME, but Nokia maps are far better that google maps, more complete and spy-free ;)

Lol Definitely NOT! Nokia Maps is far far inferior to Google Maps no matter how you put it! In KSA, the latest maps Nokia has is like 3-4 years old. All the roads are outdated. And Google Maps is updated so often that it is really accurate. And this is not just for the Middle East but also for some countries in Europe as my friends have told me. Nokia still has a lot of catching up to do.

Nokia Maps is good for giving directions when you know the address. But bad for finding establishments when you use the search function.

Heheh, yeah, probably that is why Toyota chose Nokia over Google when choosing their platform... What do they know, right?
http://press.nokia.com/2013/01/31/here-platform-from-nokia-powers-toyota...

Audi, Kia and Hyundai use Google Maps! Get owned :)

They probably chose Nokia because Nokia doesn't have a self-driving car that might just turn Toyota's world on end.

Toyota just choose Nokia maps over Google :)


Probably because they got a better deal than Google. Kia and Hyundai chose Google Maps over Nokia... They are becoming HUGE players in the global auto market and are a significant threat to Toyota.

Audi is also using Google in some of their cars.

Nokia Maps are nowhere near as complete as Google maps. Not a Google fanboy by any means but Nokia Maps pisses me off how frequently it doesn't find businesses that I search for when Google or even Bing will find them.

And you're sending the feedback to Nokia via the Drive/Maps app, right? The app can't be improved upon unless you report issues.

I constantly send feedback through the "Nokia Maps" app about how horrible the POIs are. I have also contacted Nokia Care to bring this up. They never got back to me on this issue but every other issue I've brought up to them, I've had plenty of correspondence with Nokia Care. I also send plenty of Tweets to Nokia USA and now Nokia Conversations.
Trust me, I am trying to get this through to them that they NEED to update their POI database. I just wish I didn't feel like they're ignoring me on this and that there was more pressure from the community on Nokia directly to improve their POI database ASAP.

Anybody with a web browser can add, edit, and remove POI data from Google Maps (www.google.com/mapmaker). How could a closed team of Nokia staff even begin to compete with that?

I've had the paid version for at least 2 years...it's a great app whenever Google doesn't screw with the API.

Great app, used it on my Radar.
But now, nothing google is to enter my beautiful yellow Nokia Lumia 920 Windows Phone 8

I use gMaps Pro daily and am happy with the purchase but I don't think it is a very good implementation. The developers are great guys and do their best but it really does not compare to the official apps on iOS and Android (have both).

gMaps Pro frequently stops background updating of your location. The new version will supposedly allow them to resolve most Latitude problem without having to release a new version of the app. This was just demonstrated a couple of days ago when they were able to get Latitude working again within two days.

A rock solid app for background updating of Latitude is "Latitude Auto-Update" That is ALL that app does though. It does not show the location of your Latitude friends. Tried using the new version of gMaps Pro for background updating but am going back to the Latitude Auto-Update and turning off background updating in gMaps.

I hope that one day Google decides to release Latitude for Windows Phone but until then we have a good (not great) solution with gMaps.


No thanks... Don't want anything to do with google

I m proud to be 100% google free.
3 months today, and I feel good :D
Nokia maps, Skydrive, Office, Outlook.com are FAR better (but I use metrotube...C'mon Microsoft by Vimeo !!!)

Same. I REALLY wish Youtube had staid independent. Most of the Youtube people l subscribe to don't provide alternatives for viewing their content. Big G definitely has the monopoly on internet video

Good to see this kind of support. Too bad its still an ugly app. I won't touch it until the UI gets a big overhaul.

I love google and will download it:)

I wouldn't use ANY G-products in my Lumia...that'd be disgraceful.

No Need? Unless you use Google Latitude - which has no equal on any other platform. It's critical for my wife and I to share our locations with each other. And to know which state our parents (who bounce between multiple homes) happen to be in at the time.
Until there's a Latitude feature useful via WP8, I'll continue to use this great gMaps Pro app.

What's wrong with a text or phone call? Lol

Why do we need this? No offence to the developer. So is a better G+ app possible since everyone making all these google apps I will pay for that ...PS can u guys save the no one uses G+ replies cause its not true

I'm with you. I want a good G+ app. Their mobile site SUCKS and I have all but stopped updating there while on the go. It was the one thing I found WP7.x/8 to be missing. There are those "viewers", but they're all just re-showing the mobile site with some extra buttons. :(

Because it's awesome and far better than Bing maps or Nokia maps?
Also, G+ sucks donkey balls

I used both GMaps and Nokia/Bing maps for various reasons. One on GMaps for the Latitude. I simply dea withl alot of people I keep in contact on Latitude with but I love my 920, even though I still use my One X and Nexus 7. I have no problem cross platforming. But to be honest and after using Google Maps for 3 years, the UI and POI are simply better implemented. Unfortunately the GMaps lacks tremendously what the native app offers, but has nothing to do with the developer. The fact that you can download Nokia Maps is a huge benefit. Helped me when I was in the middle of no where this past weekend with no data service.
However, I honestly believe nothing is better than Nokia Drive. That is an A+ app for navigation. Unfortunately as it's been pointed out before roads that have existed for years are not shown in current Nokia maps. I have had some good POI listed on Nokia, but I have had it fail with accurate positioning several times when the location I was looking for was 5-6 blocks down the street.


No offline maps then no good for me.

Nokia Maps + Facebook Places is the way to go...
Try Social Scout app

Im sorry but nothing beats google maps, this app is smarter then Nokia drive in finding addresses.

True but Nokia Drive is a much better navigation app then Google Navigation. Easily.

There are so many mindless MS fanboys on here. I hear people talk about "disgrace", referring to putting google products on their prized posession. The real disgrace is that the hive mind is becoming every bit as stupid among WP8 users as it's been among Apple users for a long time.
The mere fact that MS or Nokia made something does not make it good, and neither does that product being the only one available make it actually acceptable. It's still subject to the same judgement and criticisms as everything else, and you need to call out whoever made it if it's sub-par. As soon as you lap up whatever Nokia/MS/HTC/etc gives you and call it awesome regardless of its real value, you've become one of them... One of those poor lost souls that cant think for themselves.
We dont need any more of those people. Keep the standards high because we're the little engine that could in about every way.

Agreed. Google Maps shi7s all over everything else. Google search is superior to Bing by a long mile

as long as maps in wp does not allow local search in japan, gmaps will be my go-to map provider. i think wp is superior to android in almost every way, but maps is not one of them.