Windows Phone Central community member nails the latest Nokia Lumia Photo Challenge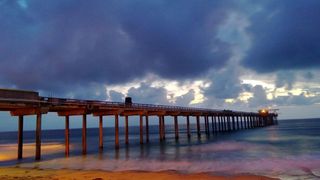 It shouldn't be a secret that Nokia likes to hold photo contests from time to time to showcase the cameras on the Lumia line of Windows Phones. The latest Nokia Lumia Photo Challenge dared readers to capture adventures at night with their Lumia Windows Phone.
The winner was announced over on Twitter and we would like to extend our congratulations to Windows Phone Central reader aaa6112 for his photo of the Scripps Pier in San Diego. The above photo was captured with his Lumia 920 and the prize for this wall hanger of a photo, a new Lumia 720.
Not sure what the next Nokia Lumia Photo Challenge will be but we'll keep an eye out for it and let you know.
Source: @Nokia_Connects
Windows Central Newsletter
Get the best of Windows Central in your inbox, every day!
George is the Reviews Editor at Windows Central, concentrating on Windows 10 PC and Mobile apps. He's been a supporter of the platform since the days of Windows CE and uses his current Windows 10 Mobile phone daily to keep up with life and enjoy a game during down time.
Never thought this would get published. Thanks George and WPCentral! I am really loving the camera on my Lumia 920 and have uploaded some of the photos I took at: https://skydrive.live.com/redir?resid=2D5B842E2667B4AA!918&authkey=!AIf6hhksJj7AWjw
When I bought the Lumia 920, I didn't know I'd enjoy taking photos as much as I do now. I knew nothing about taking good photos (still a beginner) but I learnt everything I know from the WPCentral forums. There's a ton of useful information in these forums. A big thanks to all community members for posting tips and helping others.
And finally, every photo I've uploaded to that SkyDrive location (and this one that won the competition) was shot using RiseUpGames' ProShot app. Amazing app and brings out the best from my Lumia 920 camera.


Congrats man! Awesome photo!!

Congrats! Great looking photos!

They are all great photos!

Way to go! So what is an owner of a 920 gonna do with a 720??? Well it's nice to win anyway I'm sure.

Awesome photos man! Grats!

GRATS!!! Now that I have a 928, I'll be gunning for you. ;-)


KUDOS, dude, that's a nice shot

Wow. Can't wait tell my black 928 comes in the mail.

Nice screen saver for me!

Stunning. Loss for words.

Haha i won the easy one where you matched your lumia to something the same colour

You just sold me on the proshot app. Great pic and congrats!

Great shot! Congrats again!

Oh great, another shot on my terrible photography skill...even the best camera phone in the world couldn't help me :/ Seriously though, I'd think that's a DSLR quality right there if I didn't know it's a 920.

Awesome work and congrats to aaa6112. Next time you should shoot the OB pier instead of Scripps :)
On a side note... I find it odd that Nokia is sending the winner a 720 when he took the shot with a 920. Seems like they could have thought of a better gift that might be more useful. Either way, a prize is a prize is a prize.
Congrats again!

Thanks! I did take some photos of the OB pier (love its T-structure at the end). However, I went there late in the evening and didnt get time to scout for a nice spot. Will definitely re-visit. :)

Edit: btw, the prize was announced at the start of the competition, so its not odd. :)

Beautiful shot congratulations!

Just out of curiosity, how do you change the exposure time on the phone. I didn't see that setting, but maybe I glanced over it. I have an HTC 8X BTW

ProShot app allows you to manually control shutter speed, ISO, and exposure bias. Amazing. Looking forward to improved awesomeness after the Nokia Amber update.

Congratulations, aaa6112! Beautiful picture. What settings did you adjust in ProShot to take this picture?

shutter speed 4sec, ISO 100, and I'm not sure what the white balance was set to - maybe "Cloudy". This photo was taken 30 mins after sunset. It was very cloudy and there was no external source of lighting (except for a couple of lamp posts whose light is seen in the sand at the bottom left corner of the photo). That is why a slow shutter speed was required.

Its like I've been touched by an angel

Why doesn't my 920 focus? It tries to focus for about half a second then it turns blurry again...

You probably have the scenes setting set to close-up. Open the camera app, tap the ... Menu, pick photo settings, and select reset to go back to the defaults.

Congratz! Awsome pic with great colors!!!

Congrats and I must say this is just mind blowing photography...a treat for my eyes and hard to believe fact that these are taken by our Lumia 920 !! Feeling proud to be a 920 owner..and yes hats off to ProShot !!
Congrats once again..!!

Can someone guide me to any link which gives useful insights to proper camera settings. Would love to try these on proshot!

Search the "Windows Phone Apps" forum for "Loving the ProShot app" thread. Should help you a lot.
Edit: Here you go: http://forums.wpcentral.com/windows-phone-apps/215564-loving-proshot-cam...

You better not sell your 720 on eBay or something...

The 720 will be family :), I can assure you that.

I thought this photo was taken with a DSLR at first.

Congrats mate. Nice pic. (y)

Congrats man! I just saw your collection on skydrive and it's awsome and it made me think to buy pro shot for my 920.

Thanks Fahad. There is no way you'll regret buying the ProShot app. Awesome app, extremely supportive dev, what more can one ask for? :-)

It's an OK photo, but it shouldn't lean so much to the left, that's a major NO NO :)

Agreed. This was one of those shots I took with a small flexible tripod mounted on a railing and it was tough to get a good angle. Moreover, it was completely dark so it was impossible to see anything in the viewfinder, so I couldn't tell if it was leaning or not. In retrospect, I should have done one of two things: either used the horizontal level marker in ProShot app, or slightly rotated the picture offline to make the line of horizon more horizontal.

True. But it's a good photo nonetheless :)

Thanks. FWIW, I did re-vist the pier a few days later and this time I had taken a full-sized tripod with me so I could get a much better angle. I took this photo (its part of my SkyDrive collection whose link I shared in my first comment on this article) https://skydrive.live.com/?cid=2D5B842E2667B4AA&id=2D5B842E2667B4AA%211022&authkey=%21AIf6hhksJj7AWjw and this one has close to no lean. But then again, this was taken just when the sun was setting, making it not so much low-light conditions. :)

Definitely a great shot, although I'm not sure I find much "adventure" in it, which did seem to be the outset of the competition. Congrats though!

When is the 720 review coming?

Congrats man. Definitely saving this photo as my lock screen photo...

amazing pics on the skydrive man !!
congo on the 720 :)

Not sure why they would even bother giving away a lumia 720 to someone who won the photo contest with a 920. Seems kinda pointless lol

First of all, the price was announced at the beginning of the contest there's no way to know what phone the eventual winner owns. Second, I'm pretty sure that 720 will be unlocked, hence if the winner wanted he/she could net at least $300 for that phone. Third, what other phone will you have suggested to a 920 owner that'll best the 920 currently (shy of 925 or 928, which is not that much of an upgrade). Fourth, have you heard of something called a backup phone? The 720 will be amazing for that. My point being it's not "kinda pointless".

Sure I know it was announced at the beginning of the contest..but that doesnt matter. It would be like having a contest to reach the highest speed in your Ferrari and get a video from the drivers seat, then giving the winner a Fiat. I guess there is such thing as a much worse, major downgrade backup car. Touche.

Your car analogy makes absolutely no sense. The contest didn't require you to use a 920.

It makes perfect sense to anyone with a brain. Essentially this contest was asking you to take a video from the drivers seat of your car going over 190mph. Only the high end cars can even compete. If think a any other device besides the 920 was going to win this nighttime photography contest, I feel bad for you.

Did you do any post processing or add any filters to this shot or is it straight out of the camera?

whats so special about that pic? even the horizon is tilted...