Windows Phone Central Ringtone Contest Winners! (Updated)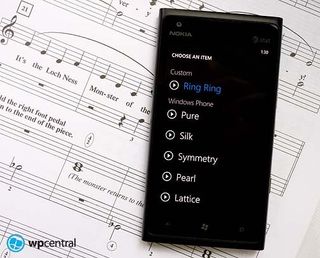 While we had hoped to announce the winners of the Windows Phone Central Ringtone Contest yesterday, judging proved to be more difficult than expected. We had a lot of quality entries submitted over in our Forums Discussion. Nonetheless, after listening to all the entries our Ringtone Contest Winners are:
All have won a Nokia Play 360! We are dispatching emails to get everyone's shipping information and will get the Nokia Play headed their way shortly.
We would also like to extend our congratulations to Elvis7 and Kyle H for being randomly selected for our weekly prizes, WPCentral Accessory Store gift card, during the contest period.
Thanks to everyone who participated in the contest and if you didn't win, don't give up hope. We've got a few more contests up our sleeves for next month.
Update: It has come to our attention that one of the entries selected as a winning entry may not be original content, which was a requirement. That entry is under review and we will update the post shortly.
Update II: Okay... we've review things and the ringtone in question was not original content and disqualified. We've looked over the entries that and have chosen our third winner. Congrats to all.
George is the Reviews Editor at Windows Central, concentrating on Windows 10 PC and Mobile apps. He's been a supporter of the platform since the days of Windows CE and uses his current Windows 10 Mobile phone daily to keep up with life and enjoy a game during down time.
I hate to be the rat, but the winner with the "Connection" ring tone is actually just the beginning of the music track "Fireflies" by the artist "Owl city", so it is copyrighted and thus needs to be disqualified....

Agree. It's nice, but it needs to be disqualified...

oh... is that the intro to the tv show firefly??? then i might even pick it up tonight ;)

We are looking into this... thanks.

Are there any appz that let you download an mp3 from the web and install it as a ringtone?
that's still my biggest missing feature in wp... and the reason why i still only have standard ringtones on my titan.

i've heard that you can install new rings via pc connection. but that's just not spontaneous enough. mostly i get a song stuck in my head and then search for it on the web and install it for a couple of days as my ringtone. but that was back in the windows mobile era... aaah, the good old times ;)

I usually use YouRang to make a ringtone out of a YouTube video of whatever song I want. It works pretty well.

+1 on YouRing. Works like a charm.

If it's online as a mp3 or wma and complies with the ringtone rules, I use WebTone. Enter the URL and it I stalls directly from web. Unfortunately, these files are posted as zip files...

That "Connection" one is pathetic. Not only is it a VERY well known song, there isn't anything even remotely creative about it... It's not edited or rearranged in any way, just a very sloppy chop off at the end right before the vocals and drums come in. If that's what it takes to be a winner, I wish I'd have entered. I've made SEVERAL ringtone edits of well known songs, but didn't submit any of them because I actually read the rules.

Here's the collection: Help yourselves.

http://soundcloud.com/mike-brinkerhoff/sets/ring-tones-that-dont-suck/

-mike

Love, love, LOVE the "Rock me Amadeus" one!

Thanks - I made that one after my boss came in one morning saying that his son had set Rock Me Amadeus as the ringtone on his phone.. but when I called him to hear it, it was just the beat/intro for the album version, which is NOT what I think of when I think of that song.. so I made this one just on principle... =)

The only problem with it is that I think it's ripped from a cassette or something, I HATE the sound quality... I've scored a few different copies of the source file since putting that one together, I need to see if one of them sounds better, and update the ringtone!

I almost called out the fireflies ripoff when I first submitted my entries. But I didn't want my second post to be a tattletale. Also, I thought that that there was a remote chance that Adam might be a WP user.

Mike- nice work I really enjoy the mr.T and the hilarious mumbling ringtone.how do I get them on my phone from soundcloud? Thanks

They all have downloading enabled - hit the Down Arrow icon, put them in your Zune library, and sync them to your phone. They *SHOULD* all have the genre set as "Ringtone" but I may have missed one...

On my phones, I just have the whole album, "Ringtones that Don't Suck" sync'd, so whenever I add a new one, it shows up automatically.

Also, if you like the Mr. T one, go to my full SoundCloud profile - you can hear the full version, which is a lot of fun...

Thanks,I was trying to do it with my Arrive.Time 2 fire up the laptop

Hey - a fellow Arrive user! Cool!

I just got an email from SoundCloud that "Chacarron Macarron" has reached the maximum allowed downloads... Didn't know there WAS a maximum, but apparently it's time to just throw them on my own web server... Would probably make it easier on people anyway...

Hmm. Interesting. Cheater won. Least he was caught. I vote ban from future contests.

The MJO one reminds me of the Touch TV show intro, though just in overall sound, not because anything is copied.
Windows Central Newsletter
Get the best of Windows Central in in your inbox, every day!
Thank you for signing up to Windows Central. You will receive a verification email shortly.
There was a problem. Please refresh the page and try again.