Windows Phone Marketplace experiencing global outage with error c101a249?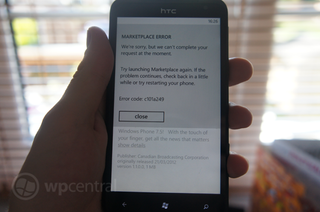 According to some of our readers, the Windows Phone Marketplace appears to experiencing some issues. We've confirmed ourselves that the UK and US Marketplaces are down, throwing a "c101a249" error when an attempt is made to download an app. As was the case with previous outages, we'll not get too worked up about potential maintenance.
Hopefully this downtime will be minimal. Have you experienced any issues today? Let us know in the comments.
Update: Xbox LIVE and Zune are also down for a lot of users, so evidently the two are connected
Thanks, revamp, for the heads up!
Rich Edmonds is Senior Editor of PC hardware at Windows Central, covering everything related to PC components and NAS. He's been involved in technology for more than a decade and knows a thing or two about the magic inside a PC chassis. You can follow him over on Twitter at @RichEdmonds.
Just tried to get the new Monster Up game, and here I tought there is something wrong with my phone.

Yeah same issue resides in India too...... :(

In Germany works everything fine :)

I don't think this affected everyone. I'm in Los Angeles, California and I don't see any problem with the marketplace. (Nokia Lumia 900).

Just now I thought of commenting about this problem in Monster App Adventures Game. Nice you have opened a new post regarding this issue... well done WP central :)

The monsterup game was my last download before the marketplace crashed.

Still down in the UK. Can browse the marketplace but get the c...... error whilst trying to download.

I am downloading the new MonsterUp right now. Marketplace is working fine for me. NJ, USA.

I did a few days back . No issues now.

Was able to download monster up

Yeah, xbox live is down too. Cannot sign in

Absolutely fine for me in the UK

i'm in Germany. i have this problem too!

No problem here in California

No joy in San Antonio, TX

I'm in the US in Texas and everything is working fine for me.

Everythings ok here for me in Texas as well

I'm down in Corpus and I'm not able to download anything... :(

app hub is down, but marketplace on my phone works.

Its the MonsterUp devs. Publicity.

Can't login on XBOX on my laptop, but np using it on the phone.....can't d/l anything from marketplace...

I'm in Austin and the marketplace and Zune are down.

Same here, unable to access MP for last hour.

Working fine for me in Chicago, IL (USA) on my Lumia 900 just downloaded a game to double check

I'm in Oz.
I've noticed my Zune Tag is unavailable, and XBox Live is down as well as the WindowsPhone Marketplace does not allow apps to be acquired.
Logged into my Live account and found my Zune Tag is not being found and also my Xbox account tag (same thing).
Twitter accounts say they are working on finding the solution

I'm in Aus and I've been playing, gears of war for hours now with no issues, and my Zune is fine.. Also for hours I wonder what's going on

Windows Marketplace is working fine for me (HTC Titan) and my wife is on Xbox Live.... - S.E. Michigan

No issues here, read this article tested it and downloaded an app just fine.... Lumia 900

OK.....EVERYTHING WORKS NOW.....

Forgot: location is Bennington, Vermont

It works for me in Vietnam (actually my Lumia was set up with US market)

I'm in Maryland and everything is working for me. Downloaded some free apps and all went fine.

Had this issue this morning in Philly area but working again as of around noon. Microsoft answer forums had a user suggesting signing in to Zune on your computer, but when I tried to that, I got a different error message that it couldn't connect to the internet, C101A23A. I don't know if it is related, but I uninstalled Zune, was able to access the marketplace, and then re-installed Zune and everything works now.

I got the error before, but now it seems to be fine. I did have to logout of the web marketplace and log back in to get MonsterUp Adventures.

While the Xbox.com Support Page has yet to be updated, I was just able to log into Wordament (wasn't able to 30 minutes ago) and download a new app from the Marketplace. I'm in Southern California on AT&T.

HTC Trophy on Verizon - loaded WMP just fine and downloaded that free game featured on the previous article.

Just downloaded Draw With Friends! in the US without issue.

Fine north of the border here is Canada.

No issue with free apps in the US.

German Marketplace works just fine...

Still working here for me. CA, USA on ATT.

Fort Wayne, IN works fine. Does it have something to do with the Monsterup game?

Was having the same issue earlier when trying to download the Facebook app, but after restarting my phone and changing my Live ID password (as it expired) I was able to download it without a fuss. And the only reason I downloaded the FB app is because the mobile site keeps crashing now since they changed the way it works (it's worse now).

Working fine now here in UK :)

I just hit the download button a few minutes ago for MonsterUp, no error, but no wifi to actually download it.

Seems like Xbox live and the marketplace are up for me as well. No more errors!
NJ,USA

I can get on xbl or check my hotmail. Pretty sure Zune market is out too.

Works fine for me through AT&T USA at 10:27am Pacific time.

Mine was down around 9 but started working again around 1030. I'm in Washington st.

Working now in san Antonio, but says monster up is too big to download without WiFi or connecting phone to computer. (sigh)

About 3 days ago i had this problem i think. Bit of search around the web, and updated my billing account and it works again. Weird.

I am having problem with the amrketplace aswell.. I got this phone two days ago from a coworker.. and I haven't been able to even open the market place.. can anyone help me?!?!? all that I can use is the phone, texting, youtube, facebook (posts from 3 monthes ago), and the camera.. I can't login to anything other than facebook and my email.. it will just tell me that I entered the wrong password, when I know that I didn't.. Can anyone help me?!? Please and thank you.
Windows Central Newsletter
Thank you for signing up to Windows Central. You will receive a verification email shortly.
There was a problem. Please refresh the page and try again.