Windows Phone Portico update rolling out in new wave, including Verizon's HTC 8X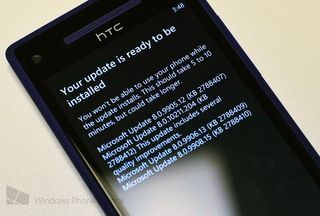 Looks like another wave of Windows Phone Portico (build 10211) OS updates have begun rolling out as we're getting flooded with tips from various regions.
So far we've heard the Lumia 920 in Russia (via WP7Forum.ru) and New Zealand are both getting the over the air OS update as we speak. In addition, Verizon users who have the HTC 8X can finally rejoice as that phone is also getting the feature packed OS update, according to reports.
Windows Phone 8 10211 aka 'Portico' features a fix for stability (random resets and freezes) and adds some new things too including SMS call reject, mass select, SMS drafts, persistent Wi-Fi connection (when display is off), Wi-Fi hotspot finder and even a feature to turn of image-downloads in Internet Explorer.
The update should take 20-30 minutes and it will include both an OS update and new firmware—the latter will also improve the Lumia 920's camera.
Is your Windows Phone getting the OS update? You can check by heading into Settings > Phone Update > Check for Updates. You will need a Wi-Fi connection to download the files and your phone will not be wiped of data, just updated.
Sound off in comments if you have an update waiting, including phone model, region and carrier!
Thanks, Steven P. and Paul N. for the Verizon images, Andy Z and Denis for the tip!
Windows Central Newsletter
Get the best of Windows Central in in your inbox, every day!
Daniel Rubino is the Editor-in-chief of Windows Central, head reviewer, podcast co-host, and analyst. He has been covering Microsoft since 2007 when this site was called WMExperts (and later Windows Phone Central). His interests include Windows, laptops, next-gen computing, and for some reason, watches. Before all this tech stuff, he worked on a Ph.D. in linguistics, watched people sleep (for medical purposes!), and ran the projectors at movie theaters because it was fun.
still waiting for the update on my unbranded Lumia 920 here in the UK

Just got mine on the Lumia 820 (UK-unlocked), so hang in there

scratch that, just checked for updates and it's downloading it now. Got mine from Clove like glass below, same model number.

Got mine on my UK unlocked Lumia 920 I got from Clove. Took an hour.

Fixes for stability? My phone now needs a soft reset 2-3 times a day! Not happy. Hard reset hasn't fixed it either.

What kind of phone is it?

I am in New Zealand, the unlocked, unbranded 920 I imported from Clove got Portico today. Model = RM-821_eu_euro1_276 Operator = 000-GB
This means that particular model got the update today, right? And it's just a conindence that 920 from TelecomNZ happened to get the update at the same time?

Finally! US Verizon HTC 8X downloading update now. Lets hope I don't have to hard reset my phone to clear out Other to make room. Thanks for the tip.

Yep. Looks like I need to free space. 4 GB of wasted Other that does not "free itself" like it should. Sigh.

Anyone know how to get at that "other" storage? I'd love to know WHAT it is...

It seems to be a cache of app installer files, since it grows while downloading and installing apps. The problem is that it grows 3 times the size of an app, when you install one. And doesn't shrink much after you uninstall it.

It's a feature, you are using your phone wrong

You have to hard reset to get rid of the "other" storage?? Or does it free itself when you get the update?

Some people are lucky and it frees it up automatically when needed. Most people need to hard reset to clear other. It's a major flaw that Microsoft won't address.

So I deleted some games to free up the space it needed. I get through downloading. Then get 85% through "preparing to install" after 30 minutes. Then it says "you need to free up 400 MM of space" and reverts me back to the download button. It "downloaded" in a few seconds which means it was cached and now it's started "preparing to install" all over. Worst Updating System Ever.

Wow. It failed again. This time it wants me to free 250MB. I deleted a few things. Soon' I'll have no apps left to delete. I guess I'll now wait another half hour before my "smartphone" "prepares to install" and realizes there's not enough room.

I have the same problem. This is so fcking lame.

The phone managed to install the update on the third try after I deleted some games. I took took me three freaking hours to update my phone. Great job, Microsoft!

My "Other" was freed up 1GB.

Getting it on Verizon 8X in Arizona! Finally!

Today Polkomtel's update for Lumia 820 showed up. In Poland to be more precise, as a last one here (others got updates at the beginning of a month)

Just got it for Lumia 820 at Orange Poland as well.

My unbranded red 820 (rm-825_eu_poland_295) is now preparing for installation - whatever that means and whyever it takes like forever. A notice keeps popping up that my phone is low on memory, as the bloody "other" took 3GBs of it. I hope it won't crash mid-through because of that. I can't loose my game saves!
The update showed up today as well, it wasn't available just yesterday.

Same with me. Lumia 920 with unlocked phone from Play. Getting it as I write this.

Downloading update now.
Verizon HTC 8x, Northern California

I'm in the UK and my unbranded 920 direct from Nokia got the update today. Model RM-821, carrier CV GB, I'm using it on O2 UK. Always-on WiFi ftw!

Same here, dev phone 920 in Norway. Lots of reboot issues before, not too high hopes, since my wife's 920 didn't get better since she was updated a couple of weeks ago.

Just got it.
Singapore, SingTel. White Lumia 920.

Got it! Verizon 8X here. Finally! Thanks for the post!

Verizon HTC 8X downloading now. Finally.

Downloading it now; HTC 8X, Verizon, USA. The crazy thing is that I just tweeted to Verizon support on Monday about the Portico update. They responded and said that they had never heard of the update but to check back later. They went from never hearing of it to releasing it in 2 days. Sounds like really poor communciation on Verizon's side.

I had a conversation with Verizon Tech Support just YESTERDAY and they knew nothing about it, had never heard of it.

Because tech support has nothing to do with it.

they mever really know much about WP, we prolly know more then them.

What?
Anyway, just got mine on UK unbranded Lumia 820. Finally.

Lumia 920 uk on EE, I asked EE about this on twitter and they don't seem to have any info on it :S Been checking for the update for the past 3 days

T-Mobile US pushed out the 8X Portico update so early I forgot that it is still being rolled out.

I hear that one! I have been hounding Verizon for a while about it. I am still uncertain if this was MS or VZW that delayed it so long.

Definitely Verizon, since both T-Mo and AT&T managed to roll out the update a while ago.

Lumia 820 UK O2 contract - for days I have been checking for updates - just got totally bored and had the nokia care suite up and running and just googled how to complete it! WPCentral App popped up with this article checked my phone and Holy Heck its only downloading :-)

Verizon htc 8x update is available for me, indiana

Any news on whether or not it has the mms feature?

Weird had 10211 since day one on my ativ s, my friend got it a long time ago on his htc 8x, we are both on bell

Does this update enable group messaging on Verizon? Anyone? Thanks

not that i can see...applied it and still no group messaging option in messaaging settings....dang verizon

Finally available in the Netherlands/Holland! Nokia Lumia 920 on Ben.

Unbranded black 920 in Netherlands and its finally arrived (sitting at the good old preparing to install 100% as we speak!)

How do you use the WiFi hotspot finder?

Don't see it on mt Att 920. Oh well guess Chicago will wait.

It rolled out to AT&T 920s many weeks ago.

Oh, now I feel bad, I had that update, I thought this was newer. :P

Wait really? I asked Verizon on Sunday (via Facebook) when we'd get Portico and they said "we do not have any information on when this update will be available."

I had the same experience but on Twitter. Seems like they have some communication issues over there.

Not on Verizon 822 here in us

Yeah, I just checked, nothing for my 822 either. Is this because there were more pressing issues for the 8X? Or it's a smaller sample size for them to test out? I hope this means 822's update is coming within the next week or two.

Hoping for a 822 update as well. Love the phone but have tons of issues with random freezes especially when using Bluetooth. Hopefully portico helps with this.

mine get to 100%install and nothing happens


The update finally hit Bell Mobility last week too for the HTC 8X.

red verizon 8x, i live in jersey but i'm currently on vacation in florida and i'm now updating. if this update gives me group messaging i will be delighted. that's all i want

Are you referring to group messaging via FB or SMS?

SMS, like every other windows phone on every other carrier.. besides Verizon

That's strange. I just saw this and apparently I have it (multiple contacts with message, message drafts, in-call automatic text responses...) but I just got my 8x from AT&T on the 17th which was Sunday. I guess they already had a mandatory rollout with the stores. Cool, that saves me some waiting time.

I got it too, Telenor Denmark:-)

indonesia. unbranded lumia 920. downloading now, finally!

Same here, finish dowloading. Didn`t notice any different. Hopefully battery can last longer

Downloading FINALLY in Finland, unbranded L920.

Just got it for my Verizon 8x, downloading as I type this. Any significant firmware changes like the camera for the 920 that anyone knows about?

Verizon HTC 8x downloading as I type:)

I downloaded update on Lumia 820 Unbranded UK Orange but...need to charge phone LOL

Is it sad that I kind of already forgot what Portico even brings with it? It's been so long lol

What's awesome (and / or strange) is that I got the update for the Verizon HTC 8X, yet am still awaiting the update for the Lumia 920 that I got from the MS Build conference a few months ago. I know some Lumia 920's around the world got the update a month or two ago (T-Mobile I think got it for their HTC 8X's back in December), but the roll-out strategy seems confusing for 920 owners especially.

Did anyone visit the verizon link displayed in the update!?!?!?!?!?!?!?!
http://support.verizonwireless.com/pdf/system_update/windows-8x.pdf
GROUP MESSAGING

Thank You for that. I hope teh Bluetooth update fixes the stuttering streaming in my car.

i don't see group messaging in the messaging settings...i don't think it's in this update. :|

Updated, Verizon 8X. Clicked check for updates as soon as i saw this article and it took about 35 minutes, start to finish.

I can confirm New Zealand. Just downloading the Portico update on my Nokia Lumia 920 with Telecom NZ branding...
FINALLY =)

Got it 2 weeks ago, Unlocked 8x in Bulgaria. But strange, I had it preinstalled since day one, around one month ago! I checked a video I made the first hours when I bought it showing 8.10211.204 in About. 2 weeks later I got an update with the same number. Think there was either a fake/beta preinstalled or a bug in the update system.

It's available for download here in T&T (bmobile-unlocked phone)!! Of all times, I'm not home! So I still have to wait

Cannot wait till it becomes available for the 822!!!!


Finally got it!!
TeliaSonera NetCom, Norway.
Nokia Lumia 920.
Thank you for the tip!

The words "about effing time" get thrown around a lot.
Of course it's now taking forever because it's on my awful campus wifi.
If only it actually let me download updates over LTE which is easily 10 times faster even here in the middle of nowhere. I'm not even close to my cap which resets in two days anyway.

SMS call reject not working on 2 verizon wireless HTC 8x's ...I checked the setting and call reject is on...ANY IDEAS?

Third phone confirmed to have the same problem...Any other Verizon HTC 8x experiencing this?

Updating through someone's Titan since it requires WiFi. I need it! lol

Yayyyyyyyyyyy
Lumia 820 Orange Romania - update: https://dl.dropbox.com/u/462510/personal/wp_ss_20130221_0001.jpg

I got it. Verizon HTC 8X, Boston area. Downloaded and installed without issue.

see Verizon users! we got all the updates, we just have to wait a little longer! didnt we get the tango update before otbers as well?

Finaly the update is here to install.. Lumia 920, T-mobile, Holland

But it's an unbranded white lumia from Bol.com

Before the update, I have no random reboot issue. But this happens for 2 - 3 times per day after the updates. I'm using Lumia 920 in Sydney Australia.

Got mine today finally on Lumia 920 UK unlocked. All went smoothly....now looking forward to "Blue"

Just installed it. I have no idea how I was getting by without SMS drafts.

Thanks Verizon for the 822 portico update... Oh wait, its still not here on the 822...

Okay. Confirmed. UK Unbranded Lumia 820 Portico Update

Lumia 920, Hong Kong, Smartone "Preparing to install" right now. Hope it doesn't mess up my perfectly working phone!

Finally got it on mtn, Lumia 920, South Africa

FINALLY. Finland, Lumia 920, DNA. Thank you!

Lumia 820 from O2-UK, got it just now, updating!! thanks.

Verizon HTC 8X San Diego Downloading!

Installed successfully no problems.

Lumia 920, XL Axiata Indonesia. Preparing to install..

Portugal Lumia 920 unlocked today also had update

God dammit, I'm starting to wonder if I'm EVER going to get the Portico update on my Lumia 920 BUILD phone.

My Samsung ATIV S received an update yesterday of about 12MB, nothing change! Claro Perú

Unbranded 920 (from Clove). Checked this morning, and here it is! Finally. Updating as we speak.

I was able to manually initiate and run Portico upgrade on an 8x tonight. (USA). I never tried to use multiple addressee on texting before the upgrade, but yes I can now click a soft button below the list of contacts, which turns on multi-select check boxes to allow the selection of multiple addressees for text messages.

Hi, in this moment mine L920 downloading portico in Poland on Play carrier.

From Michigan. I received my update (had to look for it) for my Verizon HTC 8x tonight. The download took 18 minutes. The install took another 10 to 15 minutes. I'm still looking to see what changed. My build and version numbers are correct but I don't see any of the changes. Hopefully it won't freeze up like it did before.

Its set to download here,Nigeria unbranded Lumia 920,but I dnt have WiFi so I wanna tether it to my blackberry,but I wanna ask does anyone know how large the update is?

Got it in Russia. Also got about 1gb extra free space.

Received the update this morning as well, in Indonesia. Unlocked Lumia 920 RM-821.
But no information on how big the update is.

Got it in the US just now, verizon HTC 8x


US, Verizon, Lumia 822, still waiting...

Finally got in Spain (uk unlocked Phone). Funny thing, the 'advice me when update is available' didn't work...I had to search manually for it. Took 6minutes to download then stopped because 'battery was not full enough to continue'....It was plugged in and being charged....I assume it needs a minimum % charge to continue, even if plugged in to mains.
Done. Compared photo with galaxy note...still not sharp enough :(

Unbranded black 920 in Netherlands and its finally arrived (sitting at the good old preparing to install 100% as we speak!)

My unbranded Nokia Lumia 920 received the update here in Thailand a few days ago.

It seems like, almost all the unlocked one got the update today.

my 820 is updated yesterday in the netherlands

Portico finally installed on my Lumia920 unbranded France YES!!! :)

Thanks for tip!
Updating my lovely yellow Lumia 920 - Finland - Saunalahti

Just done. Lumia 820. Kyiv, Ukraine.

Just did my update Nokia 920, Nigeria. Carrier is MTN Nig.

Got Portico :)
Unbranded from GSMNation, the phone is originated in poland.
Model: RM-821_eu_poland_360

Got mine yesterday with no issues. HTC 8X, Albany, NY area, on Verizion.

Is this update in addition the Portico update just after Christmas? UK, EE, 920

No, this is the Portico update. It's still in rollout in various parts of the world.

Just received my update which took about 45 minutes from finding it to rebooting after update. I have an unlocked 920 from Clove UK (bought Dec 2012) working with an O2 UK SIM. It's taken time to receive this update (goodness knows why) but immediately I notice the wifi connection is now permanent/instant when resuming from sleep.

already updated my Verizon HTC 8x. Still has issues sending SMS when using other network. When replying or sending a message with country code, the message wont sent. Phone is suppose to be unlocked. I should have bought the 8x of AT&T

Finally today got Portico Update on my unbranded Lumia 920 purchased from GSM Nation. Model : RM-821_eu_poland_360. Thanks MS and Nokia.

Got my update on my unbranded Dutch Nokia Lumia 920 :)

HTC 8x Verizon, got my update lastnight about 8 PM CST. None of the space issues mentioned above. I have not checked the group send yet.

Do anyone knows whether user in Singapore will get the update, I just download an update by the version seems to be different, it states 1232.5951.1249.1023

That is the portico update
http://www.nokia.com/sg-en/support/product/lumia920/

Just installed it in Sweden. Unlocked 920 :) Norwegian model..

Nothing for my 822 but that is not surprising. I love the phone but it seems like it is the forgotten windows phone. I did not expect that since it is one of only two at verizon that you can get, and the only Nokia model.

So where can i see what i had updated?.

Just bought my 8X tonight and installing as we speak. Glad I went with this over the 822.

So anyone else not seeing some features after the update? Like, for me I can't ignore a call with a text despite the option being turned on. That's the biggest, but I think I'm also missing the set an MP3 as a ringtone option because I can't find it. It's somewhat frustrating.

I can't get word suggestion and correction on text messages and other apps again.

I got the update for Lumia 820 via Vodafone AU, but I'm more waiting for the Nokia firmware update to fix the micro SD issue (Lumia 820 has compatibility issue with class 10 micro SD cards)

What a funny surprise. I just update my lumia 920 and i cant get auto-suggestion and correction for text and programs again. Whats the way around that - is that me or windows flop again?

Got the update today! Lumia 820 Australia

Got my update last night. Improved my Blue Tooth connectivity with my car. Have not noticed anything else as of yet.

Got the update on Bell Canada for my 8X today

Got it.. Indonesia, Telkomsel

Finaly got my WP8 update, in Reykjavík Iceland


My Lumia 920 was better before the Portico update. I hate the phone right now. Its doing so many weird things.

Updated to Portico on the 21st. Been waiting a couple of days to see if the main problem (random shutdowns) has been fixed. Unfortunately NOT - it did another shutdown overnight last night. Sod it!
And from reading around on the matter, it seems (Nokia and MS included) still have no real clue to the problem!

I should add I'm in Perth Western Australia.

Still waiting on my Portico update: T-Mobile HTC 8X USA.
Windows Central Newsletter
Thank you for signing up to Windows Central. You will receive a verification email shortly.
There was a problem. Please refresh the page and try again.