Windows Phone Tip: Importing contacts and calendars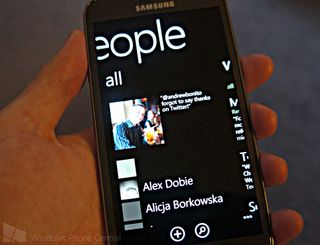 What would a mobile phone be without an address book of contacts to open up communication with, or a calendar to keep up-to-date with social events? Windows Phone takes strives in being more socially connected than the likes of iOS and Android by sporting integration with Facebook, Twitter and other social networks. But how does one import contacts and calendars from services that are also used on competing platforms?
The People Hub is utilised in Windows Phone as the location for all contacts and social connectivity to be handled. Owners can publish a new Facebook status, send out a tweet and more. For events and to-dos, the Calendar app is available that enables access to all events synchronised from the cloud and beyond. The Live Tile (depending on size) will display the current date, as well as any upcoming events.
Importing contacts and calendars to a Windows Phone is a simple process, which involves adding social accounts when setting up the smartphone. Should you use Hotmail, Gmail or Outlook.com on an iPhone or Android device, when connecting to the email account(s) on a Windows Phone the saved contacts and events will automatically be pulled down.
To add an account (whether it be Facebook, Twitter or an email profile), head on over to Settings in the app list, then hit "Emails + accounts". This will then display all connected accounts on the Windows Phone. Choose "Add an account" and select the type of account that you wish to configure. When setting up an account, options are available to filter what content is pulled down. It's possible to disable contacts, calendars and even emails from being synchronised with a profile.
This goes for social networks too. Facebook, Twitter and LinkedIn accounts can be added to a Windows Phone to compliment email profiles and pull down extra info (including profile photos) for any contacts that are presently available on the social networks. Windows Phone will also link two contacts together if they're the same profile - eg. John Smith imported from Hotmail, as well as Facebook will be combined if it's the same John Smith to prevent duplicates in the People Hub.
If you're not into having Facebook contacts on your address book, it's possible to disable Windows Phone from synchronising contacts that aren't present on any other social or email account. This saves space when you have over 9,000 friends on Facebook.
Be sure to note that with calendars synchronised from email accounts will have the following rules enabled (these can't be altered):
Two weeks of past single-instance (non-recurring) appointments.
All future single-instance appointments.
All recurring appointments that have occurrences within the last two weeks or at any point in the future.
As well as importing contacts and calendars, multiple calendars can be utilised that are pulled down from multiple accounts configured on a Windows Phone. To-dos are only supported in Outlook and Microsoft Accounts.
Using multiple calendars
Multiple calendars on a Microsoft account (Outlook.com and Hotmail) will automatically be pulled down and displayed as individual entries. Should you happen to have multiple 'sub-calendars' on a Google account as well as the primary calendar, events from each one can still be displayed on a Windows Phone.
To achieve this, one has to ensure that the Google account is set up in the Emails + accounts area of the settings. Then head on over to m.google.com/sync, log into the Google account and select the Windows Phone. Choose desired calendars and hit save. The calendars selected should then show up on the Windows Phone configured.
Within the Calendar app, owners can manipulate which calendars are displayed and used in Windows Phone by selecting or deselecting them in the app settings. Should a Facebook account be connected to the Windows Phone, events and Birthdays will show up, which can be disabled to prevent an overload of social information.
There you have it, folks. That's a basic overlook on how to set up calendars and contacts on Windows Phone. Be sure to check out our other tutorials for more information on other functionality and features.
Rich Edmonds is Senior Editor of PC hardware at Windows Central, covering everything related to PC components and NAS. He's been involved in technology for more than a decade and knows a thing or two about the magic inside a PC chassis. You can follow him over on Twitter at @RichEdmonds.
Disregard Gmail calendar once google pulls the plug when you upgrade your device

Agree! I have already exported all my Google Calendars to my Live account.

I guess I'm more invested in Gmail than Windows Phone. I suspect I'll be ditching my 920 and reluctantly going back to Android if something doesn't plug the upcoming gap :/

Not fond of it. Can't really say why. I've been using Gmail since it first launched in 2003. It's been fantastic that whole time which is a lot more positive history than i have with WP.

And the calendar only show one upcoming event.
At least AppoinTile fixes this somewhat...

A couple of things I don't understand...
Setup:
HTC Trophy
WP 7.5
Outlook address as Account with Gmail, Yahoo, LinkedIn and Twitter Why is it that my LinkedIn never seems to update? I have made tons of connections and they do not appear. People have updated pics, and they do not update... When I create a calendar appointment on my phone, I get two notices per appointment.

my linked works fine updating whenever anyone accepts my connecting with me. What you need to do is sync your LinkedIn account. Go to your settings and click on mail settings from there select LinkedIn and tab on it will popup sync. Press it and let it sync. That should shows people photo

I cannot seem to reach m.google.com/sync with the appropriate settings. I know i'm logged into google, but it just doesnt show. Have they changed it once more?

Martinspire - are you visiting the site from your phone, or from your desktop PC? To the best of my knowledge, it has to be from a mobile device (or from a desktop browser spoofing a mobile browser). Also, try setting internet explorer on your phone to prefer mobile rather than desktop sites before visiting m.google.com/sync.

I switched from 900 to 920, and using the same live account, but for some reason some contacts are not synced. Can anyone help?

I have more contacts in my Lumia 900 than the new 920

How do I make the Calendar show me when's people birthday -synced via FB?

The google sub calendars will no longer work since google changed to caldav. At the moment there is no sync feature for sub calendars on windows phone. Only sub calendars that were already on the phone will work, you cannot add a new one.
I just migrated everything to outlook.com from Gmail and deleted my Gmail account permanently.

Facebook birthdays didn't populate in my calendar, so this is what I did and it worked for me Lumia 800 - WP 7.5)
Go to FB, Events, Settings, Export. A window will come up saying you can export to outlook, ical etc. There are 2 options, FB events (not necessary since WP already does this) and birthday. Right click on the birthday one, copy target (if you click on the link, it will open up your default email program - this is not what I wanted). Now go to hotmail/live/outlook and to your calendar. Subscribe, paste url (should be Facebook.com/ical and numbers/letters), save and your calendar should populate all your FB birthdays.

Do they automatically update as new friends are added?

Think you should stop showing the ATIV until I can get one from Verizon. :-P

Facebook birthdays are not shown in calenders?

FYI, m.google.com/sync appears to be just a landing page now, the url seems to have been changed to m.google.com/sync/settings

Anyone can help me understand how I can update my existing contacts on my phone with data coming from Linkedin, without importing all the contacts from Linkedin?
Basically i have more than 4500 contact on linkedin. I don't need to have them all on my phone but it would be nice to have the data from Linkedin to update the existing.
Thank you..

I wish there was an easier way to sync calendars and contacts with a native desktop app for mac using my live account. That would be awesome. I'm trying,to leave Gmail calendars but can't.

Hi, I'm new to a Windows phone and a bit of a techno-phobe.
When I got my new phone & contract they plugged both my old & new phone into a clever machine which transfered all my contacts over to the new phone. I would now like to simply back-up those contacts on my PC in case something happens to my new phone. From what I've read so far it seems this can only be done if you are syncing with email accounts etc. I don't need to be receiving emails on my phone so have not gone into any of this. The contacts on my phone just list phone numbers and bear very little in common with my contacts in Outlook, on my PC, which are all just email addresses.
All I want is a safe place to back-up my phone contacts. Is there no simple way to store contacts? As in very simple :)
Windows Central Newsletter
Get the best of Windows Central in in your inbox, every day!
Thank you for signing up to Windows Central. You will receive a verification email shortly.
There was a problem. Please refresh the page and try again.