Windows Phone Weekly Digest: October 4, 2015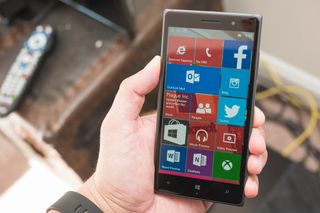 There's a lot going on in the world of Windows Phone. So much, in fact, that it is sometimes tough to catch every important story.
Device rumors come and go. New apps join the Windows Phone Store, and your favorite app can get a big update with a new look or new features.
Therefore, every week we will compile a list of the Windows Phone news that you just shouldn't miss. Welcome to the "Windows Phone Weekly Digest."
Windows Phone
The week came and went with no new Windows 10 Insider builds, and with Microsoft's big press event just two days away, it is highly unlikely that we will see one this week either.
That being the case, all of the attention is focused on the phones we expect to see on Tuesday, namely the Lumia 950 and Lumia 950 XL.
Someone over at Microsoft jumped the gun and posted listings of both phones on the store website ahead of release. They were pulled down, but not before we were able to snag some images of both flagship phones. The renders didn't show us anything that we didn't already know, but boy did it help build up excitement for October 6.
We got a look at a third new Microsoft phone that may or may not make an appearance on Tuesday. Well-known technology leaker Evan Blass (aka @evleaks), posted a render of the Lumia 550, budget-friendly phone. The Lumia 550 looks very similar to the Lumia 640, which it will succeed.
Microsoft isn't the only one with new phones. Google just released their Nexus 5X and Nexus 6P. We pitted them against Lumia 950 and Lumia 950 XL Windows Phones to see how they measure up.
Other notable items:
Apps
With the exception of Microsoft, it felt like every phone developer was on vacation this week. And even they were pretty lax. Their Groove Music app was updated for Windows 10 Mobile, bringing with it a few new features.
Firstly, you can now filter your music by genre. Music searches now contain Store links, so if you don't find what you're looking for in your music, you can easily continue to purchase it. There's also a new Explore hub, where you can find new and featured music
Microsoft and ASUS announced a patent licensing deal that will bring some of Microsoft's software to ASUS smartphones and tablets.
It appears to be similar to a deal made with Samsung earlier this year.
Be sure to weigh in on this week's news in the comments section. See you next week!
Windows Central Newsletter
Get the best of Windows Central in your inbox, every day!
Silence before the storm..... ohh wait the storm has already been forecasted.

The one thing that really interests me is the new phone build coming soon. I hope it cleans up the OS bug wise. I want to install it on my main phone, the M8 for windows, but I feel it isn't there yet, but almost. Very close.

Me too, the Insider App is sitting there patiently waiting for me to push the button.

Finally a new mobile build is coming for insiders on this Thursday ( Oct 8th )
( *According to some source )

The Lumia 950 xl has a front facing flash right? Oh and what is the ring around the camera on the 950 for? Just looks or does it serve a greater purpose?

I see an awful lot of speculation about that circle. Some have even suggested that it may be to allow you to attach a zoom lens. It may be a credible notion, if the xl had one too. I don't think that they have a front flash, it is the IR bit.

Its the IRIS sensor for Windows Hello

I can honestly say that the ring On the 950 likes better than the line black strip p on the nexus

Would y'all quit saying the 550 succeeds the 640? For one no one from Microsoft told you to market the 550 like that,and secondly the 550 has no specs to outdo the 640 screen smaller,back camera smaller,no nfc, how does it replace or succeed the 640?!? 550 is lower than 640 for a reason. To distinguish the 600 series as mid-range.

Displaces not succeed. It's different.

I think the 550 replaces the phones out the 4xx/5xx series that came before it. The 6xx/7xx/8xx series wil morph into one phone (no idea which number they are going to keep) and will be their business/mid range offering and that they have the high end 9xx series. They sad that they would have 3 different key categories and this has most of them covered.

I wish they'd scrap the old numbering scheme, maybe even giving each phone a name rather than a number. Lumia Cityman has got a nice ring to it

I just hope that windows 10 mobile works awesomely on our existing devices as well.

I hope a new mobile build will come soon because this one is the worst build I got these months. The longer I use it the more bugs and crashes I get.

if the flagship phones with windows 10 will release a in tuesday. when will the windows 10 update for the other phones go on the air?

What is Microsoft answer to their competitor's mobile payment system? Apply Pay, Samsung Pay, Android Pay?