Windows Store update brings skinny progress bars, remote Xbox One app installs to everyone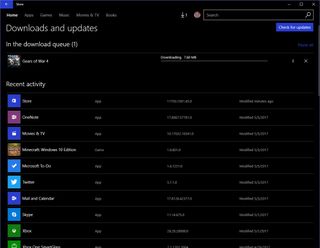 After around a month of testing with Windows Insiders, the Windows Store on PC and Mobile has been updated for everyone with some big changes in tow. Most notably, the latest update to the Store brings thinner download progress bars, a relocated "Share" button, the option to remotely install Universal Windows Platform (UWP) apps to your Xbox One with a click, and much more.
The highlight of this update is the new progress bar. Not only is it skinnier than the previous chunky bar, but it also shows you the total size of your app alongside your current download speed. The "Share" button is also now located next to the "Install" or "Launch" button in each app's Store listing. A new "Install on Xbox One" button is also available in the Store for UWP apps that are available on both platforms as well.
There should be other, under-the-hood changes as well that make the experience of using the Store app a bit faster. Following this update's release on the Fast ring in April, Reddit user PantherinaePsyke helpfully posted the following list of changes, which should still apply:
New Progress Bar UI + App Download Speed
Share Button UI Improvement + Visibility
Work and School Account UI Improvement
Hamburger Menu Improvement
Overall Speed Improvement + Loading
Search Bar UI Improvement + Cancel Button
App Album Picture UI Improvement
Improvement on Toast Notification w/ Launch or Pin app option
Improvement in Download Refreshing Algorithm
All of these changes come with version 11703.1001.45.0 of the Store app, which is rolling out to everyone on Windows 10 PC and Mobile now. Do note that this update — or simply coincidental timing — caused some widespread issues connecting to the Store upon release, but the problems appear to be resolved now. In any case, you should be able to check out the latest tweaks by grabbing the update now via the Store itself.
Thanks to Justin and Amandeep Singh for the tips!
Dan Thorp-Lancaster is the former Editor-in-Chief of Windows Central. He began working with Windows Central, Android Central, and iMore as a news writer in 2014 and is obsessed with tech of all sorts. You can follow Dan on Twitter @DthorpL and Instagram @heyitsdtl.
Speaking of skinny, the app selection is reaching Karen Carpenter level.

totally! compared to the app store at apple which is going beyone Jumsuit Elvis levels of bursting at the seams.

yet I have everything I need on all my Windows 10 devices :) really the only cool feature I miss from the Play Store is the ability to install an app on any of the registered devices (read: with the same GMail account).

Good for you. i have a 10th of what I use on my IOS devices, on my windows devices. which is really sad.

Strange as it may seem, I have no need for a Insurance app Doctor app Dentist app Gym app Supermarket app etc, this stuff is all just FAT like the stuff that killed Elvis. Pretty much like our society in general, we have all this STUFF and it does nothing good. I prefer my lean mean windows 10 mobile.

Well, you don't know what you got 'till it's gone...or if you never had it.

You can import your Gmail to outlook.com, and it will solve your problem. There's a windows central guide.

You really haven't understood the problem, here. Like, really.

Windows has native support for Outlook, Yahoo, Gmail and iCloud and the Mail, Calendar and Contacts parts of each service.

Please explain. The store is still growing. So Karen must be getting fatter haha

Those are the worms, dude.

If by growing, you mean, apps getting discontinued, then yeah, it's 'growing'. Growing weeds maybe....

Finally the ringtone maker app gets an update😂😂😂

Yep - noticed the Store was behaving erratically this morning and couldn't connect. All ok now. Note also that the Store settings get defaulted so don't forget to go back in and check them

Skinny download progress bar is Not a new feature at least for mobile. It was part of RS2 fast ring and now coming to production build which MS missed in the public release rollout!

THANKS for noting this. We have had it for sometime.

I've had this for few days ( Fast ring ) I guess

The store experience on Windows 10 Mobile is dreadful. Microsoft should be ashamed that even in 2017, the store experience is this bad, while it was much better on Windows Phone 8.1 from 2 years ago! - Checking for app updates can take up to 40 seconds. In WP8.1 it was instant.
- Downloading an app update can take up to a minute.
- Installing the app update after being downloaded can take up to 20 seconds.
- Errors, errors, errors while trying to update some apps.
- The three dots animation gets on my nerves.
- Why do I want to know if the store is: working...starting download...acquiring license...downloading...mapping your download...getting download data...calculating download size...almost ready...downloading...Error see details...
All I care about is freaking downloading that app or update!
- When pressing the back button, the app takes you back to all the transitions you made through the app, meaning: if you opened the store, checked the Facebook app, then went to downloads and updates, then back to the home page of the store, then back to downloads and updates. Now if you press the back button, it will get you back through all of this. A back button should go from wherever you are in the Store, back to the homepage, then exit the app. 3 Presses to get you out of it.
- Store start app time still takes forever. FYI, I have a 40 Mbs internet, and a Lumia 950 XL. And, yes I've reported all these issues to Microsoft using the insider app.

Yes that was way too much for us.. Hehe

I'm sure you have, but have you logged these in feedback? I agree with all of it, except I don't mind the additional messages "downloading, mapping, etc). Of course if it weren't so slow...

Not sure if you or the three other people that liked your post read my entire post, I have said in the last sentence that I reported all this to Microsoft. In the time it takes to display all these unnecessary info, my other Android phone can update 2 to 3 apps. This is madness! In WP8.1 updating apps was a breeze.

Agree with all you said... Store on mobile has been deplorable on my end too, sometimes it takes multiple attempts to get an app update to stick. And instead of adding a "share" button why not work on "when app last updated" info, the latter is way more useful to me.

Share button is quite useless, I'd need to know someone with W10M to share the app with, the couple of friends I have that still have Windows phones are stuck on 8.1 because their phone didn't get the W10M update.

I just love to see all this information when downloading, I'm a nerd and like all these technical details which for me tells me the app is working. And the back button works just as expected, if you want to go back straight to home page just choose that in the hamburger menu. And installing app speed is no better than on Andoid devices... Facebook on Android takes like forever to install but starts fast, on W10M is installs fast but starts slowly :-)

I don't experience all of this on my L950. Checking for updates is too long for my taste, but its less than 10sec, downloading is almost immediate, installation too, I haven't seen any error in months, and its fast to launch. As for the back button behaviour... that's what I expect from a "back" button ! It's not a homepage button !

Opening Store is faster, updated apps are immediately in "updated", not after day or two. Apps that are ready for update still have that biiig, empty space. I don't like it.

Wtf is error code 0x80073CF9?

i once posted a feedback to let us install uwp across devices from any device.glad they implemented it but don't know why limit to only xbox.it can be across the entire windows store & for all devices & vice versa !!

It should, but XBox is the main one because it's harder on XBox to search the store without a keyboard, typing letters one by one with the controller...

I posted that too on the feeback hub. I really hope we'll see that soon !

The app seems faster, but I still have the same old problem with some random app giving error, 1st it said that it couldn't update "OlaCabs", despite I never download it, then I hard reset my phone and the error was with "info" app, I hard reset my phone again and now it's "Store Purchase App" giving the error.
Just saving money and then goodbye Windows

So when are we going to be able to sit at our computers and tell the apps to install to our other devices such like in the WP8 days??

Should that title read the return of the skinny download bar, always thought the thick bar looked a bit play school

Instead of trying to coak the real developers to the store...they are ******* around with making skinny download bars! AWESOME!

I don't disagree they need more developers for the store, but neither that or making skinny download bars is relevant with the other.

why bother doing **** like that when there are MUCH BIGGER ISSUES.

Because it's different teams.

Can MS just bulid over mobile 8.1 and throw 10 in some bin,strap it to a rocket and sent it in a black hole.

I don't know what you are talking about. Sometimes, it's hard to see the benefits of progress. Try using Microsoft Word on Mobile 8.1 and then try using it on Mobile 10. See the difference? The thing is, 10 Mobile is superior to 8.1 in most departments.

My friends used to laugh when I told them asphalt 8 is playable on Lumia 520.(it had 512mb and some very old snapdragon on wp8) and no other android phone was capable at those specs. My 520 never hanged or had random crashes but I cant say that about my current 640xl on 10. There is no match for 8.1 in terms of design and stability. Stability>>>performance.

I agree with you: 8.1 was a great mobile OS. It was fast and stable, and it rarely slowed down, crashed or threw up random Error messages that made you scratch your head. And the media player, though not perfect, worked the first time out. Groove, out of the box, was a total disaster. Microsoft should have continued down that route instead of scrapping the whole thing.

We had skinny download bars forever, this is just the return of them. Nothing new.

I noticed that it's possible to select a platform for a review. Also, the recent activity list gets updated after installing an app without restarting the store app.

Still the app loads very slow..

Wish they would bring back old store option to push app to mobile phone when browsing on pc.

You mean like Google does?

Yep, like with Xbox. Pretty neat feature. Then again, on phone and PC sharing and opening the link is a small extra step.

Man, I miss that feature. The only consolation is that there are little apps to push these days anyway.

I don't see the "install on Xbox" button. Why?

You don't have an Xbox? lol

I see OneDrive and OneNote available to Update but I'm getting an error ... Anyone else having this issue

I'm not sure whether it's been mentioned anywhere or exactly when it happened but another change in the Store app that I like is that an app will now be added to Recent Activity immediately after installation rather than your having to navigate away and back to the page.

I want the ability to remotely install apps to my devices from the web store. The way Play store does it.

The major issue I wish to see resolved on Store for W10 MOBILE is a faster download (or at least to W8.1 level) on WiFi. Using mobile data is just great but considering WiFi is the preferred download mode I would have thought they would work on this. That feeling when you have a pending list of app updates (especially now with the frequent updates) and you pretty much tether your movements to WiFi coverage to have the updates completed. Interstingly, my Dell Venue 8 tablet does a much better job on WiFi.

Wow, the excitment, MS have changed the loading bar, I must go and install windows 10 right now to see what I am missing. Oh what a shame, I have to go to work. That exitment will be gone by the time I get back home

Perfect, always hated seeing those abnormally thick status bars.

"The highlight of this update is the new progress bar." Words fail me.

I've been having this since the creators update. How is this new?
Windows Central Newsletter
Thank you for signing up to Windows Central. You will receive a verification email shortly.
There was a problem. Please refresh the page and try again.