Lastu releases sleek wooden skins for the Nokia Lumia 925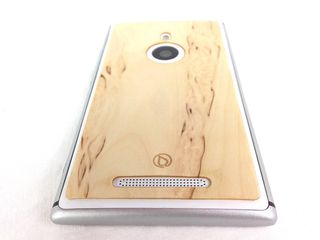 The Nokia Lumia 925 has a unique design compared to other Lumia Windows Phones, but in case you wish to add even more personalisation to your smartphone, Finnish company Lastu has released a wooden skin for the Lumia 925.
If you're not familiar with the brand Lastu, the company provides similar skins for Apple hardware, including the iPhone, Macbook and iPad, as well as Samsung Galaxy S smartphones. Now the Nokia Lumia 925 has joined the family.
Not only can consumers select between Curly Birch and Kelo, Lastu offers free logo and text engraving, which makes the deal that much sweeter. Whether you're a fan of wood designs or simply want to add some spice to your Lumia 925, these skins are worth checking out.
Just how much will these skins set you back? Prices start from $25. Head on over to the Lastu website to check out the designs for your Lumia 925.
Source: Lastu
Windows Central Newsletter
Get the best of Windows Central in in your inbox, every day!
Rich Edmonds was formerly a Senior Editor of PC hardware at Windows Central, covering everything related to PC components and NAS. He's been involved in technology for more than a decade and knows a thing or two about the magic inside a PC chassis. You can follow him on Twitter at @RichEdmonds.
Yeah, it's a country. Has decent food, weird movies.

Haha. Is it available in India? And yea, love for windows phone and developers too.

I'm Indian, I find this a bit funny but offensive.
True, our movies 70% are the wackiest and weirdest movies around, especially the comedy genre ones, but the other 30% are meaningful ones. And well yeah, our food can be called decent by American/European standards. P.S. There are people who don't know about India O_O
It should be known to you in some way or the other.

It's cool bro. I am also an Indian, nothing to get offended. We love our country, rest Modi will fix. And And.. They will never know the taste of Daal bati, chola bhatura, pani Puri ,etc.

Relax man. People make fun of Americans, and we don't find it offensive. I do like some of your dishes, but some are a bit weird. I've never watched your movies, so I can't judge. But the one thing I don't like about India is your caste system.

Yeah, that's really sad, the caste system. But it'll be eradicated soon, now that people are beginning to differentiate right from wrong. Every society has to go through that once, you guys used to trade slaves for fuck's sake. The society eventually grows up.

Don't bring up slave trade, as that doesn't happen anymore. It's been a little while since then...

I'm just trying to make a point. A society eventually sees reason, it just needs time. Hence, slave trade doesn't happen now, there's no apartheid and stuff. If just the gay marriage issue is resolved.

They call them maids or servants now.

Very Weird!!! Was watching one of them just now. P.S.: I am from India.
P.P.S.: Who cares when I have a Lumia?

well kerala has good movies...

Can't agree more about movies. LOL

Well, that's pretty cool!...too bad they down make a whole case like that!

Nothing best real wood though.

I think Motorola's solution with the Moto Maker makes up for a more elegant solution. This is just a sticker in the end.

Happy to see something awesome for the 925 ha

This doesn't look too good. Why couldn't it be edge to edge of the poly carbonate. It looks like a bad sticker. Have to see more shots tho.

This is so nice. If only the Lumia 925 were available in 32GB/64GB...

The 925 is available with 32GB but it's a Vodafone exclusive.

it looks like a tacky sticker for your phone. i know it's real wood but you will look stupid trust me

Glad to finally see some 925 love on here. For the past two-weeks, I've seen a lot of covers for a lot of Nokia phones, but zero for the 925. I have an Incipio and a Terrpin, but there is just something lacking in the design when they leave the top and bottom open like they do. I really miss the cyan colored Nokia case for my old black N900...it's like the phone sat down inside it and it covered all the way up to the glass. Really would like to see this design in the near future for a 925.

Heck, I'd love to put some blonde wood applique on the back of my black 1020. But, I guess that would mean I could no-longer use the camera grip.
Windows Central Newsletter
Thank you for signing up to Windows Central. You will receive a verification email shortly.
There was a problem. Please refresh the page and try again.