WPCentral Mother's Day Sale: Save 20% on all Windows Phone accessories!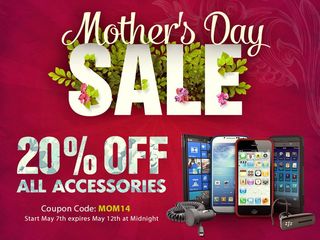 Mother's Day is this weekend. And we can't think of a better way to tell Mom you love her than by saving 20 percent on all Windows Phone accessories at the Windows Phone Central Store. So, through midnight May 12, that's exactly what we're giving you!
To celebrate Mom (or anyone else you want to celebrate, we suppose), we're giving you 20 percent off Windows Phone cases. And headsets. And chargers. And batteries. Basically anything and everything Mom might need to keep things up and running. (And as we all know, things wouldn't be up and running if it weren't for Mom.) Just be sure to use coupon code MOM14 at checkout!
We have tons of accessories in stock for the Nokia Lumia 1020, Lumia 1520, Samsung ATIV S, HTC 8X and more! Be sure to take advantage of the savings while they last.
And for those of you taking a spare device along for the ride, don't forget the MOM14 coupon also works at the iMore Store, ShopCrackBerry.com and ShopAndroid.com. Your shopping cart will follow you through all four stores, so you can buy from all four stores and checkout once.
Windows Central Newsletter
Get the best of Windows Central in your inbox, every day!
WPC is a global forum.
Shame that some authors doesn't appreciate that!

Yeah mobile nations sites are but not their shops due to customs differences like for example if i were to order from wpc instead of blueshop id be charged in us funds plus have to pay duties on delivery for items above $20 usd.

Above $20?!? In Australia I don't pay duty on anything under $1000

Well there is a gift rule but it doesnt count if directly sent from a commercial property & its only $60. Wereas if i were to physically goto the US its $200 1st 24hours then after 48+ hours its $800.
& this is why canada post is going the way of the dodo bird

That's amazingly crap... I can import anything, from anyone and it won't get duty as long as it's under $1000 value and not for commercial purposes (e.g. stocking a shop)

I'm guessing America has it later or something.

In America it is on May 11th. It is different in other countries?

Yup its march here in Ireland

May 11th in Australia too (always the 2nd Sunday in May). 81 countries in total have it on that day!

Oops, you're right, it is the second Sunday in May.

It was the 30th of march this year in the UK.

Already gone. More US centric global reporting.

"US centric"? more like "world centric". More countries have it on that day than any other... in fact 81 countries: Anguilla, Antigua and Barbuda, Aruba, Australia, Austria, Bahamas, Bangladesh, Barbados, Belgium, Belize, Bermuda, Bonaire, Botswana, Brazil, Brunei, Canada, Cambodia, Chile, People's Republic of China, Colombia, Cuba, Curaçao, Cyprus, Czech Republic, Denmark, Dominica, Ecuador, Estonia, Ethiopia, Fiji, Finland, Germany, Ghana, Greece, Grenada, Guyana, Honduras, Hong Kong, Iceland, India, Italy, Jamaica, Japan, Kurdistan, Latvia, Liberia, Liechtenstein, Macau, Malaysia, Malta, Netherlands, New Zealand, Pakistan, Papua New Guinea, Peru, Philippines, Puerto Rico, Saint Kitts and Nevis, Saint Lucia, Saint Vincent and the Grenadines, Samoa, Singapore, Sint Maarten, Slovakia, South Africa, Sri Lanka, Suriname, Switzerland, Taiwan, Tanzania, Tonga, Trinidad and Tobago, Turkey, Uganda, Ukraine, United States, Uruguay, Vietnam, Venezuela, Zambia, Zimbabwe

US & Canada only i believe

Mother's Day? or the deal? Both apply worldwide

I'm looking for a rugged or sand-proff bluetooth speaker I can take to the beach with me so i can listen to the tunes off my phone. Anyone have any recommendations?

Yes, use earphones and avoid disturbing other beach users.

+1520 Thank you. Headphones or earpohones will give you better enjoyment of the music and you dont have force others to hear you music which could ruin their own beach trip.

Sorry guys, but the shipping costs are too brutal... a $5 cable has $13 of international shipping ($13 min to $58 max). If I buy the same cable from eBay they'll charge me like $1-2 for shipping...