WPCentral's Mother's Day Gift Guide
It's that time of the year again to celebrate Mother's Day. Here's what to get her in our latest gift-guide.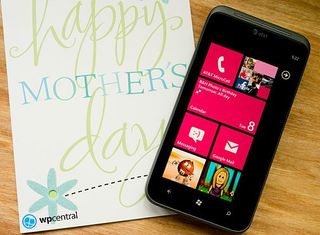 While it appears there won't be a Magenta Lumia 900 available for Mother's Day that doesn't mean we should forget good old mom. While we are sure many were dead set on getting the magenta Lumia 900 for their mother this weekend, we thought we'd give you a few options to fall back on.
WPCentral's Mother's Day Gift Guide
Nokia Lumia 900 Magenta Gel Case ($20.00): Okay... so it's not a magenta Lumia 900 exactly. But from a distance it would be hard to tell, right? The Magenta Gel Case (and all the other colors) can be found here at AT&T's website (opens in new tab) or at your local AT&T retail store.
BodyGuardz Armor ($22.95): This is something new over at the WPCentral Accessory Store. BodyGuardz is offering a carbon fiber hard shell case for the Lumia 900 in red, white and black. Might be an option if your mom was really wanting that white Lumia 900 but had to settle on the black model. You can find the BodyGuardz cases here at the (opens in new tab) WPCentral Accessory Store.
Jabra Freeway Bluetooth Car Kit ($109.95): We all want mom to drive safely and a hands free solution for the car may make a great gift. The Jabra Freeway has three speakers for rich and crisp sound, audible caller id, and voice guidance on device status (battery level, pairing, status, etc.). The Freeway has a low profile design and clips securely to your car's overhead visor. You can find the Jabra Freeway Bluetooth Car Kit here at the (opens in new tab) Accessory Store.
Incipio NGP Semi-Rigid Soft Case ($17.95): Did your mom opt for the Lumia 710? Liked the smaller form factor better? Incipio offers a soft shell case to offer a bit of protection for the Lumia 710. It's available in black, translucent and magenta. The low-profile case is available here (opens in new tab) at the WPCentral Accessory Store.
iClooly Phone Stand ($39.95): Does your mom miss the days when phones were connected by cords? With its corded handset, the iClooly Phone Stand will bring back memories of days gone by. The stand connects to your Windows Phone via the 3.5mm jack. Add a charger and you've got a nifty little phone stand. The stand comes in white or black and you can get more information on the iClooly Phone Stand here at the (opens in new tab) Accessory Store.
Dooney and Burke Case ($44.95): How about a fashion inspired case for your mom's Windows Phone? Check out the Dooney and Burke case here at the (opens in new tab) WPCentral Accessory Store. The horizontal case has interior pockets for her driver's license/credit cards plus a removable wrist strap for a stylish carry option. The case fits an assortment of Windows Phones including the HTC Radar and Trophy.
Apps: If your mom already has a Windows Phone, she could always use more apps. Maybe you could give her a VISA Gift Card to use with her Windows Phone Marketplace Account to buy some apps and games? Toss in a note suggesting which apps she might like such as:
Windows Phone: Why not? It's your mom. She's done your laundry, cooked your meals, made sure you got to school on time, and watched out for you all these years. Take her out to lunch this Sunday and swing by your local wireless retailer and surprise her with an upgrade to her old feature phone or an out right brand new Windows Phone.
You've got plenty of options these days with the Nokia Lumia 900 being offered under $100 over at AT&T and the Nokia Lumia 710 and HTC Radar are both under $100 over at T-Mobile. Verizon still has the HTC Trophy (which isn't a bad Windows Phone) and even Sprint customers still have the HTC Arrive hanging around. Then there's third party vendors such as Amazon Wireless (opens in new tab) that you could probably find a better deal through.
So there you have it...a gift guide for Mothers Day. While most will go with a card and a bouquet of flowers or maybe something from Edible Arrangements (opens in new tab) (my kid's choice), why not consider giving her something techie for a change.
If you've got any suggestions on a Windows Phone gift for mom, feel free to share it in the comments.
Windows Central Newsletter
Get the best of Windows Central in in your inbox, every day!
George is the Reviews Editor at Windows Central, concentrating on Windows 10 PC and Mobile apps. He's been a supporter of the platform since the days of Windows CE and uses his current Windows 10 Mobile phone daily to keep up with life and enjoy a game during down time.
I was really waiting on the magenta 900. I will have to ask her is the 800 will do but I doubt it without the front facing camera.

PS...KINDLE APP IS NOT WORKING AT ALL

Kindle works fine for me, for as long I can remember. On HD7

Always works for me, Lumia 800. Try reinstalling, perhaps it has messed up account data in its storage.

I was waiting to get the magenta for my wife... Smh to bad

so I have a story here,
My sister and I agreed to get my mom an upgrade to her old feature phone. we want to get her a free phone on contract and pay for her monthly data plan ourselves.
My sis made it clear we have to buy iPhone 3GS. I got shot down right after I suggest windows phone. My sis has a 4s and apparently an iPhone fan.
So here is what I did. I bought 2 phones. The 3GS and the Focus Flash. On Sunday we take both phones to my mom and give a quick tour on both phones. Then allow her to play with them and pick the winner. I will return the phone she rejects.
Fingers crossed! I want her to pick the windows phone so bad.

Update: (5/14/12), I have the results. I give my sister her chance to demo iPhone 3GS to my mom showing her bunch of icons to scan through explaning their functionality. The unit was running iOS 5 I believe.
Then I demoed Focus Flash. Knowing my mom new to smartphone world, I had only left the tiles she would care on the start screen. The tiles were:
<Call Tile>, <My contact tile>, <My sister's contact tile>, <My brother's contact tile>, <My grandma's contact tile>, <Facebook Tile> and finally <Maps tile>.
Thats all, simple, clean, and easy on the eyes. She did not have to look through a grid of icons, instead only saw what she cared about, in its simplest form.
What came next? she picked the windows phone over the iphone. 10 minutes later she was snappng pictures of her grand chilren and sending them to my sister over MMS.
YAY! I am happy. I do believe the simple tile design can win over other platforms, specially for beginers who do not want to "learn" a platform before using it.

That sounds like a very good idea! Ill have my fingers crossed for you and your Windows Phone! I wish I could buy my Mum a WP too but Im poor! :(

anyone have any news on the magenta lumia?

Cool story, bro. Hope she gets a Windows Phone :)

I got my mom an unlocked lumia 710 white off Amazon new and plus a purple case to go with it ;) its all good I got my 900 and still got an upgrade and now my mom will have a 710 and can throw away that flip phone Sony Eriksson she has

So of you buy an unlocked phone and use it on att or mobile, are they still going to force you to pay for a data plan? Even if you don't use data?

Seriously, Nokia is having a hard enough time keeping Blue, Black, and White 900's in stock. They probably had no choice but to cancel the Magenta. I bet they release it anyways. Latter.
Windows Central Newsletter
Thank you for signing up to Windows Central. You will receive a verification email shortly.
There was a problem. Please refresh the page and try again.