WWE 2K15 DLC and Season Pass details announced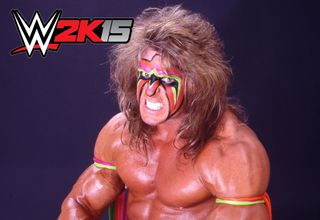 Yesterday, 2K Games announced the soundtrack and song list for their upcoming wrestling game WWE 2K15. Not that the music matters all that much when everybody comes for the wrasslers and the wrasslin', but some cool tunes certainly don't hurt. I'm looking forward to hearing Flo Rida and Rise Against in the game, myself.
It turns out yesterday's news was just the turnbuckle climb before the elbow drop, because today we learn about 2K's huge plans for WWE 2K15 downloadable content. Both the Xbox One and 360 versions will receive multiple post-release DLC packs as well as a Season Pass that bundles four content packs. Three of those are story-based packs focused on the Ultimate Warrior, Mark Henry, and Randy Orton vs. Christian. Keep reading for full details!
Season Pass content
The following items can be purchased individually or together as part of the Season Pass. The Season Pass costs $24.99 and represents a twenty percent savings over buying the items individually. But that's not all – you also get an exclusive character, WWE Diva Paige (pictured below)! This marks her debut in the WWE games.
Access to exclusive playable WWE Diva Paige;
Accelerator (access to all unlockable content available in the game);
Access to all three 2K Showcase stories (One More Match, Hall of Pain and Path of the Warrior).
Now then, let's look at the contents and non-Season Pass price of each DLC pack.
Accelerator
Players will gain instant access to all unlockable content available in the game (excluding downloadable content);
The Accelerator will be available for a suggested price of $1.99.
2K Showcase: One More Match
Story focused on the rivalry between WWE Superstars Randy Orton and Christian in 2011;
Playable WWE Superstars: Christian, Randy Orton, Edge, Mark Henry and Sheamus;
Playable arenas from 2011: SmackDown®, Extreme Rules®, Over the Limit® and Capitol Punishment®;
2K Showcase: One More Match will be available for a suggested price of $9.99.
2K Showcase: Hall of Pain
Story focused on top matches for WWE Superstar Mark Henry;
Playable WWE Superstars: Mark Henry, Big Show, Kane, Jey Uso, Jimmy Uso, Sheamus, The Great Khali, Randy Orton, Daniel Bryan and Ryback;
Playable arenas: SmackDown (2011), Vengeance® (2011) and WrestleMania® 29;
2K Showcase: Hall of Pain will be available for a suggested price of $9.99.
2K Showcase: Path of the Warrior
Story focused on the career of WWE Hall of Famer Ultimate Warrior;
Playable WWE Hall of Famers: Ultimate Warrior, Hulk Hogan, Andre the Giant and Sgt. Slaughter;
Playable WWE Legends: Honky Tonk Man, Rick Rude, Macho King and Colonel Mustafa;
Playable WWE Superstars: Undertaker and Hunter Hearst Helmsley;
Access to WWE Hall of Fame ring announcer Howard Finkel and WWE managers Jimmy Hart, Bobby Heenan, Paul Bearer, Sherri, Sid Justice and General Adnan;
Playable arenas: WrestleMania VI, VII and XII; SummerSlam® (1988, 1990 and 1991); Saturday Night's Main Event XXIV and Madison Square Garden®;
2K Showcase: Path of the Warrior will be available for a suggested price of $9.99.
Non-Season Pass content
Whereas the Season Pass gets you all the story content and the Accelerator unlock, a few DLC packs will only be available as separate purchases:
WCW Pack
Playable WCW Superstars: Fit Finlay, Lord Steven Regal, Bam Bam Bigelow, Diamond Dallas Page and Lex Luger;
The WCW Pack will be available for a suggested price of $7.99.
NXT Arrival
Playable NXT Superstars: JBL, Adam Rose and The Ascension (Konnor and Victor);
Playable NXT Diva: Emma;
NXT Arrival will be available for a suggested price of $6.99.
New Moves Pack
Moves Pack: More than 30 new moves, including an alternate version of Sister Abigail (performed from the ring corner and made popular by Bray Wyatt) and Multiple Gut Wrenches (made popular by Cesaro);
The New Moves Pack will be available for a suggested price of $3.99.
A vast roster of wrestlers
WWE 2K15 is a big deal because it marks the first time in years that developer Yukes (working with Visual Concepts) has gone back to the drawing board and dramatically upgraded the game's wrestling engine. This year's game will feature new grapping and stamina systems and improved, more lifelike wrestler AI. It also boasts an amazing "MyCareer" Mode that allows players to create their own unique character and take him or her through the ups and downs of a wrestling career, starting all the way down in the NXT circuit.
The base game features a roster of 55 non-DLC wrestlers so far. My favorite Dolph Ziggler makes the cut, as does the awesome Batista, and of course a few totally lame characters who nobody likes (the Wyatt family).
Besides those illustrious 55 fighters, a couple of wrestlers and their alternate costumes are a bit harder to get. Hulk Hogan and Hollywood Hulk Hogan are exclusive to the (expensive) " Hulkamania Edition." Sting and Retro Sting are only included with preorders.
This year marks the WWE series' biggest push into downloadable content to date. The Season Pass content sounds incredibly cool, especially the 2K Showcase centered around the Ultimate Warrior's career. The Warrior (James Hellwig) died in April of this year, and his presence is still missed by wrestling fans.
What do you guys think about the WWE 2K15 DLC that 2K Games announced today? Will you grab a few of them individually or just spring for the Season Pass?
WWE WK15 will first debut on Xbox 360 and Playstation 3 on October 28. The Xbox One and Playstation 4 versions (which both run in 1080p at 60 frames per second) will follow on November 18.
WWE 2K15 – Xbox One – $59.99 – Amazon Link

(opens in new tab)

WWE 2K15 Hulkamania Edition – Xbox One – $99.99 – Amazon Link

(opens in new tab)

WWE 2K15 – Xbox 360 – $59.99 – Amazon Link

(opens in new tab)
Paul Acevedo is the Games Editor at Windows Central. A lifelong gamer, he has written about videogames for over 15 years and reviewed over 350 games for our site. Follow him on Twitter @PaulRAcevedo. Don't hate. Appreciate!
Totally lame Wyatt family (not brothers)??? How dare you? They are an awesome heel force. Could rival any other group in the WWE easily.

Heels are fine. If the Wyatts weren't so aggressively stupid and intolerable, I wouldn't mind them so much.

Nooooooo. I really hate them. I find them poorly conceived and executed. But while you might like those characters and I don't, I appreciate you leaving comments as a wrestling fan. Not sure why these stories attract so much trolling.

Do you at least like Bray, Paul? His character is brilliant! I like Harper and Rowan. They're too goofy! Harper with his funny faces (good wrestler too, especially for his size) and Rowan with the sheep mask. lol Well, as a 25+ year long wrestling fan, I can't help but defend it! Always a pleasure to do so! :)


Why isn't the WWE app on Windows phone yet? That's the question that should be asked!

There is a WWE app on Windows Phone but it's nowhere near what the apps on iOS and Android are.

You have to admit that Bray is quite the speaker though. Powerful stuff, I think. And I don't know why so many people hate. Wrestling is no different than tuning into The Kardashians or Dancing with the Stars. Its a drama. Only they kick each others asses.

Yeah, his acting is fine. I just don't like the writing, really.

Mindless violence for the simple minded, and content packs to boot. How pragmatic and noble a cause. Now in all seriousness, I never understood why people like watching wwe stuff, I personally find it stupid and pointless.

I agree with you but someone is going to talk shit about your childish Lego name lol

Staple user I've used since I was 12, sorry if that bothers you so badly. I'm sure we all keep a little from our own childhood, whatever that may be.

I didn't say that it bothers me, I said so after you talking crap on the male soap opera someone would talk about you and Legos. Pay attention.

Says the one who registered 4 months ago

So troll could include a bored asshat commenting on shit from a month ago right?

Same could be said by someone for anything you enjoy

Who gives a fuck what other people enjoy as long as it doesn't hurt anyone? Your post is cringe worthy and comes across as someone trying way too hard to appear better than a certain group of people. Spoiler alert: You're not.

You hate WWE and pro-wrestling in general. Yet you're here WHY exactly??? -_-

Awesome! Now you guys get a chance to spend even more money on a game instead of the devs just putting it in to begin with.

Holy DLC, Batman! Pay-to-win DLC, what the heck? Season Pass with non-Pass, paid DLC announced before release? This crap is ridiculous. I mean, it's a $60 have with the in-game purchases of a free, mobile game. This kind of reality with paid DLC is why I never but it--I hate telling developers and publishers that I will spend $60, then throw another $30+ on top of it. This is such crap that I might go take back my unopened NBA 2K and write these guys off like I did EA.

Paying to unlock characters early is not paying to win. It's an extremely optional thing. The concept of paying to win refers to premium items like weapons and armor that give players a competitive advantage against other online players. That type of content creates an imbalanced multiplayer mode.

That assumes a balance of players, and that there won't be anyone in that Accelerator who is overpowered (like Little Mac in SSB).

Of course the developers will strive for some kind of balance, but the characters don't even need to be well-balanced to avoid a pay-to-win scenario. As long as everybody can unlock all of the characters, the playing field is level for everyone. Many fighting games like the new Smash Bros don't have a true balance for the characters, and some players won't have all of the characters yet. It doesn't spoil the multiplayer, at least not for the vast majority of players. Also, do you make these complaints every time a game comes along with a Season Pass or announces its DLC in advance? You'd have to pick on the Gears of War series, Sunset Overdrive, Forza 4, 5, and Horizon 2, Injustice, Mortal Kombat, the Call of Duty games, Saints Row IV, Halo 4, and too many games to count. The Season Pass model (and DLC in general) can raise some questions about content value, but it's a common and sound business practice for publishers. I could go into detail about why they handle DLC this way, but it's really not necessary or productive to have a debate every time a new game comes along with DLC.

Wow people still play this crap

Oh, look, another troll. STFU and let those of us who like WWE enjoy it. Kthxbye!

You my son. Have no idea of what wrestling games being to the table..

Even Console games are forcing us now to get close to DLC aka IAP.
The future is in IAP now and I am really getting sick of it.
It's like a wasting 60 for nothing.

For the $60 in this case, you get a big wrestling game with 55 characters, an expansive career mode, online multiplayer, and many more modes to enjoy. The availability of extra optional content doesn't negate the value of the base game. If the base game offers a poor content selection on its own, that's another story.

Just look at the latest games nowadays, LEGO batman 3, Assassins Creed Unity etc
All are doing this.
I do understand what you said but then again, to me this ain't fair.

It doesn't matter what it offers. The fact they already have DLC and season pass stuff means it was planned ahead so they can milk you for some more nickels and dimes. Hey, who could blame them, it's obviously a profitable business model if they keep doing it. Apparently many people fall for it, so why not.

To be fair, they could not plan it in advance and have gamers complain why they aren't supporting the game with additional content. Think of it more like a kickstarter campaign where you pre order now and they deliver the content as promised later.

Yeah, a Kickstarter project where you pay $60 to be a part of Kickstarter (the base game), then pay $25 for the project (the DLC). This isn't anything like Kickstarter. It's pre-ordering held-back content becuase the developers want to turn this $60 game into a $104 one.

That's a cynical view. Virtually all DLC is planned before games are released, because the DLC has to come out within 3 months or so of the game's launch in order to have a chance at selling well enough to pay for itself. DLC is really useful for developers, too, because team members who complete their work on he main game can be assigned to work on the DLC in order to keep them employed for a few more weeks or months. Besides that, DLC is here to stay. Consumers support it well enough to keep the business model in practice, which will never change unless the majority of DLC starts representing poor a value or content that consumers don't want. Finally, who cares if the developers try to make $85 instead of $60 from some consumers? Games have stayed $60 at retail for years, but the costs of making them goes up. Factor in inflation and their profit margin falls even more. It's good for developers to have a way to finance the creation of additional content and to be able to make a game more profitable for them, especially a way that doesn't increase the price of the game to the entire consumer base.

Publishers have to plan DLC like this in advance, because the best time of that DLC selling is within the first 3 months of the game's release. Blame GameStop and resellers in general. if a game is supported with post-release DLC, that inspires some gamers to hold onto the game so that they can play that DLC.

Aww, Warrior. :'( "Awesome Batista," really, Paul??? Ugh... Well, as usual, he'll be one of my punching bags along with Triple H and Vinnie Mac if he's in there somewhere. I'm pleasantly surprised to see Tamina is included in this game! Thought CM Punk wouldn't be included though - didn't he threaten a lawsuit and say he didn't want his likeness used? I hope Paige is still able to be downloaded because I don't see myself paying for the season pass when I get this game.


Keep in mind that Bautista didn't approve of the way they handled his character this year. He has real star power and the WWE has misused him. But I mainly think he's awesome because of his performance in Guardians of the Galaxy, his natural charisma and the humble personality he displays in interviews, and his lunchbox collection. I heard the same thing about CM Punk, but 2K still lists him in the game's roster. Either they found a way to keep him in the game, or their list is outdated.

I liked Batista up until I read about how he was completely responsible for Shelly "Ariel" Martinez being released several years back. Honestly, he's a trainwreck in the ring and treats women like crap. I have no respect for him as a person or a wrestler. I think the only reason he left WWE this time around is because he was promised the title and then didn't get it in favor of Daniel Bryan. I really hope the final product includes Punk as a character because he's one of my favorites. One thing also stands out for me - there's no Edge included in this game? He (along with Lita) is my absolute all time favorite. I hope he can at least be unlocked. Also hope Lita and Trish Stratus are in there somewhere!

Worst dlc pack I can remember why is Christians story even in here who wants to play that?

I wish they would create a what if scenario, going back to the invasion storyline and expanding on it along with the nwo invasion

What if scenarios would be alot better or even ORIGINAL stories just for the game. What's the point of playing things you've seen on tv or the WWE network already? U know the outcome already it gets stale that's why most of the tine I don't care about the story mode on the games

I love Christian, but I really hope this isn't based on his heel "one more match" thing. I HATED how they booked him as a coward and to look weak all the time.

Christians WWE return was plagued with injuries and then they had him milking off edges retirement didn't like that at all

Yeah. Thing is though, Vince doesn't like him. From what I read, Edge begged him to let Christian win the World title shortly after he had to retire. Of course, that was Christian's first reign that lasted a measly 2 days. I honestly thought he was just being kept off TV until around Night of Champions. I'm surprised he's still with WWE since he doesn't actively compete anymore. :-/

I don't see Yokozuna in there. :'(

Last WWE thing we'll get to hear Justin Roberts in, sadly. Also, looks like I'll be creating Kurt Angle to feud with Rusev, to fantasy book Wrestlemania. Though, if the rumor is true, maybe we'll be seeing Kurt down the road in more DLC?

I'm missing something... Is Justin Roberts gone already or leaving WWE??


Justin Roberts' contract ran out at the end of Raw on Monday, and they opted not to renew it, so he's been released.

Wow, I didn't know that. Aww, that's a shame.

Yea me tooo. He the best ever! Not to mention, Best talker too....

i have a question is there only going to be the 59 people already in the game and the downloadable content or are there more westlers they haven't listed?

That's a good question. The game's roster page says "Full Roster Coming Soon." That implies that additions will be made to the roster, but I can't imagine they would add many more than what is already listed.

well i'm kinda disappointed in the roster then
Windows Central Newsletter
Get the best of Windows Central in in your inbox, every day!
Thank you for signing up to Windows Central. You will receive a verification email shortly.
There was a problem. Please refresh the page and try again.