WWE 2K15 DLC and Season Pass details announced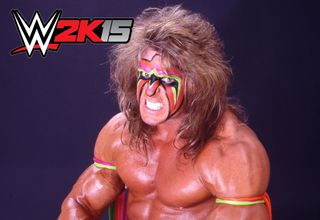 Yesterday, 2K Games announced the soundtrack and song list for their upcoming wrestling game WWE 2K15. Not that the music matters all that much when everybody comes for the wrasslers and the wrasslin', but some cool tunes certainly don't hurt. I'm looking forward to hearing Flo Rida and Rise Against in the game, myself.
It turns out yesterday's news was just the turnbuckle climb before the elbow drop, because today we learn about 2K's huge plans for WWE 2K15 downloadable content. Both the Xbox One and 360 versions will receive multiple post-release DLC packs as well as a Season Pass that bundles four content packs. Three of those are story-based packs focused on the Ultimate Warrior, Mark Henry, and Randy Orton vs. Christian. Keep reading for full details!
Season Pass content
The following items can be purchased individually or together as part of the Season Pass. The Season Pass costs $24.99 and represents a twenty percent savings over buying the items individually. But that's not all – you also get an exclusive character, WWE Diva Paige (pictured below)! This marks her debut in the WWE games.
Access to exclusive playable WWE Diva Paige;
Accelerator (access to all unlockable content available in the game);
Access to all three 2K Showcase stories (One More Match, Hall of Pain and Path of the Warrior).
Now then, let's look at the contents and non-Season Pass price of each DLC pack.
Accelerator
Players will gain instant access to all unlockable content available in the game (excluding downloadable content);
The Accelerator will be available for a suggested price of $1.99.
2K Showcase: One More Match
Story focused on the rivalry between WWE Superstars Randy Orton and Christian in 2011;
Playable WWE Superstars: Christian, Randy Orton, Edge, Mark Henry and Sheamus;
Playable arenas from 2011: SmackDown®, Extreme Rules®, Over the Limit® and Capitol Punishment®;
2K Showcase: One More Match will be available for a suggested price of $9.99.
2K Showcase: Hall of Pain
Story focused on top matches for WWE Superstar Mark Henry;
Playable WWE Superstars: Mark Henry, Big Show, Kane, Jey Uso, Jimmy Uso, Sheamus, The Great Khali, Randy Orton, Daniel Bryan and Ryback;
Playable arenas: SmackDown (2011), Vengeance® (2011) and WrestleMania® 29;
2K Showcase: Hall of Pain will be available for a suggested price of $9.99.
2K Showcase: Path of the Warrior
Story focused on the career of WWE Hall of Famer Ultimate Warrior;
Playable WWE Hall of Famers: Ultimate Warrior, Hulk Hogan, Andre the Giant and Sgt. Slaughter;
Playable WWE Legends: Honky Tonk Man, Rick Rude, Macho King and Colonel Mustafa;
Playable WWE Superstars: Undertaker and Hunter Hearst Helmsley;
Access to WWE Hall of Fame ring announcer Howard Finkel and WWE managers Jimmy Hart, Bobby Heenan, Paul Bearer, Sherri, Sid Justice and General Adnan;
Playable arenas: WrestleMania VI, VII and XII; SummerSlam® (1988, 1990 and 1991); Saturday Night's Main Event XXIV and Madison Square Garden®;
2K Showcase: Path of the Warrior will be available for a suggested price of $9.99.
Non-Season Pass content
Whereas the Season Pass gets you all the story content and the Accelerator unlock, a few DLC packs will only be available as separate purchases:
WCW Pack
Playable WCW Superstars: Fit Finlay, Lord Steven Regal, Bam Bam Bigelow, Diamond Dallas Page and Lex Luger;
The WCW Pack will be available for a suggested price of $7.99.
NXT Arrival
Playable NXT Superstars: JBL, Adam Rose and The Ascension (Konnor and Victor);
Playable NXT Diva: Emma;
NXT Arrival will be available for a suggested price of $6.99.
New Moves Pack
Moves Pack: More than 30 new moves, including an alternate version of Sister Abigail (performed from the ring corner and made popular by Bray Wyatt) and Multiple Gut Wrenches (made popular by Cesaro);
The New Moves Pack will be available for a suggested price of $3.99.
A vast roster of wrestlers
WWE 2K15 is a big deal because it marks the first time in years that developer Yukes (working with Visual Concepts) has gone back to the drawing board and dramatically upgraded the game's wrestling engine. This year's game will feature new grapping and stamina systems and improved, more lifelike wrestler AI. It also boasts an amazing "MyCareer" Mode that allows players to create their own unique character and take him or her through the ups and downs of a wrestling career, starting all the way down in the NXT circuit.
The base game features a roster of 55 non-DLC wrestlers so far. My favorite Dolph Ziggler makes the cut, as does the awesome Batista, and of course a few totally lame characters who nobody likes (the Wyatt family).
Besides those illustrious 55 fighters, a couple of wrestlers and their alternate costumes are a bit harder to get. Hulk Hogan and Hollywood Hulk Hogan are exclusive to the (expensive) " Hulkamania Edition." Sting and Retro Sting are only included with preorders.
This year marks the WWE series' biggest push into downloadable content to date. The Season Pass content sounds incredibly cool, especially the 2K Showcase centered around the Ultimate Warrior's career. The Warrior (James Hellwig) died in April of this year, and his presence is still missed by wrestling fans.
What do you guys think about the WWE 2K15 DLC that 2K Games announced today? Will you grab a few of them individually or just spring for the Season Pass?
WWE WK15 will first debut on Xbox 360 and Playstation 3 on October 28. The Xbox One and Playstation 4 versions (which both run in 1080p at 60 frames per second) will follow on November 18.
Get the Windows Central Newsletter
All the latest news, reviews, and guides for Windows and Xbox diehards.
Paul Acevedo is the Games Editor at Windows Central. A lifelong gamer, he has written about videogames for over 15 years and reviewed over 350 games for our site. Follow him on Twitter @PaulRAcevedo. Don't hate. Appreciate!