Get ready to create incredible custom wrestlers in WWE 2K15 for Xbox One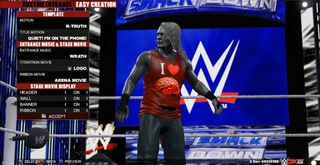 WWE2K 15 is now available on Xbox 360 and Playstation 3, allowing wrestling fans to step into the shoes of 63 wrestling superstars as well as several divas and managers. Xbox One and Playstation 4 owners haven't had a chance to step into the ring just yet, as the current-gen versions of the game don't launch until November 18. The extra wait has been rough but necessary because the Xbox One version will boast many unique features that didn't make it onto Xbox 360.
One of those features is a new-and-improved character creation mode, dubbed Superstar Studio. Today 2K Games released a video that details the Superstar Studio's depth and versatility. Players will be able to import their own images to customize wrestler faces, tattoos, clothing, and more. This looks like the most customization a wrestling game has ever offered – keep reading for the trailer and more details!
Kinect or no Kinect?
Wrestling games gave long allowed players to edit their own wrestlers, creating decent recreations of themselves and even famous wrestlers who did not appear in the games. But none has ever offered the same range of motions that WWE 2K15 will feature on Xbox One and Playstation 4.
You might think the new-gen WWE 2K15 would rely on the Kinect to graft a player's likeness onto his or her character, much like NBA 2K15 did just one month ago. That feature ended up fairly buggy, but with the proper lighting conditions and some patience, players like Windows Central's own Jonathan Dollison have been able to recreate very good looking basketball-playing versions of themselves.
Still, the new WWE 2K15 trailer and details we received from 2K make no mention of the Kinect or Playstation camera. That could indicate those peripherals are not supported, which is a little surprising. But worry not, 2K has a solution that could prove even better for facial recreation than the magic of Kinect.
Creating your own Superstar
To add your own likeness to your wrestler, you'll need to take your own photo. You could just use the photo as-is, but the developer recommends you edit the image to remove areas that you don't want to appear on the in-game model. Just erase the areas of the photo outside of your facial features and make them transparent, saving the image as a PNG.
Next, upload the photo to the community servers. You can then download it to your console. From there, choose to add the face to your character model. Position the face and scale it if necessary until its features line up perfectly with your character. Do it right and your wrestler will look eerily similar to you!
The cool thing about this image editing feature is you can use it for a lot more than faces. Take a photograph or any images file you like and that image can become a tattoo on your wrestler's body. You can adjust the position, size, and even transparency to create just the right look. Put that tat somewhere your wrestler can't hide it and ensure that he'll never work as a teacher; it's okay.
Imported images can also be added to clothing like hats, shirts, trunks, and even leg guards. Everything your wrestler wears can have a unique appearance that matches his character and your own whims. The level of freedom is great.
Naturally, wrestlers can be customized outside of their appearances as well. Set up your wrestler's moves, entrance music (from what the game offers, not your own music), Titantron videos, and much more.
Nearly time for the main event
Gameplay enhancements are part of the WWE 2K15 package on Xbox One as well. This year's game will feature new grapping and stamina systems and improved, more lifelike wrestler AI. Players can take their created wrestler through the "My Career" mode, relive famous storylines in "2K Showcase" mode, and play as up-and-comers in "Who Got NXT" mode.
WWE 2K15 will also boast an ambitious post-release downloadable content schedule, with plenty of story-based packs and extra characters available to purchase. See our DLC rundown for the full skinny.
The new-gen versions of WWE 2K15 land in North America on Tuesday, November 18 and Europe on Friday, November 21. Are you ready to wrestle, Xbox One gamers?
Get the Windows Central Newsletter
All the latest news, reviews, and guides for Windows and Xbox diehards.
Paul Acevedo is the Games Editor at Windows Central. A lifelong gamer, he has written about videogames for over 15 years and reviewed over 350 games for our site. Follow him on Twitter @PaulRAcevedo. Don't hate. Appreciate!