Xbox 360 Impressions: Jeremy McGrath's Offroad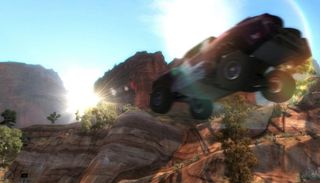 2XL Games made a name for themselves with off-road racer Baja: Edge of Control for Xbox 360 and Playstation 3. After that, they switched gears to mobile development for several years, continuing to focus on off-the-pavement racing games. Now 2XL is back on consoles with Jeremy McGrath's Offroad for XBLA and PSN. After coming away bored and disappointed from another recent XBLA racer (Bang Bang Racing from Digital Reality), I'm happy to report that 2XL has a grasp on making a downloadable digital racer both simple and fun.
Offroad features five different vehicles types, from Rally Cars to Trophy Trucks. Before you head to the track, you'll choose one of 8 livery options for your vehicle and then customize it with upgrade points. Experience earned from completing races or performing in-race actions like big jumps and passing competitors can be spent on upgrading your ride's acceleration, top speed, handling, and breaking. Nothing too complex, but the customization options are appreciated.
Head past the break for our full impressions.
Offroading it
On the track, it's a simple 1-3 lap race to the finish line across a variety of outdoor environments. Each track is littered with foliage, fences, and signs for racers to bump into, so it's best to stay on the track itself. Still, you can sometimes cut across corners and shave off a little distance without getting pulled back onto the dirt road. Naturally each course boasts several jumps; you can adjust your tilt to score a better landing and avoid losing speed on impact. Other track highlights like planes and helicopters flying by overhead, as well as falling rocks to dodge, pump a bit more excitement into the rural settings.
Offroad's Career Mode spans 23 races across six different tracks and each vehicle class. My favorite aspect of Career is that you can play on the difficulty level of your choice with no penalty towards Achievements, just varying XP payouts. So many racing games are more concerned with challenging players instead of making sure they're having fun. Here, players can make the game as easy or as hard as they'd like, resulting in a truly accessible racer.
On the downside, the game could've used more race types. There are only three, none of which vary to any great extent. Given the relative scarcity of tracks, a few additional races like checkpoint and elimination races would've boosted variety without much additional development work.
Multiplayer
Of course, multiplayer can extend the life of any racing game. Offroad sadly lacks a split-screen option (unlike Baja), but it does support online multiplayer for up to 8 racers. If 2XL had to choose between only one form of multiplayer, local would've worked better for a game of this scope and style. That said, LIVE multiplayer ran flawlessly in my experience. In addition to track and lap options, the host can choose whether to allow only a single type of vehicle or all of them – a good thing. XBLA games like this don't usually develop sizable online communities, but racing against a few friends who own Offroad still makes for a great time.
Presentation
Offroad's menus are largely no-frill affairs, though they do feature tips voiced by Jeremy McGrath himself. The menu music works well, but music doesn't play during races – I suggest loading a custom soundtrack to provide the appropriate aural pep. Graphically, the game runs at 60-frames-per-second in 1080P, making it one of the smoothest arcade racers around. That speed comes at a cost: lens flares look a bit odd and I would've liked to see more dirt kicking up on the track. Then again, Offroad is a digital title, not a retail one, and it looks great in that context.
Overall Impression
Jeremy McGrath's Offroad sells for 800 MS Points/$10. With super easy Achievements (see my guide), a silky-smooth frame rate, and good, clean controls, it's the most fun I've had with a downloadable racer. Arcade racing fans: even if you don't know your Supercross from your David Cross, give Jeremy McGrath's Offroad a test drive.
You can find Jeremy McGrath's Offroad here on the Xbox 360 Marketplace.
Get the Windows Central Newsletter
All the latest news, reviews, and guides for Windows and Xbox diehards.
Paul Acevedo is the Games Editor at Windows Central. A lifelong gamer, he has written about videogames for over 15 years and reviewed over 350 games for our site. Follow him on Twitter @PaulRAcevedo. Don't hate. Appreciate!