The Xbox app for the Windows 10 build 10158 preview gets updated with even more features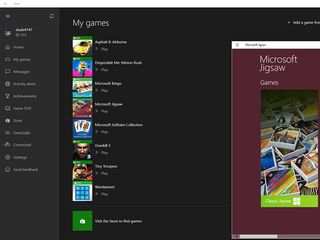 Earlier this month, Microsoft enabled game streaming from the Xbox One to a Windows 10 PC with an update to the Xbox app. Now that app will get another update for users of the just launched Windows 10 build 10158 preview that adds some more features.
Here's what those users can expect when the app becomes available from the Windows Store.
My Games – A key ingredient of the Xbox on Windows 10 app is making its initial appearance this month, enabling you to add and launch Windows games from the new My Games menu. As you install games from the Windows Store, they will appear in your My Games list. Additionally, you can manually add games to your collection by selecting My games > Add a game from your PC. Also, there is now a Featured games section on the home screen, below your Recently played list, which lets you discover and install new and popular games available from the Windows store.
Game hubs – You can now launch a local PC game from its game hub, view details about the game in the Windows Store, and find and follow People to Watch for a given game. Go to My games, then right click and select Go to game hub to access the game hub for a specific PC game. Additionally, for Xbox One games, you can now choose Play from console to initiate a game streaming session from a game hub page.
Share with your friends – With this preview release, you can share your achievements to your Activity feed and Showcase just like you do on Xbox One. You can also share your Xbox One Game clips or Screenshots listed under Game DVR > Shared to your Activity Feed and Showcase.
Xbox avatars – We renamed the Avatars app on Windows 10 to Xbox Avatars and the layout and iconography have been updated to final designs. In this month's preview, there is a "Take a photo" feature so you can pose your avatar and snap a photo. Additionally, you can even capture photos of your avatar interacting with your avatar props. Let the photo shoots begin!
Xbox account – In preview, you can sign in to Xbox on Windows 10 with any account, and create a new Xbox account if you do not already have one.
The version number of the new Xbox app update for Windows 10 should be 6.6.27004.00000 or higher. You can learn more about Microsoft's plans for the Xbox app in Windows 10 in our recent preview from E3 2015.
Source: Xbox Wire (opens in new tab)
Finally My Games! Now this completes Xbox app for me

I hope windows phones also get to record the gameplays, at least flagships and other windows phones with quad core processors. That would be a great feature for windows phones.

How wonder how much of there work force goes into development of mobile OS?

Just one person. That is all they need. /s

It was Elop. No one left.

This finally looks to be the upgrade that the Games Hub in WP actually deserved. Waiting for RTM.

This is for Windows, not Windows Phone...

Isn't it already/going to be a universal app for Windows 10 though?

I can't seem to edit my Avatar at all. Anytime I try I asks me to download an app and it links to the Facebook app. Is the Xbox Avatar app even live? Edit: Found a direct link, not sure whats wrong with the Xbox app not redirecting to the correct app, but it would be nice to have this fixed.

I can't get the darn build to even show. :(

The adding games feature reminds me of steam! Nice.

Now at it needs is a 'big picture mode' that also launches Xbox one games through streaming and it will be perfect for my needs.

Still waiting on party chat features

Xbox should have an option to delete achievements. :S

Can somebody invite me to the preview program? Thanks. GT: Chrisbaum1998

me too please GT Trigger Hold

Progression tracking for PC games in the Xbox app would be awesome :)
Windows Central Newsletter
Thank you for signing up to Windows Central. You will receive a verification email shortly.
There was a problem. Please refresh the page and try again.