Major Xbox Beta app update adds dedicated section for PC games, and so much more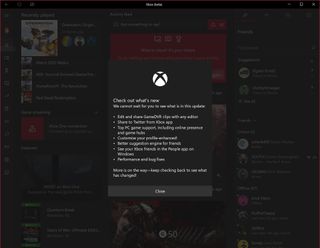 The Xbox Beta app has picked up an update on Windows 10 and Mobile, adding features that were revealed last month. The app now lets you edit GameDVR clips using a video editor of your choice and re-upload them to your activity feed. There's now a 'top' PC games section on Xbox, which has its own game hub. You can also share directly to Twitter from within the Xbox app.
Here's a breakdown of all the new features:
Edit and share GameDVR clips with any editor
Share to Twitter from Xbox app
Top PC game support, including online presence and game hubs
Customise your profile-enhanced!
Better suggestion engine for friends
See your Xbox friends in the People app on Windows
Performance and bug fixes
Interested in taking a look at the changes? Download Xbox Beta from the link below. We'll let you know once the additions make their way to the Xbox app.
Download Xbox Beta from the Windows Store (opens in new tab)
Also
1. search is added in hamburger menu
2. New loading animation
3. Games with gold now shows 360 games

Does this version support listing of Steam titles without that odd workaround using start menu? If MS wants the Xbox app to be taken serious this is a must. Even 3rd party tools like raptr can do it.

Not using currently using desktop atm but that would be awesome if it finally populate games installed from Steam without having to have them on All Apps. In my case though I always been having my Steam games available on All Apps ever since. What would be way better though is to have much better integration of PC Games on Windows 10, regardless of Xbox app. It seems that Xbox app somehow knows what games installed on PC as long as you have them on All apps. What's better is to have these games have high-resolution game covers on their Tiles just like the good old Games Explorer did but make it better. It doesn't have to be a Live Tile, though it would be great it could in related to Xbox Live, but having just a high-res covers in the tile is really enough. I really miss those days of pinning PC games with high-res covers (with the help of 3rd-party tools) on Windows 8.X Start screen which is gives really nice and immersive experience than the Windows 10 too restrictive and "ordinary" approach. Now this gets me to thinking about Windows 10 having "Xbox Dashboard" mode like on Steam Big picture, which is great with controllers and when used on TV.

Have you tried Pin More? I use it to pin Steam games to my start screen on W10. It can also do Origin, and some other platforms.

Not yet. I tried similar app that allowd you to pin a Steam Live Tile in the past. It's okay for having nice Steam cover art except that it just have to launch the app first then the game, which is slightly slow launch. This is why things like this is best as a native feature. Maybe I'll revisit this option again when I go back to my PC.

Quick question, how do you get your Steam games to show up in All Apps? I only have the ones from GOG showing up there. I want to add them to the Xbox app.

You need to create a desktop shortcut for that game in Steam, then you can either pin that shortcut as a tile to your start menu or move it to the legacy start menu folder in Windows. This allows you to add that game to the Xbox app

So far the only way I got is when you install the game, it ask you to have the game available on All Apps under the Steam folder. The problem is that Steam doesn't seem to have any option after you install the game and when you forgot to have it on All Apps. Like what Patata Johnson said, creating a desktop shortcut and pin it. Another method is just go the properties of the game and go to its source folder, find its executable file and create a shortcut onto your Start menu items under Steam folder. "C:\Users\YourUserAccount\AppData\Roaming\Microsoft\Windows\Start Menu\Programs\Steam"

Quick question, will all of my friends know when im playing a steam game or any other 3rd party game that is on my PC via the xbox app. Because when I play DOOM for example it only says that i am on the xbox app and doesn't say what game i am playing.

Does the Edit and Share clips with any editor update mean we can now upload clips of "unknown" games - i.e ones not from the Windows Store? For example, I couldn't previously upload a clip of MGS V as I have it on Steam not Xbox One.

Really hope RS2 will bring much needed updates to Mobile, particularly Continuum-ready and by extension Xbox Streaming

Xbox streaming to W10M would be really great, especially when used with Continuum (though latency would be another issue to solve). It would be even nice to have a first-party gamepad case for future Lumia/Surface phone. Which can be a special value for W10M in terms of mobile gaming. Android and iOS may have similar accessory, but Microsoft can really make this "PSP"-like experience in W10M. This is the closest Xbox Portable they can make, all without having to risk releasing dedicated handheld gaming console which is currently not really strong market as it used to be. Nintendo is really the one enjoying this market while PS Vita unfortunately been not much emphasis these days.

Couldn't agree more, and there's an idea I haven't thought much of in years only because as you said yourself the Vita didn't enjoy much publicity or content. Having something close to the Sony Xperia with gamepad extension would be cool, only I don't see it being used as a replacement for an actual Xbox controller (via Bluetooth on Mobile) since there's obvious limitations to the space they have to work with.

Yeah, the gamepad case/accessories isn't meant to replace the Xbox controller support for W10M at all. The idea would be just a first-party accessory for Microsoft own device for near future Lumia/Surface phones. The accessory is strictly designed to the body which is not compatible at all to any other devices. If the idea works well on W10M ecosystem, then maybe just maybe that would inspire OEM's making W10M to make their own if they wish to, as long as Microsoft opens the technical requirements and design to make a gamepad extension for their own, this also applies for any 3rd-party accessorie manufacturer too. The only thing that concerns me why this won't be a possibility, at least anytime soon is because of current Microsoft management and approach to the market. For me at least in my observation, their vibe is little-bit more "enteryprise-y" focused and they tend to hold back much on consumer aspects. Yes they do consumer stuff such as Xbox, which is their still very strong consumer brand, not to mention few other brands. It's just that their messaging and vibe is generally bit more emphasis to business and enterprise these days which is not a bad thing given that's their strength.

How do I get Xbox preview, running previews on computers and wp10.

Also has Jump List options for navigation. :)

Does it still have the giant iOS-style scroll bars?

Tag friends like facebook or twitter. Its possible?

It's getting better, but still feels a bit strange here and there. It takes ages to load, and doesn't show all my games on all of my devices (even if they are from the Store). I just played the first episode of Minecraft Story Mode (the Store version), and it doesn't show up anywhere. Neither my achievements for that game, nor that I have the game at all. It can be because I downloaded it with region set to U.S. from Hungary (because it was free this way :D ). But some other games do this as well, or have duplicates in the achievements section, sometimes one of them with arab letters, and with different progress level for both. Really, really strange :D But this app will be really cool as time passes, not just kinda cool, like right now :D

Lol buy your games from a legitimate source then they will show up. Pirated games don't appear

The game I spoke about was from the Windows Store :D Isn't it a legitimate source? :D I just set the region of my PC to U.S. in the settings app for the time I downloaded it, because MS made a U.S. only sale with it :D
P.S.: To be honest, I have some pirated games (2 or 3) on my laptop, and they show up :D So your point is invalid :D

Oh, sorry I'm not sure with the details atm, but I will try... On Steam Library, right click the games you want to have on All Apps then go to it's Properties. The option should be just around there. When you install new Steam games or add something to its Library, before the installation process there should be a checkbox to have that game to be available on All Apps. I always have that check box ticked on.

When the Xbox app lets you share clips of games that weren't installed from the Windows app store, it might actually be of moderate interest to anyone who's even remotely serious about PC gaming. Not having to turn your PC audio to stereo in order for the DVR to pick up game audio would be a nice change as well. I mean...seriously....what self-respecting PC gamer uses 2.1 sound?
Windows Central Newsletter
Get the best of Windows Central in in your inbox, every day!
Thank you for signing up to Windows Central. You will receive a verification email shortly.
There was a problem. Please refresh the page and try again.