Xbox One to receive an Avatar store and more in the next update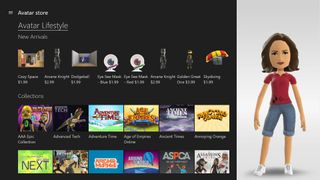 Along with the new Xbox One Preview update that's rolling out today, Microsoft plans to update the Xbox beta app for Windows 10 PCs and smartphones for those same members next week. Both the console and the app will be getting quite a few new features.
Here's a look at what those users can expect next week:
Avatar Store: Equip your avatar with the latest avatar items in the newly-integrated 'Avatar Store'. On the console, the Store is built right into the Xbox Avatars app and on Windows 10 PCs and phones, access the Store through the Xbox Avatars app. Get access to the entire catalog of new and oldie-but-goodie items, including free items. As you're perusing catalogs, enjoy the ability to preview the items on your avatar real-time before you buy.
Xbox News: Xbox News is a one-stop source for all the latest information about new hardware, console updates, game releases, tournaments like the Halo World Championship, breaking entertainment content, and more. This month, both Xbox Beta app and Xbox One Preview audiences will see Xbox News posts in their activity feed to make it easier to stay up to date on all things Xbox.
Improvements to Trending: Across Xbox One Preview and Xbox Beta app experiences this month for console and Windows 10 PCs and phones, you'll notice a new access point for Trending items to the right of the Community tab on your console and in the left menu area of the Xbox app. This gets you to a dedicated Trending landing page with the most popular topics across Xbox Live surfaced at the top followed by an inspirational assortment of top videos, screenshots, achievements, and more that members across the community have created or unlocked. Consider friending or following publishers of content that you like.
Suggested friends: In both the Xbox One Preview and Xbox Beta app, we're making it easier to get details on your suggested friends. Starting this month, if you click 'see all' or double tap on the shortlist of friend suggestions in any scenario, you will be pointed to a full-screen view of all suggested friends.
Compact mode for Xbox App: With this update to the Xbox Beta app, we've moved additional functions to compact mode which will enable you to quickly switch between your friends' view, your party, messages and activity alerts. A quick click allows you to keep an eye on what your friends are up to, while multi-tasking on your Windows PC!
Download Xbox (beta) from the Windows Store (opens in new tab)
Source: Microsoft (opens in new tab)
Windows Central Newsletter
Get the best of Windows Central in your inbox, every day!
Avatar store?stop wasting resources in useless stuff,please. Who uses avatars anyways?

Currently it links you to the browser if you want to buy stuff.

Who uses it? Obviously people who aren't you. ;-)

I use it....matter of fact I love Avatars on Xbox One.

Do avatars even make an appearance on Xbox One? I have yet to see them.

They need to make it an universal app.

My best purchase from Xmas... The Xbox One.

Congratulations. It's pretty sweet, isn't it?

Awesome! Keep on bringing those improvements to the Xbox app. I'd like to see a better function of the Xbox store with the integration of the Xbox 360 store. That way we can easily buy Backwards compatible games from our devices without having to go through Xbox.com.

That's a feature the xbox needs!!!

I just want them to enable xbox one remote play in W10 mobile so I can use my 1520 to stream games

That's a challenge they haven't solved yet

The avatar store image shows Age of Empires props. Whenever I see Age of Empires Online I get really sad. Oh how I miss that game. I'm more excited about Xbox News though, I liked the Community Calendar beta.

I just wish you could uninstall the Xbox app itself if you have the Xbox beta app installed.

Hope they continue bringing back these features but new ones too but why not a universal avatar home not only can you play on Xbox but on pc or mobile

Cool, lets fix some bullshit, and still not address the fact that the remote hasn't worked in YouTube or Netflix from any device that runs 10.

Nice updates are good. Posted via the Windows Central App for Android

When will we see Universal Apps on XB1? That's what has the highest potential to influence developers to bring media streaming apps to the Windows Platforms. That and a sub-$200 XB1 Mini.

Fully agreed. There's little to no reason to code Windows Store apps over Win32 and Windows Phone apps have minimal exposure. Xbox One apps, on the other hand, are far more likely to be noticed.

Sweet! It will be great to be able to get new items for my avatar without going to the xbox site.