Xbox boss would have liked to see accidental Fortnite cross-play stay on
It may have been a mistake, but even Xbox boss Phil Spencer would have liked to see Fortnite cross-play stay on.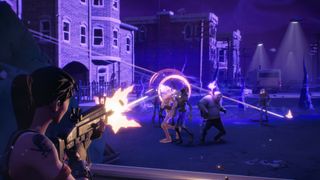 If you've been paying attention to news around Epic Games' online shooter Fortnite recently, you'll be aware of a cross-play snafu that temporarily let Xbox One and PlayStation 4 players play together. Alas, after a pretty positive reaction from the community, it was not meant to be. Epic Games later confirmed that the temporary harmony between two disparate pools of players came down to a configuration problem.
But it wasn't just the larger Fortnite community that was loving the change. Responding to a follower on Twitter, Microsoft's Xbox (and, now, overall gaming) boss Phil Spencer said he would have liked to see them leave it on as well.
Spencer's comments reflect what seems to be the general attitude of the Xbox team towards the prospect of cross-platform play. Minecraft, for example, is enabling cross-play between Xbox One, Nintendo Switch, and mobile platforms with it's Better Together update. Similarly, Rocket League will allow Xbox One and PC players to play with Nintendo Switch gamers when it hits Nintendo's portable console later this year.
So far, at least from the outside, Sony has been the sole outlier in rejecting the idea of cross-network play with Xbox One wherever it has been proposed. For its part, Sony chalks its decision up to protecting young players on its network. Despite those concerns, Xbox marketing chief Aaron Greenberg recently confirmed it is still in talks with Sony about allowing cross-play.
If anything, the Fortnite bug showed that players are pretty keen on the idea of merging online player pools with cross-platform play. Further, it showed that it wouldn't take all that much effort to enable either — at least in the case of Fortnite.
Windows Central Newsletter
Get the best of Windows Central in in your inbox, every day!
Dan Thorp-Lancaster is the former Editor-in-Chief of Windows Central. He began working with Windows Central, Android Central, and iMore as a news writer in 2014 and is obsessed with tech of all sorts. You can follow Dan on Twitter @DthorpL and Instagram @heyitsdtl.
At least Sony is allowing cross-play with Steam on Raiders of the Broken Planet.... or that other article was misleading...

Nope, I'm specifically referring to cross-play with Xbox One here. "Sony has been the sole outlier in rejecting the idea of cross-network play with Xbox One wherever it has been proposed."

I get it, I just would like to know if it is true that Microsoft is not allowing cross-play with Steam on Raiders of the Broken Planet and Sony on the other side is allowing it, I would love crossplay with Steam, and it seems strange to me that Sony is protection their players from Xbox players but not from Steam ones?, maybe the other article (the one about Raiders of the Broken Planet) is wrong abot crossplay.

Yeah, I agree it's odd that they would allow cross-play with Steam but nothing else. And oddly, Sony does that with quite a few games (you can find a handy list here on Wikipedia). As for MS, the Raiders of the Broken Planet developer indicated that they think Steam cross-play will be allowed with Xbox post-launch.

MS allows cross play with Stream already, games like Rocket League, Killer Insticnt, Rise of Nations, etc. I think it's a case of the developer for Raiders needs to get it working, and it may require an official okay from MS. But i don't see MS blocking it.

Dollar to a doughnut it wasn't a mistake

I don't think I can completely disagree with you there. I mean, is it really that easy to implement that you can accidently turn it on?

While the idea is great. I can see where Sony is coming from when it comes to reporting and issuing punishments across platforms. Although the PS community is generally considered the more poisonous one. There are enough fan boys out there that will just go out reporting everyone on the "other" platform, or luring them in to some kind of bannable offence that it could cause a real headache for both parties. You need some kind of impartial "between the services" enforcement team that can either have access to both Xbox Live and PSN or somehow have a hard line to each of the enforcement teams. And that's something that would take a while to set up.

As someone that has Steam, Windows 10, Xbox, Switch and PS4 accounts, crossplay will finally let me live out my narcissistic fantasy of logging into a game as my own team and then spend the next few hours giving myself **** for being a fanboy.

Sony once again shows they're just d!cks. "For the players".... yeah right.

Well, Valve tried it ages ago but Microsoft refused to let them run Steamworks on the console (Xbox 360 at the time), so Sony aren't the only ***** when it comes to cross platform. It's always the system manufacturer that is ahead that chooses to snub the rest.

I get that we need to "protect the children" but from whom? offeing cross play with steam offeres no more protection than with Nintendo or Microsoft, maybe they are just "protecting the children" from venturing forth to the Xbox ecosystem.
Windows Central Newsletter
Thank you for signing up to Windows Central. You will receive a verification email shortly.
There was a problem. Please refresh the page and try again.