Ashen's dark world re-emerges in 4K for Xbox One X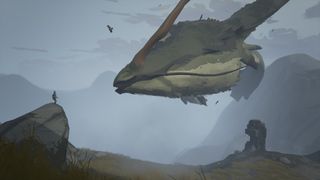 Ashen has been showcased as a part of Microsoft's E3 2017 press conference, showcasing its impressive 4K graphics on Xbox One X. The gorgeous open world is playable in co-op with friends with an emphasis on combat and survival.
The Xbox One X console launch exclusive looks to be very 'Souls-like', with the focus on small heroes fighting large monsters, in a cold and darkening world. The simplistic art style lends more to the imagination and looks to be a surprisingly challenging feast for the eyes. It also hints at a cyclical nature, like Dark Souls, of light following the dark and being reborn more vulnerable.
Ashen was originally due to be released last year, and following today's E3 showcase, we're yet to see a new launch window. Stay tuned for more info on Ashen in the coming months.
Windows Central Newsletter
Get the best of Windows Central in your inbox, every day!
Lauren Relph is a games writer, focusing on Xbox. She doesn't like piña coladas but loves getting caught in the rain. Follow her on Twitter!
This has come a very long way since its first reveal. I'm pretty excited.

I want this game more than I want to keep breathing.

When you stop breathing can you arrange to give me your copy of the game?

I'm really looking forward to this game. I couldn't care less about 4K but I'm hoping the gameplay gets the same level of focus.