Xbox July Games Showcase: The games you might see revealed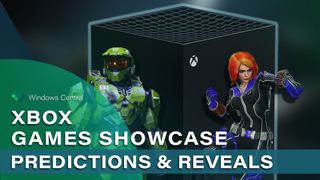 (Image credit: Windows Central)
After a fairly strong showing from Sony with the Playstation 5 and Microsoft skipping any major Xbox 2020 reveals in June, fans have all eyes on Microsoft and its upcoming July 23 Xbox Games Showcase event. Today, we'll be sharing our predictions for game announcements and reveals during what is looking to be one of the important events in Xbox history.
So far Xbox has done a surprisingly good job keeping many of the major game reveals under wraps for this showcase event. While we have seen a few leaks from credible insiders, it seems that as of now, most of the show remains a mystery.
Now without further ado, let's break down some of the amazing games we're hoping to see at the Xbox Games Showcase event.
The following predictions are strictly speculation based on a combination of insider information, cryptic teases from Xbox staff, and good old-fashioned gut intuition.
Halo: Infinite Gameplay/Warzone 2.0 Beta
One game we can guarantee will be at the showcase is Halo Infinite. Xbox has spent a great deal of time and energy building up anticipation for the gameplay reveal of Master Chief's latest outing and after last year's emotional story trailer, fans are hungry to see the game in action.
Microsoft will likely come out swinging with a brand-new gameplay-focused trailer showcasing the power of the new Slipspace engine and the Xbox Series X. We'll also get a better look at the overall conflict of Halo Infinite's story and plenty of piping hot Master Chief action.
In addition to an impressive showing of the game's campaign, we'll also get the official reveal of Warzone 2.0 - Halo Infinite's massive scale answer to the Battle Royale craze. The beta for this enormous mutliplayer experience will also shadowdrop right after the close of the event, giving players a chance to feel the new engine for themselves.
And to keep hype levels at DEFCON 1, Xbox will reconfirm that Halo Infinite will launch alongside the Xbox Series X this fall — months earlier than the originally anticipated Holiday 2020 release window.
Elden Ring Gameplay Trailer
While much of the showcase will be dedicated to demonstrating the incredible talent of the Xbox Game Studios teams, there will be a few crowd-pleasing reveals from third-party studios as well, starting with the first ever gameplay trailer for wildly-anticipated Elden Ring.
With Elden Ring making its official debut on an Xbox stage, Microsoft wants to make sure From Software fans know this title will look and play best on the Xbox Series X. The studio will reveal open-world gameplay from the project running natively on the console. This will serve as a third-party showcase for the development potential on Xbox's new hardware.
Studio Acquisition
Xbox has built up a rather impressive stable of 15 talented developers with Xbox Game Studios, but as Phil Spencer said after the last round of acquisitions, they aren't quite done adding more members to the XGS family. On July 23, Microsoft will announce a partnership with the horror development studio Bloober.
Bloober has been working closely with Xbox for the last few years and saw some major success with the launch of Blair Witch into Game Pass. It's also been one of the most vocal independent developers when it comes sharing its experiences developing on the Xbox Series X. After officially announcing the studio was on the market last month, it's safe to say the team at Xbox made an offer.
Microsoft will tout the expertise of Bloober when it comes to crafting unique and gripping horror titles and treat fans to the first official gameplay trailer for The Medium.
Everwild Gameplay Reveal
Not everything at the Xbox Games Showcase will be a new reveal. Instead we'll see plenty of deeper dives into previously announced titles like Rare's Everwild.
The captivating reveal trailer for Everwild mirrored the announcement of Sea of Thieves in many ways. We were shown glimpses of a beautiful world with little teases sprinkled throughout. During this event, we'll get a look at the first official gameplay trailer of Rare's take on an open-world RPG.
Like Sea of Thieves, this will be co-op focused, but with a greater emphasis on engaging RPG elements. It will also be another stunning example of open-world game development on the Xbox Series X.
Battletoads Shadow Drop
While much of this event will focus on the future of Xbox and Xbox Game Studios, there will be a few fun announcements to celebrate the here and now, including the stealth release of Battletoads.
This retro-brawler was recently rated for Xbox and PC in Brazil, meaning a release is imminent. To celebrate the legacy of the franchise, Phil Spencer will come out on stage in his infamous Battletoads T-shirt to reveal a new gameplay trailer and announce that all Xbox Game Pass subscribers can play the game right now.
The Initiative's First Game Reveal/Rebranding – Perfect Dark
The biggest question marks in the Xbox lineup are the much-teased projects from The Initiative. Phil Spencer publicly announced that the studio is working on some "new things and some old things." I think we'll see two major reveals from the Initiative at the Xbox Games Showcase.
First of these is the highly-speculated reboot of the Perfect Dark franchise. Taking some serious inspiration from the 2013 reimagining of Tomb Raider, we'll get our first look at the gritty new Joanna Dark. Combining heavy narrative themes with gadget based stealth combat, the new Perfect Dark aims to reinvent a genre many fans have been missing since the hiatus of Splinter Cell.
The second reveal will be a rebranding of the studio name and logo. The Initiative name was merely a statement of intent for the team's goals within Xbox Game Studios and the logo itself was actually a tease for the Perfect Dark reboot, hence the similarities to the DataDyne logo from the series.
Hellblade II Gameplay Trailer
Following the powerful and cryptic reveal of Hellblade 2 during the Game Awards last year, fans have been eagerly awaiting more information on the next chapter in Senua's story. At the Xbox Games Showcase, fans will be treated to the first gameplay trailer for Senua's Saga: Hellblade II, running in Unreal Engine 5 on the Xbox Series X.
Following the gameplay reveal, members of Ninja Theory will share their experiences developing for the Xbox Series X. We'll get some specific insights to features and quality of life improvements we can expect with the next generation of Xbox games.
Undead Labs/Capcom Dead Rising Reboot
Much of the Xbox Games Showcase will be dedicated to reinforcing the versatility of the new and improved Xbox Game Studios. The company aims to shift the narrative regarding some of the blunders of second-party development on Xbox by reimagining the cult favorite franchise Dead Rising.
On a recent episode of Rebel FM, Arthur Gies (a trusted industry insider) made claims that both Undead Labs and Capcom will have something to announce at the Xbox showcase. While the safe assumption for Undead Labs is State of Decay 3, what if Xbox is tasking its dedicated zombie development studio with reinventing Dead Rising alongside Capcom? Fans may be in for a real undead treat on July 23.
Fable Reboot Reveal
After years of teases, speculation, and fascinating rumors, Xbox will cap off their games showcase with one of the most anticipated announcements in the platform's history — the reboot of beloved RPG series, Fable.
Fans will finally be given confirmation of this title's existence with a gorgeous in-engine trailer, showcasing the beautifully reimagined world of Albion. Some core story details will be cryptically hidden throughout the lush landscapes and environments explored in this trailer, ending with the new Fable logo and a 2021 release date, much sooner than many players anticipated.
What's your dream lineup?
What games are you hoping to see at the Xbox Games Showcase? Will Xbox power your dreams of great next generation games? Let us know in the comment section below!
The Best Deal in Gaming
Hundreds of great games

Play these and many more amazing Xbox Game Studios games for one low monthly fee with Xbox Game Pass.
Get the Windows Central Newsletter
All the latest news, reviews, and guides for Windows and Xbox diehards.
Miles Dompier is a Freelance Video Producer for Windows Central, focusing on video content for Windows Central Gaming. In addition to writing or producing news, reviews, and gaming guides, Miles delivers fun, community-focused videos for the Windows Central Gaming YouTube channel. Miles also hosts Xbox Chaturdays every Saturday, which serves as the Windows Central Gaming weekly podcast.