Xbox Live: Feed Me Oil splashes onto the Marketplace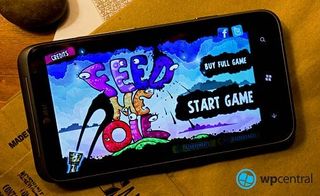 WPCentral broke the news of Chillingo's Feed Me Oil coming to Xbox Live last month, with the promise that it would release within the next 1-2 months. It looks like we were right on the money, as Feed Me Oil has just debuted on the Marketplace. Even better news? It costs only 99 cents, just like its iOS counterpart. Also of note: Electronic Arts published the game rather than Chillingo, their subsidiary.
Feed Me Oil is a physics puzzle game that closely resembles Enigmo. The player's job is to get a bunch of dropping oil into the mouths of gigantic creatures. You'll use a variety of gadgets to do so, pushing, pulling, and otherwise directing the flow of oil. While the gameplay may be somewhat familiar to puzzle fans, Feed Me Oil's creative art design (complete with cute intro) is far more appealing than Enigmo's sterile setting. The Windows phone version features several exclusive levels, making the low price tag even more of a bargain.
Feed Me Oil costs 99 cents and there is a free trial. Get it here on the Marketplace.
Thanks to Zebrasqual and Robin Dale for the tip!
Windows Central Newsletter
Get the best of Windows Central in in your inbox, every day!
Paul Acevedo is the Games Editor at Windows Central. A lifelong gamer, he has written about videogames for over 15 years and reviewed over 350 games for our site. Follow him on Twitter @PaulRAcevedo. Don't hate. Appreciate!
Boooo we need something besides physics games where is the action,RPG,strategy, even a platformer

What was the point in saying this? Not interested then don't comment,that simple

Its true we have Xbox but no titles worth playn

My point is there are Xbox live categories that are empty yet we get games that are similar to wat we already got

Maybe the awesomeness will start coming with windows 8 and tablets.. Would totally love to see magic dotp on the phone with multiplayer

Then we get 1 garbage game a week no bueno

The only question for me is:
AND CUT THE ROPE??? Please, bring ths to us!! \o/ If any Chillingo developer are reading this: please, publish this game (Feed Me Oil) to Brazilian Windows Phone Marketplace too.

......so where is GeoDefense....


sweet and this game being .99 is pretty great too


this game is awesome!
at 99c, im BUYING!

Game is great ... And well worth .99

Wasn't there some Microsoft policy that says xbl title for WP are always 1.99 or higher? oO Whatsoever, nice game for a nice price. :)

The 99 price point launched a few weeks ago. We covered it in a few stories (Angry Birds, Battlewaghon, etc).

I hope it catches on, it was bad enough games costing $1.99 but in the AU marketplace they were $2.49. Since 99c came in I've started to see parity.

That's awesome - and nice use of the word parity. Just stuck that into oneof my own articles. :)

Ahh, I was hoping for Pinball FX2. Or at least a release date for it.

Very close to having news on that. Stay tuned!

Sweet little game, I like it.

Its 1 dollar. That's a win for xbla for wp7

Hmm since its 1 dollar, it will be free when its deal of the week? :O

At .99 it was an instant buy for me if for no toher reason than to support a good game at a great price! That said, I'm 20 or so levels in and loving the game personally, I'd recommend it easily to anyone. Hoping this is a big enough sucess to keep them releasing this way to the market for WP7.


Now, what about Pinball FX - My app card is running out in three weeks so it better release before then!

Tired of puzzle and physics games, don't really care even if it was free. Give me an RPG even for 5 Euro and I'm all over it.

Oh well, going to buy The Oregon Trail, seems pretty good.

I bought it cuz its .99 but that's cuz I try to support wp7 as much as possible but I have like 20 games like it

they seriously need to start getting serious with the games. most games are just the same thing different name. i bought the game though, becuase it is nice, but they have to start brigning more genres to xbox live. action, rpg, startegy come to mind. no to mention, more actual 3d games.

I like it well worth a pound.

Honestly if wp8 has audiosurf tilt like the Zunehd im hooked forever that game is awesome and nothing like it anywhere else

Is there a BP spill version ?

All kidding aside, looks like a fun one...I'm in...
Windows Central Newsletter
Thank you for signing up to Windows Central. You will receive a verification email shortly.
There was a problem. Please refresh the page and try again.