Xbox Music and SmartGlass updated, improves offline view for music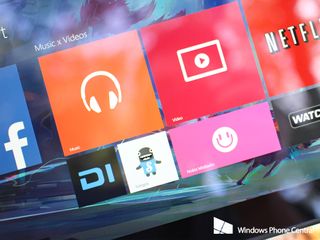 Team Xbox is busy updating apps today for Windows Phone and Windows 8. Head into the Windows Phone Store and you'll see an update for Xbox One SmartGlass. Head into your Windows Store and you'll see an update for Xbox One SmartGlass and Xbox Music. Let's check out what team Xbox has been working on.
Xbox Music
We're loving the continual love that Xbox Music is receiving on Windows 8. We're now at version 2.2.800.0 of Xbox Music with the following changes:
Songs and albums that aren't on your PC now appear disabled when you're offline, so it's easier to tell what you can play
Minor fixes and improvements
Not a major update to Xbox Music, but again we're liking the little tweaks that continue to improve the app. Check the screenshot above to see the aesthetic changes. Music in the cloud and not on your PC will appear grey-out when you're offline. Making it easier to know what music is readily available and what music isn't. Sadly, no update has been made to the Windows Phone version of the app since December. Though we bet that changes next week.
Download Xbox Music from the Windows Store (opens in new tab).
Xbox One SmartGlass
We're also picking up changes to Xbox One SmartGlass on both Windows Phone and Windows 8. Sadly, there's no accompanying changelog with the update. We do see a changelog, but that was from when the apps were updated last to reflect changes in the March update for the Xbox One.
The Windows Phone version of the app is now at version 1.0.3.2 in the Windows Phone Store, but shows 2.2.1403.18001 inside the app.
The Windows 8 version of the app shows 2.2.1403.19000 inside the app.
If you notice any bug fixes or other improvements let us know in the comments.
Download Xbox One SmartGlass from the Windows Phone Store and Windows Store (opens in new tab).
Thanks for the tips everyone!
Windows Central Newsletter
Get the best of Windows Central in in your inbox, every day!
Big Gigantic! Fantastic music. You might like Pretty Lights.

Thanks. I'll check it out.

You listen to digitally imported? What's your top 3 favorite stations on it?

need an update i won't pay for the ability to listen to my local music ain't happening

agreed. I have a lot of local music which I got from various stores, but MSFT seems bent hell out of shape trying to make me get a subscription to play it. oh guess what? I have it. But still doesn't work! why? because my music isn't available on the US store which means, sorry, can't have your music. BTW, I have nearly 500GB of skydrive so why can't MSFT just seamlessly integrate skydrive in xbox music? Lame. Ultimately the solution was to just not use xbox music because it is so artificially limited it doesn't really support home grown music collections with an international taste.

Give it time my son, give it time

My main complaint. Let me play what's on my Skydrive like I do on my Surface2. Why, why, why is this not possible? Also, sometimes the app will just stubbornly not work.

Smart glass for 360 on my Surface 2 doesn't work, even though I've uninstalled it twice. Any suggestions?

it doesn't sign in, it doesn't connect to Xbox, whats not working?

sorry, i should had specify. it starts up, but won't connect to xbox 360. it'll allow me sign in, but that it, nothing more.

Quin do you have VisualStudio Express for WP8 installed? If so unistall the emulator and try again. There is a KB article stating they know it is an issue.

yes, i'm not sure why it doesn't connect.

not on wp8, Surface 2 tablet.

Can't they update the app on WP? The separate app hardly works on my 521 and the built in app randomly creates multiple songs for cds. Its annoying.

i hope so soon the Hub duplicates my music and i'd like to use the Seperate App but i don't want a Sub

Well, you'll have the Hub. I am guessing MS is doing away with the subscription thing on the Hub and will move forward with the app for pass subscribers. Hopefully after that, everyone will stop whining about duplicates. I say this because Everything I do on the XBOX MUSIC APP changes simultaneously on XBOX ONE, WIN8, and WP. It doesn't happen with the Music Hub that fast. I have stopped using it for my pass and will only use it to sync music from my pc from now on. I'd imagine it would work better for people like you. Just turn off the cloud things, it's what I've done.

If I could afford a sub I would have one. I think it would be cool.

My gf said this does not happen on her 520 ..

Is the music on a SD card? If so that's a bug in all WPs

Yeah. And I wish they would fix that

Xbox Music for WP needs an update too, because it kinda suuuuucks.

I don't like the UI one bit.

Songs and albums that aren't on your PC now appear disabled when you're offline, so it's easier to tell what you can play

PLEASE

, bring it to WP 8.1

in the music listing you can just select "all music - Cloud music - On this device" so the list will just show whatever you want anyways

I really hope that Microsoft raises the max streaming bitrate of Xbox music. Its the sole reason I don't use it. 192kbps is just not enough.

The downloads are mostly 256kbps though.

Only if you purchase them though, cached songs for offline play are still 192kbps, whereas spotify/beats/google play all access all stream and download in up to 320kbps.

As a old Zune subscriber and current Xbox music subscriber something isn't right. I pay $14.99 a month and get 10 free songs. I usually use the credits from my phone. It doesn't sync properly between phone, Xbox music on PC and Media Player on my PC. Numerous times it charges me when I redownload them on my PC. I can open Zune and it plainly shows I've bought them previously. I've had to contact MS support many times to get refunded. This sucks.

If you want the tracks you buy with your credits on multiple devices you have to copy them from the device you used to download them. It doesn't give you unlimited DRM free downloads of the song, it gives you one. It's up to you to make more copies if you want them. It's always been that way. You can still download the DRM wma version again if you want. I only do that if I forgot to transfer the song to my phone and want to listen to it though.

IDK...you might have a valid point. Though Microsoft reps tell me different. I think it changed because Microsoft has the surface, 360, One etc.. now. I know they lifted the amount of devices you can have. Also it only affects a few songs/cd's. The majority of the time it says I own them and I've redownloaded numerous times.

Incorrect. Zune used to back up newly added music on top your PC along with any other media. It was kinda useful that program.

In my opinion, the transition from Zune to Xbox music has been the worst software disaster I've ever seen. Hoe many years has it been now? Honestly, I don't believe it could be worse. It is clear that MS assigns ZERO value to the music experience on WP.

Don't use it. Zune still works fine. Then there's the WP8 syncing app for all your syncing needs. Just because you like living in the Draconian era, doesn't mean everyone else does. The Cloud has come and I have welcomed it. You have a choice, the XBOX MUSIC APP or ZUNE. No one is forcing you to use XBOX MUSIC APP. You still have acces to the Music Marketplace on the Zune software.

The CLOUD is the problem!!! It doesn't sync.
Why I think the Cloud sucks.
1. You have nothing if things get lost. I've bought games, apps and music that are gone or no longer available. My money is gone to.
2. Privacy
3.DATA usage
4. If you don't have a cell signal or Wi-Fi you're S.O.L.
The Cloud might work for you but it doesn't for me.

I'm referencing the Cloud to the MUSIC portion. Even so, I still have copies locally of Docs an Music. What do you mean it doesn't sync? It works like a champ for me. Just before I wrote a reply to you in the other section, I downloaded a song to Zune, opened up the XM APP, it synced that song to the cloud. Checked my phone right now, and BAM! there it is. 1. You can dowload your stuff. I even back up my music to a separate HDD once a week. 2. I understand that, but is there really any privacy any more? 3. Like I said you can download your music locally (McDonalds has free wifi and so does the library) from the cloud or you could turn off the cloud and just sync it locally with the WP app. 4. If you downloaded your music, that is not a problem. P.S. the only thing that would make XM better for me is to have a locker for the songs that can't be matched by the cloud.

The "Zune era" was Draconian? Do elaborate.

I'm sooooooooo with you on this one.

I actually tried this for the first time last month. I got a song on my windows phone. Went to Zune to try and download it, but didn't have the opttion in the purchases section. I went on XBOX MUSIC APP on my PC and saw it in my cloud collection and was able to download it like that. Just to make sure it downloaded correctly, I went to the Zune software and found the song, looked at properties to make sure it had downloaded as an MP3 version and sure enough it had.

For some reason some of my music shows up on one but not both zune/xbox music. It's weird.

They use different DRM. If you download a song through the XBOX MUSIC APP, it won't play on the ZUNE Software. Unless that song is an MP3. Like I said I use the credit for one song on my WP, went to the XBOX APP and downloaded the song from 'my' cloud collection. Make sure it's the correct song, album, etc and it should download as an "MP3" song. It should have those parenthesis thingys next to them. Otherwise you won't be able to play it on the Zune sofware. However, on the flip side of that, You CAN most certainly download songs through your pass on the Zune software and it plays nice with the XBOX MUSIC APP.

Intially Zune sold DRM-protected WMA tracks until the eventally went full DRM-free MP3. The protected WMA tracks had a 5 download limit, though you could call them and they'd issue you additonal licesnes, though it can be a hassel. This is the same with videos and you have to move them, not copy and paste, for them to persever their rights. For MP3, they only allowed you to download them once and it was up to you to make sure you backed them up. With Xbox Music, they did change somethings, specifically, it now appears you can download your previously purchased songs as much as you want, though for some reason there are a few that don't.

STILL no way to edit metadata and no smart playlist. Someone needs to be fired. 2 years later and it is still half of what Zune was AT BEST.

This! Bring the option where metadata can be edited. On WP as well.

Yes! Missionsparta, I agree. Please bring the functionality/features of the ZUNE desktop software to the fledgling Xbox music. The ZUNE PC desktop software is still great even after Microsoft has removed some features. If only it connected properly to WP8!

"smart playlist"? You mean Radio? As far as I can tell it works the same way. Pick an artist and gets similar music.

No, it's actually constructing a playlist based on parameters that you set within Zune. For example, if you have > 7 plays of a song, it gets added to your autoplaylist.

The lack of work on the music app is disturbing.

They actually work on this on a monthly basis it seems. May not be what you want, but they do update it often. Still not working to peak for me, still freezes. But I do appreciate the updates.

How about making those play/pause/stop buttons a little bigger for us tablet users?

Yeah! Its a joke really, I thought modern UI was supposed to have touch in mind. These buttons are way too easy to miss. Irs not like there is little room for them, it just shows how incompetent the music team is.

I decided to finally give in and move away from using the ZUNE software. The XBOX MUSIC APP matched approximately 50% of my music. I matched about 36% more bringing me to 86%. It took me a week...ARGH! Only because the DAMN THING kept freezing. I would match one album and BAM! freeze, wait five minutes. Restart. Updated my drivers and all and this piece of crap still freezes. It works FANTASTIC ON WP and XBOX ONE however. Just not on my PC and TABLET. Hope MS keeps those updates rolling, maybe it will fix my issue eventually. Oh Yeah, I'm keeping my fingers crossed for them to allow redeeming of 10 credits on the PC app as well.

All I do with XBM is hit 'random', so I hope this stops error messages saying 'can't log in to Xbox music'. It also MUST stop the two homies with their ad saying 'listen to our album on XBox Music'.

Wow, someone other than teenage girls and bro douchebags listens to that Skrillex shit? That's really embarrassing.

They do actually. Keep your misconceptions to yourself. :P

Yay, no more "seems faster" comments...for now... Posted via the WPC App for Xbox One!

Be nice if they updated the WP one some time.

After all this time the Zune to XBMusic transition invokes so much anger and frustration. Imagine the uproar if MS rebranded Office to XBox Work except for they use rebranded Notepad, Calculator, and MS Paint apps in place of Word, Excel and Powerpoint. With the added bonus that you could only work on files that are 'matched' with files they've got in their cloud storage. If you want to download those files you have to have an Xbox Work subscription or you have to stream through your dataplan all the time where it still costs you and you have to suffer when there's poor or no signal (plus roaming charges if you happen to be abroad). Plus, sometimes it decides you don't have the rights to work with some of the files, or it decides to download it several times, or rename it to something else, or it cant find a match to ur doc so you can't work with it any more. Functionality to bring the apps closer to the original versions will be sparingly brought in on a yearly basis. Wouldn't that be awful if that were to happen!?

+9999999
Someone at MS needs to be fired, and that's not a joke.

Or you guys could stop Bitching and just use Zune instead. Nothing wrong with it, still a terrific piece of Software.

But Zune doesn't work with our phones, so...

That's what the WP App for Windows 8 or WP App for desktop is for. Next question...

Does it work on Windows 7?

Yes, here's the link: http://www.windowsphone.com/en-US/how-to/wp8/windows-phone-app-for-desktop

I hope you're not talking about that terrible WP Sync App? It's hardly a replacement for Zune, it looks and works like it was designed and developed in an afternoon by the work experience kid.

Who said anything about replacing? I said for syncing purposes. You can still manage your music through Zune. MS could've just said FU and not given us anything. But they provided an alternative for people like you. Listen, I have this SONY MP3 player. An X series, I'm not able to use Sony's Music Service and their app to use it has always sucked. But guess what? I can sync my DRM music to it, you know the music I download thru Zune. Not even Sony supports that anymore. MS on the other hand is still kinda supporting Zune, which officially died in 2009. People are just always afraid of change. It happens. I didn't like it either at first. Eveytime they announced Zune was dying I kept wanting to cancel my sub.

Haha, ah yeah that old chestnut. Well, I have to admit you're 50% right, because there's change for the better and change for the worse. I'm a fan of the former, but not the latter.

The most current music app should be an improvement over outdated apps. MS fail.

Re: Simon Gregory,
Very good analogy. Good on so many levels. I hope it helps the thick headed, to understand what Microsoft has done to, and we are missing from, the ZUNE PC desktop software and our connected (synced) music experience.

Yeup. It was better when they kept Xbox as the gaming brand and anything related to gaming. Zune should've been used for the media brand with Windows being cut down to the main OS branding.

I still can't fast forward/rewind/scrub in Xbox music when I put the app in snap mode or vertical on the Surface. Only in full screen (widescreen) landscape mode is that possible. It's pretty annoying when I have the screen locked in vertical position for handheld use without the type cover. Already mentioned this in the feedback several times...seems like that would be an easy update. Honestly, I love the way myTube on WP8 handles FF/RW

Yeah i used Xbox Music through smartglass yesterday, but then through my Xbox 360 for once. Was shocked about what the 360 app can do more over the xOne version

Hopefully the Xbox music Windows Phone app is updated with swipe to change songs like the current music hub has... There is no other app that supports this feature. It is a necessity while driving!!

Can't they (MS) just copied everything on Zune Software , and make it Metro already !? this xbox music is just plainly inferior big time !

Can't you just use Zune and STOP WHINING! Musicwise it works the same as it always as.

"Can't you just use Zune and STOP WHINING!" and I wonder why MS create Modern/Metro Universe :p currently it look like place for incomplete+useless+inferior apps.

Well, yeah, that was the point. They wanted people to play Angry birds on their PCs instead of iPhones and Androids...

Please update the Xbox Music from WP!

Nope, not the change I needed in Xbox music for windows phone.

I really don't understand the XBOX MUSIC APP hatred. Use Zune if that's what you like, IT STILL WORKS! I use it to manage my Zune HD and to play my tunes. Since it's the only thing I now use it for, I have turned off metadata on that and turned it on in the XM APP. I also use the XBOX MUSIC APP. As a music pass subscriber, it is a FANTASTIC APP! What I do on one App, whether it be on a WP, W8, XBOX ONE, simultaneously changes on the other. It's hella a lot easier to manage playlists. Actually, I have created many Playlists for this very reason. Mostly on my XBOX One, where I use it the most, and they appear on all my other "XM" devices. That being said and since I'm moving away from Zune, I'd like the following improvements: Ability distinguish between DRM and MP3 music. Use of Song credits on the XM APP for W8. Locker for songs not matched through the cloud.

Because the Xbox Music is inferior and buggy in so many ways. Especially the UX for people who already have a music collection. Unfortunately my Zune HD is broken and I'd love a replacement, but it's a discontinued product with no sign of a replacement. XBM should be it, but it was poorly implemented from the start and all the focus on development is on the cloud streaming and or paid for subscription service. I have a music pass, and it grates to have to pay to get an experience anywhere near what it was to listen to music I already own. Your posts on here outweigh everybody elses in this comment section by about 10-1, and however much you try to protest your not going to convince everybody else that their user experience is better - when it isn't!

The ZUNE MARKETPLACE is still open to download music with a pass. Nothing has changed if you're a music pass subscriber. And you can still use it to manage your own Tunes. The only difference is no support for WP8. Don't like XM APP? Don't use it. Don't like the cloud? Again, don't use it. You do have a choice. You can sync with the WP APP for windows 8 and desktop. So, you'll have the same experience you had before. Turn off the cloud my friend and just use it that way if that's your cup of tea.

The Sync app is not a replacement for Zune!?! It's a cruel joke, and a fast track to getting lots of duplicate tracks onto the phone. Even with a music pass I get 'unable to play track', or some other DRM failure, why is that still happening when I should be able to listen to absolutely anything!? I'm not the only one with these complaints, but if it works for you 100%, then count yourself lucky. MS have had plenty of time to sort this out, but they just aren't making the progress they should have by now on this. I'm fully integrated into the MS ecosystem, but I feel completely let down by what they have done to the music experience.

Fair points. I do know what you're talking about and you're right they should definitely fix that. I actually don't use it, but have before. I use the cloud now, and my ZUNE HD.

Re: Simon Gregory,
Thank you for the above comment.
I'll add ... Two of the many problems with XBM:
1. Why don't my playlists from the past years sync automatically on all my devices?
2. Why don't the songs I paid for, sync and play on all my devices? I only need one copy of my purchased song on each device and it should play without checking with the cloud.
The ZUNE PC software did this painlessly years ago, but doesn't with Windows Phone 8!

FIFA 14 is finally available for windows 8.1 and RT http://apps.microsoft.com/windows/it-it/app/fifa-14/e89c9ccf-de94-45ed-9cd4-7e11d05c3da4

Billion of people are ignorant they don't even know what is operating system, but yes they use ipad ,Android,windows.. Only 1 out of 10000000 people know about operating system.. They just buy what are popular devices as their default choices..

Still no landscape mode in Smartglass. :-/

Well my collection is still a bloody mess, but at least they're trying and on some form of rapid release cycle. I appreciate that.

Again missing features, STILL: Ability to sort through what I own and XB music pass songs Ability to buy multiple tracks at once, example make a playlist and purcahse all songs on that playlist Ability to sync phone Xbox music screensaver during song playback for phone Family music plan Hopefully, they will adress these issues.

Little lag on Xbox music while scrolling through Songs.lumia 920 India developer preview.
Windows Central Newsletter
Thank you for signing up to Windows Central. You will receive a verification email shortly.
There was a problem. Please refresh the page and try again.