How to use new Xbox One Avatars on Xbox One
The new Xbox Avatars are now on Xbox One and easily accessible for all.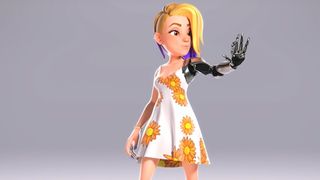 The Xbox One has received the October 2018 Xbox Update, bringing several major features to the flagship console. This marks the arrival of refreshed, player-designed Xbox Avatars, following lengthy delays beyond their planned 2017 release. Rebuilt from the ground up, the new Xbox Avatars tout diversity and inclusivity not seen in previous revisions.
After extensive Xbox Insider Program testing, Xbox Avatars are now available to the public. Here's how to access the redesigned app today.
How to use new Xbox One Avatars
Following the release of the October 2018 Xbox Update, the Xbox Avatars app has received a widespread rollout. You'll need to check your Xbox One has downloaded the latest update to access them, using our step-by-step guide. Once on the latest Xbox One OS version, the redesigned Xbox Avatars app is automatically installed. Follow the steps below to access them on your console.
Open My games & apps on your Xbox One.
Navigate to the Apps tab.
Select Xbox Avatar Editor (avoid selecting Xbox Original Avatars).
Follow the on-screen steps to create your new Avatar.
After starting the app, you'll be walked through using the new Avatars on-screen. There's a range of new customization options to explore, with an optional Avatar Store for acquiring further items. More additions are expected in the months ahead, after the initial rollout.
Have you had the opportunity to try the new Xbox Avatars system? Drop into the comments and let us know.
Xbox Avatars hands-on video offers a glimpse of good things to come
See Xbox One X at Amazon (opens in new tab)
Windows Central Newsletter
Get the best of Windows Central in in your inbox, every day!
Matt Brown was formerly a Windows Central's Senior Editor, Xbox & PC, at Future. Following over seven years of professional consumer technology and gaming coverage, he's focused on the world of Microsoft's gaming efforts. You can follow him on Twitter @mattjbrown.
Tho, you have to be 18 to use the insider program, that sucks.

OK, How to use new avatars in Windows 10?

https://www.windowscentral.com/e?link=https2F%2Fclick.linksynergy.co...

Thanks for hunting down the AppID.
As expected, it's the same app on Xbox One and on Windows 10.

Hi, that link didn't work for me, this one does though, www.microsoft.com/en-us/p/xbox-avatar-editor/9nblggh4v0r3?&token=2cLSEsgP

As shown in the article, the avatar editors are simply two separate apps, one for original avatars, and one for the new avatars.
I guess the editor for the new avatars will simply get released for Windows 10 as well, and the Xbox app will probably get updated to integrate the new avatar like the new Xbox dashboard and social app does.

Make up your mind, first you say
"Despite being initially unveiled for a late 2017 debut, Microsoft is finally close to releasing these reworked characters."
Then you say
"With the public release assumedly still some time away..." So are they close to release or still some time away? 😀

They should add new stuff to test.

Speaking as someone who is in that smaller group, I can tell you that it's just okay. I understand that it's pre-release, so what I'm experiencing is a subset of what they likely will release. Right now it's very limited in customization of both the avatar itself as well as clothes and accessories. VERY limited. You can actually get a lot closer to creating an avatar that's reminiscent of your self on the legacy avatar creator. The new app isn't particularly difficult to use, certainly no more so than the legacy app. The new avatars different...not better or worse, just different. It's like choosing one cartoon style over another. But, like the legacy avatars, I just don't see the use case anymore.

Yeah, options are very limited right now. For the use case, rumors are that some of the delays was because they wanted to extend the avatar outside of Xbox and into Windows Mixed Reality. Basically your avatar might become your digital self in virtual environments such as in AltspaceVR. I can definitely see a use case to create a single avatar that I can use everywhere instead of a separate one in each VT social app.

Question: Will you be able to use your old stuff like tshirts, uniforms etc with the new avatars?

No, old assets won't work and their visual style wouldn't match the more realistic look of the new avatars. However, they give you the option of using the old avatar system if you want, you can switch between original and new at any time.

I'm curious to know if the new avatars will be viewable on Windows Phone OS, or Windows 8.1. If someone still using either of those decide to update the avatar when it's released will it make the avatar in the xbox app on those devices disappear, or will the xbox app on these devices accept the updated avatar? By Windows Phone OS I mean anyone still using Windows Phone 8.1, or Windows Phone 10. I for example still have my Lumia 1020, and Nokia 2520 that I use, along with my Lumia 950, and 1520.

Think of it as two independent avatars completely separate that just happened to be both linked to the same Xbox gamertag, you can have both at the sime time. New avatar are based on a new infrastructure and won't show in games and apps designed to integrate the original avatars, including the Windows Phone shell.
However, you can have the two kind of avatars in parallel, edit both and switch between the two at any time, and apps designed especially for one kind of avatar will simply use the last update you made to that type of avatar.

Wish there would be option with face recognition like in iphone, so you can use face data on character/avatar, changing just some stuff like race/age/...

Yeah, if only they had a sensor that can get a picture of your face, or even better yet, some kind of super high-tech sensor that can build a 3D mesh of your face! Now that would be awesome!
Oh wait...

Something like, I dunno, the Avatar Kinect app maybe?
https://www.windowscentral.com/e?link=https2F%2Fclick.linksynergy.co...

LOL no kidding. The only attempt I know of at that was in Kinect Sports and it was just OK. With the Xbox app on phones seems like they missed a golden opportunity to snap your face and import it in even after killing the poor Kinect (I still have mine hooked up for voice commands, and now ironically MS is pushing Alexa for that, when they already had a solution).

what's the point of joining the insider program. it seems like every new feature is carved out for a select group of users and not generally available to rings.

That's how it works on the windows insider builds

Old Avatar experience was better in my opinion.
For a start I tried to make an Avatar several times but in a attempt to embrace diversity they have gone too far and its confusing.
I thought I chose guys but later found out they were girls. Then the experience of trying to make a photo at the end sucks, several times I messed up and ended up backing out and having to start again.
It used to be easy to rotate your avatar and zoom etc but now it's a mess.
Windows Central Newsletter
Thank you for signing up to Windows Central. You will receive a verification email shortly.
There was a problem. Please refresh the page and try again.