Xbox One Dolby Vision HDR support extends to Blu-ray discs this fall (updated)
Dolby Vision hits Xbox One in the coming weeks – with support for discs reportedly slated for the fall.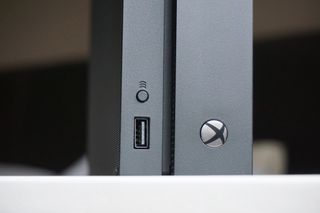 Updated July 16, 2018: Microsoft has reached out to Windows Central to clarify the initial statement reported by CNET was not accurate. For now, Dolby Vision Xbox One support is currently set to be limited to streaming. Here's hoping Dolby Vision disc support makes its debut one day!
Earlier this week Microsoft outlined the first wave of Xbox One features under the next major system update. With the Redstone 5 update coming soon to select Xbox Insiders, deeper Avatar integration, improved accessibility, and numerous other changes are on the way.
The next Xbox One update is also set to bring support for Dolby Vision – Dolby's in-house High Dynamic Range (HDR) technology bringing a wider color gamut and increased contrast ratio across supported content. While Microsoft currently embraces the open HDR10 standard across Xbox One S and Xbox One X, licensed Dolby Vision support delivers an even wider pool of content.
Xbox Insider head, Bradley Rossetti, previously detailed (opens in new tab) plans for Dolby Vision video streaming, first limited to the Netflix app. Speaking to CNET, a Microsoft spokesperson has reportedly confirmed 4K HDR Dolby Vision disc compatibility is slated to arrive "with an update for all users this fall."
Dolby Vision support further solidifies the Xbox One's dominance as a cohesive gaming console, building on its media capabilities from launch. Currently, Dolby Vision can get significantly brighter (up to 10,000 nits of brightness) supports 12-bit color, while HDR10 will only be able to hit 4,000 nits and 10-bit color. The technology's dynamic metadata is also processed on a frame-by-frame basis, allowing color settings and brightness to adapt on the fly. Across supported media, your Xbox One video may look better than ever.
Dolby Vision support is currently expected in the coming weeks for select members of the Xbox Insider Program. Are you looking forward to Xbox One Dolby Vision support? Let us know your thoughts in the comments.
Get the Windows Central Newsletter
All the latest news, reviews, and guides for Windows and Xbox diehards.
Matt Brown was formerly a Windows Central's Senior Editor, Xbox & PC, at Future. Following over seven years of professional consumer technology and gaming coverage, he's focused on the world of Microsoft's gaming efforts. You can follow him on Twitter @mattjbrown.
Good stuff! The more features supported, the wider the pool of content. Now, if Microsoft would simply allow paying Gold subscribers to turn off ads and recommendations on the home screen..

1 banner (still image) tells you to grab gold benefits, another still image for something else is still much better than its competitors. On the ps4 for example.
After login, your first stop is the "What's New" tab and the ads starts loading on its own.
If you stayed till the loading ends, there goes ads for you.
(Even if you move away instantly, bandwidth is spent)
Not just that, on the main dashboard, sometimes games-you-don't-own hidden-in with your recent activity.

My point is that as people who pay for a premium service, it should feel premium, and seeing as as soon as I arrive on the home screen feels cheap, especially on the X, which has been touted as the premium gaming device. We should have total control over what appears on the home screen, and that includes ads and recommendations. I want a clean home screen, and the ads and such make it look ugly.

That's not all! its probably the main reason the Xbox Home screen mostly lags because of loading these adds.

4,000 nits and your eyes would be bleeding. I own the PG27UQ and it's 1,000 nits is blinding already

Awesome. The Xbox One X is becoming a great media device on top of the killer games. Looks like my Nvidia will be sold (it doesnt support Dolby Vision).

The Xbox One S/X have been great media devices. Microsoft had to tone down the media announcements because of the sensitivity of some users.

Not sure if it is just me but I can only see a huge difference on my Xbox One X when I play Gears 4 (which looks amazing on it), all the rest look about the same. Even Netflix looks better streaming from my TV's app than it does from my X. I have an original Xbox One hooked up to a 1080p Samsung monitor right next to my X on a 4k Samsung LCD as well as an Xbox S hooked up to a Samsung Plasma in the main room, so I have been able to compare. Maybe I am missing a setting or maybe my eyes are bad...

Have you tried using a different HDMI cable with the X?

I have been using the HDMI that came with the console... Do I need to upgrade that as well?

Hi, I've got an X and even on a 1080p TV I've been able to tell a difference on Halo 5, Halo Wars 2 and Rise of the Tomb Raider. Everything looks just crisper with no aliasing at all. Ah and of course with Wolfenstein II the difference is like comparing the Xbox 360 with the Xbox One. Some levels are just amazing!

What is the size of the two displays, sometime is the pixel density that has a major part to play there, also the response times.

Most certainly looking forward to this. I could be wrong, but the current panels hardware is only 10 bit?

You are correct current panels are 10 bit and make out around 2500 nits. Dolby vision is more future focused than the current HDR10 standard.

Can't wait! This justifies my strong desire to get a 4K TV that supported both HDR standards when the Xbox One S came out. That was a Vizio P65 that also supports 1080/120 Hz. I now have an Xbox One X and it's nice to have a TV with the features and flexibility to work with all of the updates that Xbox supports.

The only problem is the Xbox One X and Xbox One S only has One HDMI out port (Video/Audio). The other HDMI port is for TV in. If you plug your Xbox One X directly into your 4K Dolby Vision TV, if it doesn't support Dolby Atmos via ARC, you only get DTS or Dolby Digital for sound running back to your 4K receiver. Some 4K TVs support Dolby Atmos via Arc (TCL 6 Series, LG OLED, Vizio). You tend to lose features when you plug your Xbox One X directly into a 4K receiver. I couldn't enable VRR or FreeSync until I plugged my Xbox One X directly into my 65" Samsung Q9FN QLED TV (yes it only has HDR10 and HDR10+. My 55" TCL 6 Series has HDR10 and Dolby Vision).

Come on MS, allow pass through audio already through software apps not just BluRay!

This is great news. Have been on my wish list for a long time.

Does the One X have HDR10+ support? I'm deciding on going the new Panasonic panel, or LG and this is basically the deciding factor as the Panasonic looks better, but if the One X doesn't support 10+ and only supports the older HDR10 then I might as well just go the LG.

X does not currently support HDR10+. Dolby Vision will be the better format imo, and probably IRL too. It's a long time proven company vs. Samsung being lame and making their own dynamic HDR format.

HDR10+ puts the control in the TV manufacturers hands. It's also open source and free for manufacturers to use, as opposed to Dolby Vision which is entirely controlled by Dolby. Like I said comparing Panasonic to LG, the Panasonic sets look better. It's not a make or break decision, I'll get the LG if need be but it's a shame nonetheless. Dolby's only advantage is 12 bit support, which is currently useless.

Hi, has a fix been implemented in the official updates for the incorrect RGB color matrix for the Xbox One X and S when using 4K UHD discs (see the following for a description and comparison: https://www.youtube.com/watch?v=F1Lt43-9lmY)? In other words, is the Xbox One X able to output YCbCr directly for 4K UHD discs instead of converting to RGB?