Xbox One Lunar White Wireless Controller coming in September for $64.99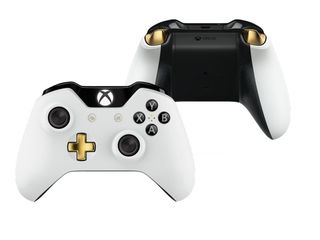 Alongside today's announcement of the Xbox One Elite Bundle, Microsoft has also revealed plans to sell a special Lunar White version of its standard Xbox One Wireless Controller. It will go on sale later in September for $64.99.
Microsoft says:
When the Lunar White Xbox One Controller does go on sale, it will be available in the US exclusively at GameStop.
Source: Xbox Wire (opens in new tab)
Why these cool things launch only after I have bought some normal stuff? Damn, 2 weeks after I bought my controller for Xbox ms announced that new controllers would come with a p2 connector, then Xbox elite controller and now this

Same here, lol. I just bought a covert forces version. I could have waited but I'm fine either way. Both of the controllers are cool.

I like the black buttons with control colors there.

Holy crap that thing looks incredible, I want one.

nice, but not the bling trim I prefer my Sunset Overdrive white controller and wish they sold that

dito. that one looks better, imho

Agreed. Get rid of the gold

Am I the only one that thinks this looks hideous?

same here, of only they didn't use the gold accent and istead made it white or black it would look much cooler. This gold is like......."it's plastic but still gold, so maybe I'm like half-rich".

Obviously your wrong. Microsoft loves us and is selling us a controller with solid gold triggers. Duh.

If there wasn't gold and it was white instead or black, it would look a whole lot better

Nice! Will probably buy this one to replace my worn out one, but personally dislike the color markings near the xyab buttons

FU*K THIS! I WANT TO BE IN THEIR DESIGN TEAM!

Yuck, white electronics. I'll stick to my Titanfall one, while adding the two Halo 5 ones and the Forza 6 one in a couple of months.

I wish they made a controller where you can snap on a custom design or etc without paying for a new controller everytime

typical its always gs/eb that gets this stuff(but then again their customers are usually the compulsive buyers)

Looks cool, love that gold-ish touch to the D-pad and the triggers.
Windows Central Newsletter
Thank you for signing up to Windows Central. You will receive a verification email shortly.
There was a problem. Please refresh the page and try again.