Xbox One S Battlefield 1 console bundles pre-orders launch in three versions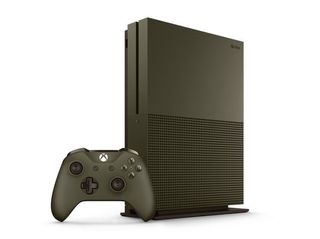 Microsoft has launched pre-orders for Battlefield 1 500GB and 1TB Xbox One S console bundles. All of the bundles come with a free copy of the upcoming first-person shooter and some come with different colors for the consoles themselves.
Xbox Wire (opens in new tab) has the details and prices for all three Battlefield 1 Xbox One S bundles, starting with the standard white 500GB console for $299:
All three Xbox One S Battlefield 1 console bundles will come with a code for one free month of EA Access, which offers gamers a way to play over 20 full EA games.
See at Microsoft Store (opens in new tab)
Windows Central Newsletter
Get the best of Windows Central in your inbox, every day!
"I'm with the console I have, I'm fine with the console I have, I'm fine with..."

"... Dammit! I need this!"

You can reply to comment, this is not Twitter! ;)

"Best place to play Battlefield 1 is on Xbox..." LOL, without m/kb support it sure is. /s

The thing is, if everyone is on a controller it kind of invalidates the argument. Two people that are using a controller, the winner will usually come down to the more skilled player, not the player with a hardware advantage.

Color variation is all nice and cool but what the hell has happened to classic black?
I'm not in the market for a Xbox One S anyway but jeesh... white, red, blue, green...
Next time I'll log on they'll release a yellow one for a ReCore Bundle? I sure hope they go back to or also offer Project Scorpio in black as otherwise they'll not see much love from me as for sure I'll not place anything else but a black console next to all my other black hardware.

Yeah I also have no idea what's up with the colours. I mean, sure, I prefer this one or the Gears of War one to the normal white version but it will still look ugly amongst an otherwise all-black hardware media centre.

I have the same problem when trying to find shoes. Everyone wants to have a special snowflake design with a bunch of colors, so if you like a muted design, it is hard to find something for you. That said, the grey one looks really nice. I like it. However, I'm more likely to pick up a PS4 Slim than trade in my Halo 5 XB1 to get a slightly better version.

Major Nelson just tweeted a black version of the console. The 500GB version of the Battlefield bundle also comes in matte black (or really dark grey?) Posted via the Windows Central App for Android

Mmm...that Military Green version is tempting...But my Forza 6 console still looks (and sounds) better. Still...

When is Xbox one s launching in India. I'm putting my ps4 up for sale with my account and over 1000 trophies.

Selling accounts is against the ToS.

The price is great. You're basically getting Battlefield 1 for free. Of course, Battlefield itself is a rip-off and even in the bundle you'll just get half a game and if you want the rest you will have to pay for the DLCs or the Season Pass. And f*ck you, EA if you think I'm falling for that one. But still, if you like being robbed by EA, this is the best deal you'll probably get for the game. (Also, loved the shots fired at Sony for the moronic PS4 "Pro". Yeah the BD player on the Xbox is crap. But it's still better to have a crappy UHD player than not having one at all. And now Sony gave Microsoft amunition for a year lol)

Give it a ******* break. You are the kind that makes it like EA is the ONLY one doing DLC. My god. -_- Posted via the Windows Central App for Android

No I'm not giving it a f*cking break. EA isn't the only one doing DLC's. But it's the only one splitting games in two and selling the other half as a DLC.
They did it with Star Wars and they're doing it again with Battlefield. So for as long as they keep robbing consumers with this scheme I won't give it a f*cking break. Posted via the Windows Central App for Android

That Storm Grey looks amazing! Now I'm torn between plain white (prefered by my partner), Gears 4 edition (which looks bad ass), or Storm Grey. Ugh... #FirstWorldProblems

I just want a all black Xbox one s controller. That is all.

Well, you're in luck, they've just announced one aha

There's a 500GB version of the Battlefield bundle in black (or really really dark grey)

I want one in the shape of a zeppelin! So that on Christmas morning I can say "oh wow a zeppelin!!" And drive it around on the floor in my PJs, then I can hook it up and be like oh wow a zeppelin! When im playing the game.

Microsoft PR team truly sucks or Nadella really doesn't want mobile division to cherish,Why not bundle all these new Xbox One S consoles with Lumia for great ass price and have 950 in hands of many? So many ways they can market Lumia 950/XL devices.

In my Country(Greece) they gave the 830 with an Xbox one (Halo,Assassins creed,) for 399€.
The problem was that time you was able to withdraw only 60€ per day...
If they try it again it would be a great bundle.

They tried the reverse here in Australia ... the carrier Optus was giving away an XBox One console pack with every Lumia. From memory, I think there were 200 up for grabs ... and they were gone in 48 hours.

It's best to do promotions like that

Battlefield 1 will have HDR support via online patch!!!