Xbox One Smartglass update brings live TV streaming to 19 countries, more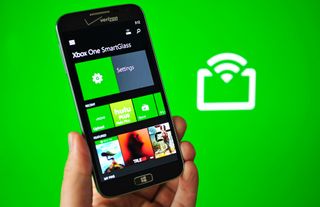 Xbox One Smartglass has been updated today, bringing along the ability to power your console on or off from the app and support for streaming live TV in 19 countries.
Here's the full, official breakdown of what's new in Xbox One Smartglass version 1.0.7.6:
Power On/Off the console from your SmartGlass app
Stream live TV from an Xbox One with a supported USB TV Tuner in 19 countries
Bug fixes
Overall, this is a pretty nifty update to an already handy app. Unfortunately, the changelog doesn't give a detailed rundown on which countries can now enjoy live streaming TV to the app. If you'd like to grab the update, you can hit up the store links below to get started.
Thanks for the tips everyone!
Windows Central Newsletter
Get the best of Windows Central in your inbox, every day!
Dan Thorp-Lancaster is the former Editor-in-Chief of Windows Central. He began working with Windows Central, Android Central, and iMore as a news writer in 2014 and is obsessed with tech of all sorts. You can follow Dan on Twitter @DthorpL and Instagram @heyitsdtl.
It would be super nifty if you could stream DirecTV through the SmartGlass app.

It would be super nifty if DirecTV released a proper WP app.

You got that right. But that's never gonna happen.

It would be cool if I could stream from my DVR cable shows.

If only XBOX One could just do what a slingbox does, still trying to figure out why it doesn't at this point. I mean, it should be just software at this point..... Right? Why do I need a USB tuner plugged in, when they're is a direct HDMI link between my current cable box and my X1

for the same reason we can't have nice things: an antiquated copyright system that was not meant to deal with the digital age.

Bring the tv DVR function. THAT'S WHAT WE NEED!

Spot on with the DVR function, they have a 30 minute pause function but give me the option with an external hard drive....please.

And those 19 countries would be...

Proper countries. Not this third world backwater country ran by a monarchy of King MPAA and Queen RIAA. No. Civilized societies get view THEIR media the way THEY want to. Not how the king and queen dictate it be enjoyed.

We just watch things how king Rupert Murdoch wants us to here, or sal the pirate seas.

Yeah!? Cant believe Im saying this about WinCentral but... lazy reporting.

All of a sudden I can't sign in to either this it the beta app... Hmmmm it's getting so good too. Guess I don't use this though anyway... Does anyone else have a sign in issue?
Does anyone else have issue with reconnect speed after a lock screen?

Yup. Reconnect speed was always an issue. Can't sign in, or connect anymore.... L630 Restarted, wifi off/on, everything and no dice.....

Yeah... DirecTV needs to get their schtuff together with Microsoft. I'm sure if my surface pro 3 was an iSurfacePro3 and I had an iLumia Icon I'd have all the DirecTV love.

There is no compelling reason to not support the platform now, other than companies being lazy..... You can however use the antiquated web streaming via Silverlight (same as Verizon Fios). Why is there a Fios app on my XBOX, and not on my PC? I have a cable box directly connected to my XB1, I could really use that app on my SP3 though

Be happy you have anything at all. I'm with Charter and they don't have squat!

Any word on which 19 countries got streaming?

Is US PART of the countries? I mean im trying to kill time Warner so I can go digital tuner + Sling Tv. I hate how sling doesn't offer local FREE channels on their app.

does the usb tv tuner need to be displayed on the main tv whilst it streams to a pc with smartglass? i suppose it would be too good to be true if it would let you game and fling tv out at same time

Sick of the US networks and cable clamping down on anything like this.

Why can't we stream live TV to SmartGlass in the U.S. for those using the HomeWorx box? It doesn't make any sense why they'd limit it.

Why? Ask the US Congress... seriously, write to your Representative in Congress. You voted to put those guys on Capitol Hill (and for those who didn't, now you know why perhaps you should). Now make them earn their paycheck! Only they have the power to change the copyright laws.

It's not their decision. It's Microsoft's. This is free, over-the-air TV that they are allowing some customers to stream but not others. It doesn't add up.

Just because it's free over the air does not mean that you have the right to retransmit it. Microsoft is just obeying the law.

From the article above: "SmartGlass has been updated today, bringing along...support for streaming live TV in 19 countries." It's clearly possible because they're doing it. The problem is that they're limiting it only to those consumers who are using their digital TV tuner, unfairly preventing consumers who use tuners from other companies from streaming even though it is the exact same, free OTA TV content.

You can't stream TV from Xbox one in the US using any tuner. I want this as much as you do. Trust me. We will get game streaming, but no TV streaming. I'd say TV streaming is technically far simpler. It's the laws as they currently stand here that are in the way. This will literally take an Act of Congress to fix.

Appears to be broken now. Both normal and beta now fail to connect to my Xbox one.

Knew I shouldn't have updated right away. I NEVER usually do for this exact reason :/

And the features gap keeps growing. Meanwhile at iOS and Android people is sending pictures of their generals...

Every launch country except new Zealand. Microsoft the useless fucks.

That sucks doesn't it. I had Sky TV plugged in for a while but it never played nice so just gave up and XB1 just stand alone now :-(

I have sky NZ plugged in but it does take time changing channels when selecting prime, but I have persisted. Streaming sky would be good as I still only have adsl and in the evenings skygo is a poor experience.

Yeah stuck with adsl here to un Auckland though fiber is coming soon here. No sky for me to try. Apparently the problem is freeview making it difficult for Microsoft to access their guide. Still, they could throw money at freeview to get it up and running to give the full Xbox experience.

You guys both need to get VDSL. Uses the same copper network as ADSL. I get 30mbps down and 10 up (just as good as standard fiber plan and for the same price as ADSL :-)

Yeah we literally can't. Vdsl ends at the start of my street. I live on a small cul de sac street and just miss out. Chorus and Vodafone confirmed. Its adsl or fibre where we are.

Too far from the node, vdsl is only good if you are closer to to the node, I have tried all the main players.

All of a sudden the remote control functionality doesn't work for me. Anyone else have this problem?