Xbox One X Project Scorpio Edition appears to be sold out at major retailers
If you were hoping for an Xbox One X Project Scorpio Edition, your time has likely run out.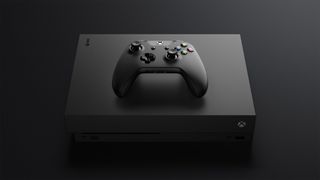 As it kicked off its Gamescom presence, Microsoft surprised and delighted hardcore Xbox fans by announcing the Xbox One X Project Scorpio Edition, with preorders opening up over the weekend. But if you were hoping to get your hands on one of the special edition versions of the console, it looks like your time has run out: the Xbox One X Project Scorpio Edition appears to be sold out at all major retailers.
The console actually appeared as sold out not long after going up for preorder at most retailers, but some had shown it as available for order off an on over the following day or so. Walmart appeared to be the last big retailer still accepting preorders, but they carried a shipping date of early December. Now, it seems all major retailers, including Best Buy, Gamestop, Amazon, and even Microsoft itself, are showing the console as out of stock.
To recap, the Project Scorpio Edition is a sort of tribute to dedicated fans who closely followed the development of the Xbox One X, which carried the Project Scorpio code name ahead of its reveal. The limited-run console features the code name printed on the console itself, along with the included controller. There's also a stippled pattern across the top of the console, which isn't a feature present on the standard Xbox One X.
It's certainly possible we could see preorders for the Project Scorpio Edition open up sporadically as some people inevitably decide to cancel theirs in the run-up to launch. Xbox One X is expected to launch on November 7 at a price of $499. If you want to keep an eye out for a chance to order one ahead of time, you can keep an eye on the preorder links below.
Updated August 22, 2017: Target appears to have opened up preorders again online (opens in new tab) if you're looking, but they'll likely sell out quickly (H/T Anthony).
U.S.
UK
More on Xbox One X
List of Xbox One X Enhanced Games
Windows Central Newsletter
Get the best of Windows Central in your inbox, every day!
Dan Thorp-Lancaster is the former Editor-in-Chief of Windows Central. He began working with Windows Central, Android Central, and iMore as a news writer in 2014 and is obsessed with tech of all sorts. You can follow Dan on Twitter @DthorpL and Instagram @heyitsdtl.
Was the first to preorder mine at GameStop 👍🏾

They are still available on Target.com - https://www.target.com/p/xbox-one-x-1tb-project-scorpio-edition/-/A-5261...

I managed to pre-order at amazon in the UK just after the announcment but they were unavailable in the next morning. On the Microsoft UK store you can still pre order at the moment as well as Argos. Game appear to be not available to pre-order as the page just has a register your interest.

Correction, Microsoft UK now has not available

Ordered thru Microsoft CA on Sunday. Achievement unlocked!

The first launch must be really small.

They did say a couple times that quantities were "extremely limited". I wonder if they'll open up preorders in larger quantities on a regular edition w/o the custom look before launch date?

I just preordered on Target. At first I was goinna let it pass but I'm not too ashamed to admit I wanna see what I can get for it come crunch time this holday season. My wife would kill me if she knew, but I'm sure I can get at least what I paid for it if I can't figure out how to finagle it past her. That, to me, is an investment with very little risk and I thought this is my only chance to get the special edition, so why not?

You can just return it in one of their stores, if she is too mad :)

My first time preordering a system especially one I already own. No 4k TV just one piece of the puzzle but most games will benefit from added framrate, lighting effect and other enchantments I can benefit even on a standard HD tv

No one cares probably but it's also sold out in Australia on the Microsoft website.

The MS Store in Sydney still has some available to pre order but they will likely be gone by the end of today...

Still available at target

They could have just a accidently not taken down the pre order button. I doubt they actually have any left.

They do. I could add to cart at Target and GameStop a few minutes ago. Infinitely harder to buy an SNES Classic Edition than this.

Sounds like hype...get em while there hot ! 😂🤣

Hype created by low stock.

Well that is said news for the PS4 Pro then. If that stock of Xbox One is so low then imagine how bad the Pro has been doing in comparison. Currently the XBox One X has surpassed the Pro in total sales for 2017 at Amazon. The Xbox One X is #64 and the Pro is at #90 according to Amazon aggrgated yearly sale numbers. That means in less than one day it beat the total sales of the PS4 Pro at Amazon in 2017. 1 day sale vs 233 days of sales. By the way, I don't think the numbers of stock were low. Well unless the PS4 is doing worst at Amazon then one would expect. Sony has said recently that 20% of all PS4 sales are the Pro. So, is Sony lying that 20% of it's consoles sales are the Pro. Or the PS4 Pro is not selling well (at least at Amazon)? Or the Pro is selling well but the Xbox One X is selling expnentially better at this point in a head battle of the two mid gen updates.

Sorry but that made little sense. 1) I wasn't talking of the PS4 pro. I don't really care of the pro. If I wanted power I have my PC. 2) I'm talking of what MS themselves talked about. They talked about the stock being "extremely limited". 3) Your comparison makes no sense. You are talking about one retailer in one country.
The MS/XB fanbase are the people buying this now. The PS/Sony fanbase bought theirs last year. We had one holiday season go by. If you want to compare systems, let's just wait for sales numbers...

Would have been more interested if they'd included the elite controller. Going to hold out for a good bundle.

You can save $50 on the elite controller with the Gamestop bronze or silver bundles - http://www.gamestop.com/xbox-one/consoles/bronze-xbox-one-x-elite-contro... or http://www.gamestop.com/xbox-one/consoles/silver-xbox-one-x-elite-contro...

LOL People still falling for this PR bullsh*t in 2017. Unbelievable. Apple has been doing this for years. Release very limited quantities (but NEVER ackowledge that!) -> place them for pre-order -> boast about how you've "run out of devices so quickly" -> profit. This is the cheapest trick in the book to generate a false feeling of "wow! It's selling really well!". And if it isn't, then I'm perfectly sure Microsoft can tell us the amount of units sold. Except they won't. Just like Apple never does.

Never acknowledge? They specifically said the Project Scorpio would be an "extremely limited" edition. Sure they didnt give a number, but they sure said there wouldn't be many.

How is this PR bullshit? They already said that the quantitites for the "Scorpio Editition" is extremely limited. This is just a one-off from the main launch. They have been very open about this. The main launch is coming soon and I am sure they will have plenty.

I was able to put one in my cart tonight as Target and GameStop. They are not selling out.

Yeah GameStop still has plenty...

im on the list now i need to find the money

I preordered mine at Best Buy on Monday and they are claiming my credit card isn't correct. I have Changed it to 2 different cards and they keep saying the same thing. i think it's a stall tactic because they ran out. LOL.

Looks like Best Buy has actually cancelled my order now.

Order one form Target or Gamestop before they sell out.

Yeah. I will. I just had $228 in certificates to use at Best Buy and I get extra points for using my Best Buy Visa. Just pissed they cancelled the pre-order and lied.

I'm happy I was able to pre-order mine :)

Gamestop has a few of their bundles available again - http://www.gamestop.com/collection/xbox-one-x

I live in Japan... no pre-order yet!!! Hope the Scorpio edition does come to Japan...

Target is sold out now. Gamestop still has 3 bundles available.

I preordered mine on GameStop.com as soon as the preorder' s went live.