These new Xbox Series X images are a hardware lover's dream
By Matt Brown last updated
Every new Xbox Series X render and image unveiled alongside hardware specs, for your viewing pleasure.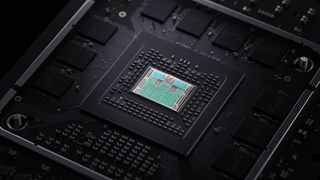 (Image credit: Microsoft)
Microsoft has shared more details surrounding Xbox Series X, its next-generation flagship console on track for this holiday. The monolithic box is shaping up to lead the next lineup of consoles, from the latest AMD CPU and GPU technology to adopting load screen-slicing solid-state storage. With the full hardware specifications now disclosed, alongside some of Microsoft's plans to leverage that overhead, the promises of Xbox Series X position the device better than ever.
Accompanying the slew of new Xbox Series X tidbits, Microsoft also releases a ton of sleek images, featuring renders of the console, internal components, and the refreshed controller. We've rounded up all the new Xbox Series X images, and how they relate to the next-generation vision.
Xbox Series X console and internals
The Xbox Series X provides a glimpse into Microsoft's next-generation approach, represented by a system looking to rival the top end of PC hardware. The previously unveiled Xbox Series X remains the pinnacle of its future-facing efforts, boasting top-tier specifications, clocking in at 12TF of graphical processing power.
Xbox Series X's new controller
Microsoft accompanies Xbox Series X with its new and improved controller, focused on refining the in-hand feel while adding new features. It results in a console separated by its new D-Pad, share button, and overall slick new look, and retaining everything you love about the Xbox One design.
Xbox Series X/S
Main
What is the Xbox Series X release date?
How much does Xbox Series X cost?
Why you can't preorder Xbox Series X yet
Matt Brown is Windows Central's Senior Games Editor, Xbox & PC, at Future. Following over seven years of professional consumer technology and gaming coverage, he's focused on the world of Microsoft's gaming efforts. You can follow him on Twitter @mattjbrown.
The fact that BOTH the CPU circuit board and GPU circuit boards are SEPARATE and connected by a PCIE4 bus opens up the possibility of upgradability in the future?
I can see a XBSEX v2 (or a PRO version) in two years that upgrades the internal GPU circuit board with a newer, more powerful GPU in the future, and MS offering either a trade-in or refurbishment for less than new price.
CPUs tend to be on a 5 year upgrade schedule, while GPUs are on a 2 year upgrade schedule, so I think that's a (distant) possibility. (fingers crossed)

This is entirely possible. The design is incredible.

The design of this is incredible. Ever since Surface was birthed, MS hardware has been on point. The One S and One X were designed fantastically. And this looks to take design for consoles to another level. I can't believe they packed it in so tightly. Makes you think it's actually quite small form factor for the power it has.

I'm not sure how I feel about going back to the memory card Era. It was a huge pain in the ass just for only save files. I can't imagine having the same thing for the actual games. I guess when the storage becomes cheap and big enough, then it worn matter. Until that happens though, WTF am I going to do with a 1TB expansion card when games may push 200GB?

It's one of the areas I worry about most, in addition to the family type settings they have. I hope they don't chip away at those. As for the storage, 1TB is small. I'm worried that the external storage is gonna be quite expensive. Personally, a total of 3TB would do me. But a 2 TB expansion drive in that new proprietary format is gonna be silly expensive.

This will have a 1TB internal drive. Most people will never use the external one. It's only for users that just want allot of games installed at once.

Define "a lot." If gamers choose to go digital, and they choose to push the games to the limits of quality as the console supports 4K60, the texture packs alone will bring many games to about 100GB. And bigger games like RDR2, or Cyberpunk 2077, will easily clock 200GB files. That's space for maybe five games. Idk about you, but five games isn't a lot. Especially if you already currently play Destiny 2, for instance. Then you're down to four games, five at most. And if you're going digital, having to redownload those games will really hurt.

... And it's not even about going all digital. If you have a disc, it will still take up the same space.

Also don't forget that a 1TB internal drive isn't 1TB of space, it'll be somewhere between 7-800GB after OS (the One X has 765GB of available storage on its internal drive). But everything else you said is spot on.

You wouldn't fit ten AAA Xbox One games on the internal storage. Let alone games that include textures and assets designed specifically for higher resolutions.

The fact that it still takes external USB drives means I won't ever touch the proprietary format, I'll just buy an external SSD. UNLESS the proprietary drives are priced similarly to equivalent external drives, but I highly doubt that's going to be the case.

You won't get crazy fast loading and game switching unless you use the NvME cards

Or apparently the graphical boosts either. I wonder how the system will determine this. I plan on using my current 4TBs of external storage as well. I guess I will have to manually move these files? This is not the future.

Sadly the future is always going to be expensive. You need to spend the moolah. WIth the performance of the new xbox (unoptimised performance similar to an rtx2080), it will be expensive! MS would be smart to offer monthly plans just like phones.

They do, it's called Xbox All Access. https://www.windowscentral.com/e?link=https%3A%2F%2Fclick.linksynergy.co... Even with the future being expensive, which doesn't bother me too much, it's the fact that the future will not be here immediately. It may take years to have several TBs of storage available from one of these cards.

Wrong, load times for games between a 2GB/s drive and a 500MB/s drive are negligible, only a couple of seconds. You will only notice an obvious speed difference between different Solid State drives when you are transferring files. That being said, from what I have read, you won't be able to play games from USB devices, the system won't allow it. They are going to force the use of their proprietary memory cards.

Yeah the CFExpress Cards have been chosen as it's the future standard and the only external storage that is fast enough to operate as the internal SSD does. It was the only choice moving forward.

I'm truly excited for this and don't want my gripes to override that, but I am really disappointed that there's no HDMI-in. I depend on that for TV and can do everything with voice control and 1 remote. If I need to run Dish separately through my receiver, I'll need a dedicated remote just to switch between Xbox and TV. That sucks, and why? I'll also miss the features of Kinect that I've carried over from original generation Xbox One to Xbox One X for voice control, sign-in by face, and Skype on the big screen. I appreciate that the focus is games (that's clearly the most important part of a game system), but I really wish they'd allow those of us who are willing to pay for those other features to be able to buy them too. For something I'm going to use almost every day for the next several years, I'm absolutely willing to pay for it to run my entertainment system. Hopefully, I'll be able to add a webcam and still use it for family Skypes too. When I Skype, I use my office PC, but for family talks so the kids can talk with their grandparents, the Xbox in the Living Room is currently the only decent option. Please, Microsoft, don't take that away.
Windows Central Newsletter
Get the best of Windows Central in in your inbox, every day!
Thank you for signing up to Windows Central. You will receive a verification email shortly.
There was a problem. Please refresh the page and try again.