5 things you (probably) missed at the Xbox Series X reveal
The Xbox Series X reveal video packed a ton on Microsoft's next-generation console vision — but there are some details that flew under the radar.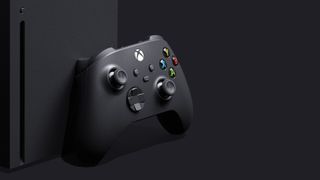 (Image credit: Microsoft)
Microsoft has kicked off its next-generation venture unveiling Xbox Series X, providing the first glimpse of its upcoming flagship system. Following a tease of "Project Scarlett" back in June, Xbox Series X realizes a 4K 60 frames-per-second (FPS) baseline, with support for up to 8K resolution and 120 Hz refresh rates. And while you've likely caught Microsoft's flashy debut trailer, there's a handful of notable improvements you might have missed.
More than meets the eye with the new Xbox controller
Microsoft launches Xbox Series alongside the latest revision of its signature gamepad, further refining the existing Xbox One silhouette. The shakeup brings improved ergonomics and streamlined aesthetics, building upon one of few universally praised components of its predecessor. That's headlined with a hybrid d-pad and dedicated share button, long-overdue given adoption on PlayStation 4 and Nintendo Switch.
But the next-generation Xbox controller also brings changes not immediately noticeable by eye. There's the inclusion of trigger grips, a feature only apparent by obsessively analyzing the reveal, which looks to the standard moving forward with Xbox Series X. That follows various experiments at Microsoft, trialed with the PlayerUnknown's Battlegrounds controller, with positive reception, expanding to the Xbox Elite Controller Series 2.
Speaking with Xbox leadership, an interview with GameSpot also confirms an "ever-so-slightly smaller" design for 2020, shrunk down in response to user research. It's a subtle change not visible in the first images, but what Microsoft hopes improves ergonomics for a percentage of buyers.
The full feature set of the new Xbox controller is yet to be confirmed, with the recent Xbox Elite Controller Series 2 introducing USB-C connectivity and internal batteries too. It's unclear whether Microsoft has plans to take these mainstream, although they would support the generational upgrade for an essential accessory.
Take it horizontal and vertical
Microsoft took wraps off the Xbox Series X design via its cinematic trailer, pairing an orchestral backing with dramatic pans of its towering almost monolithic upright positioning. But it overlooked a crucial component of the console's design, which allows for horizontal and vertical placement, only followed up in later blog posts. With the Xbox One's set-top box form factor among millions of homes, that flexibility will ease the transition for many entertainment setups.
It wasn't always assumed – the first Xbox One iteration was locked down flat, attributed to the design of its disc drive and cooling system. Microsoft addressed those complaints with Xbox One S and Xbox One X, and given the larger footprint of the next-generation console, it would eliminate the suggested plastic stand too.
While Microsoft remains tight on Xbox Series X specifications, we can infer the console size, in proportion to the standardized USB port. It provides an estimated 31cm in height, with 16cm in length and depth when positioned vertically, for almost double the volume of Xbox One X. But redistributing that space across all dimensions should make for a manageable spread in most setups.
Xbox Series X is a multitasking maestro
Beyond raw graphical output, Microsoft frames Xbox Series X as a device to streamline gameplay, tackling load times, among other hardware limitations. That also extends to how you consume next-generation content, with plans for improved multitasking capabilities, allowing Xbox titles to be suspended and resumed simultaneously.
The Xbox One first ushered instant-on capabilities, stowing games in memory during the shutdown, allowing for a fast, barrier-free return to sessions. That's especially valuable for titles with long initial start-up times, cutting the process entirely. Speaking with GameSpot, Partner Director of Program Management for Team Xbox, Jason Ronald, also discussed plans to improve the standby feature.
With multiple titles on demand, Xbox Series X would allow you to play your favorite shooter with friends, play five minutes in your favorite sports game, and cycle back with no barriers. It aligns with the console's push for an NVMe solid-state drive (SSD) and GDDR6 RAM, which go hand-in-hand to close the gap between storage and memory.
Xbox Series X tackles latency head-on
With Xbox Series X boasting speed from all angles, Microsoft has highlighted an effort to tackle latency with next-generation hardware. The console unveiling outlined a two-pronged approach to reduce the time from button press to action, aiming to eliminate the subtle disconnect between players and experiences. It's an oft-overlooked trait of any sleek title, complementing the system's promise of a 60 frames-per-second (FPS) gaming baseline, extending up to 120 FPS.
Microsoft has confirmed plans for dynamic latency input (DLI) under Xbox Series X, which sets to synchronize a title's rendering path with controller inputs. In short, controller movements are faster-reflected in-game, cutting vital milliseconds between the player and hardware.
Auto low latency mode (ALLM) cuts down latency on the output, altering how games are displayed on-screen to reduce gaming latency. That introduces a relationship between the console and panel to ensure consistent visuals across different content types, without compromising speed. While formally under the new HDMI 2.1 specification, a future-facing firmware update brought this feature to the existing Xbox One family in early 2018 too.
Xbox Series X new cooling system 'no louder than Xbox One X'
While the Xbox One family marked some tough learnings, the hardware of Xbox One X was among its best successes. The ambitious 4K console pushes itself to the top in 2017, with unbeaten console performance, while its smallest console to date. The compacted sandwich of components required a reworked approach to cooling and thermals, eventually settling on a vapor chamber setup, using a form of liquid cooling and fan.
Microsoft takes a new approach for Xbox Series X, with the towering vertical assembling accommodating a single upward-facing fan and top grill. It's a similar core concept to the "trash can" Mac Pro in 2013, which drew air through the cylindrical casing, expelling through top vents. That should allow the console to be relatively quiet, with Xbox leadership telling GameSpot the current design is "no louder than Xbox One X."
What lies ahead
The Xbox Series X represents a bold vision and a huge step forward for Redmond, which is keen to put the mistakes of the early Xbox One generation behind it. New name, new vision, new leadership, and more investment than ever before as Microsoft seeks to stave off potential cloud threats from Google, Amazon, and Tencent.
While Microsoft hasn't announced a firm release date or price for Xbox Series X, you'll get hands-on in late 2020.
Xbox Series X/S
Main
What is the Xbox Series X release date?
How much does Xbox Series X cost?
Why you can't preorder Xbox Series X yet
Get the Windows Central Newsletter
All the latest news, reviews, and guides for Windows and Xbox diehards.
Matt Brown was formerly a Windows Central's Senior Editor, Xbox & PC, at Future. Following over seven years of professional consumer technology and gaming coverage, he's focused on the world of Microsoft's gaming efforts. You can follow him on Twitter @mattjbrown.