Xbox Video for Windows 8.1 picks up MKV support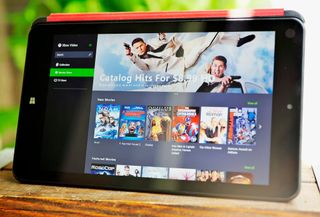 It looks like you won't be waiting for Windows 10 to pick up native support for MKV files in Windows. An update for Xbox Video on Windows 8.1 rolled out tonight that brings support for the video format, along with several fixes.
MKV support on Windows 8.1 is the latest example of what seems to be a relatively recent embrace of the format by Microsoft. Back in October, we saw a Windows 10 Preview build pick up MKV support, along with the Xbox One shortly before that.
While MKV support is the most notable change here, you can find the full change log below:
Support for MKV videos (the extension used for the Matroska Media Container). The update supports playback of most MKV files as long as they contain streams that use codecs supported by the app. For more information on MKV support on Windows, please check out the related article about support for MKV on Xbox One. The implementation is the same on both platforms except that V_MPEG2 is only supported on the console.
A fix that makes our Spotlight section more robust
A fix for an issue that caused the Rent button to appear when viewing TV series and shows
A fix for an issue that was causing file metadata to appear in the video title in your collection
Fixes for two issues in deeplinking to content within Xbox Video from other apps (the movie details page and playing trailers, specifically)
Feel free to hit up the link below to get your MKV on. Also, let us know how it works out for you in the comments below.
Source: Xbox Video User Voice
Dan Thorp-Lancaster is the Editor in Chief for Windows Central. He began working with Windows Central as a news writer in 2014 and is obsessed with tech of all sorts. You can follow Dan on Twitter @DthorpL and Instagram @heyitsdtl. Got a hot tip? Send it to daniel.thorp-lancaster@futurenet.com.
If only for WP. Good shit all the same.

Isn't this app universal?

Hmmm. Don't think so. Let me play one. Hang on.

Not sure. As is, none of the movies on my phone are showing up. I may have to use files" and move it...which may indicate a no go for now.

<strong><a href="http://capquangfpt.com/">cap quang fpt</a></strong>
<strong><a href="http://thietbidinhvixe.com/">thiết bị định vị xe máy</a></strong>
<strong><a href="http://matonghungyen.com/sua-ong-chua-tuoi/">sua ong chua</a></strong>
<strong><a href="http://www.amthucso.net/2014/03/cach-lam-sua-chua.html">cach lam sua chua</a></strong>
<strong><a href="http://suaongchuangon.blogspot.com/">sua ong chua</a></strong>
<strong><a href="http://matonghungyen.com/tac-dung-cua-mat-ong-mat/">tac dung cua mat ong</a></strong>
<strong><a href="https://youtu.be/X7AtimItMag?list=PLOeCcGRw2G1zvBuO2IaL3Qq9NG4Iee3v1">tieng anh cho tre em</a></strong>
<strong><a href="http://thietbidinhvixe.com/">thiet bi dinh vi xe may</a></strong>
<strong><a href="http://thetipsforyou.blogspot.com/2015/03/migrate-blogspot-to-wordpress.... from Blogger to WordPress</a></strong>
<strong><a href="http://matonghungyen.com/che-khuc-bach/">che khuc bach</a></strong>

No. Isn't. Video for Windows is WinJS/HTML5. And Video for WP is Silverlight/C# app.
Actuallyt, almost all apps from microsoft isn't unviersal Just Movie Moments, Reading Later...

It looks like you won't be waiting for Windows 10 to pick up native support for MKV files in Windows.

it is universal in the sense that if you get one, you get the other... in this case it's just a brand thing since it's not a paid app. but it doesn't mean they are the same app, which is supposely what Win10 is going to fix, so you develop an app for both platforms with no problem.

@_emi_ No. You misunderstand what a universal app is. A universal app will work on both platforms, to a subset of API. Win 10 means 100% of the API / sdk etc means 1 app will work on (or be made to work, presumable compiled for different screen targets - Ive not tried Win 10 or coded for it) on all devices. Universal apps currently means a ton of libraries stop working, and you have to redo parts of your app or get new libs if you use them. Its a pain, but then it will run on phone or PC.

Yes. Should be on WP later too.

I imagine it'll come to the Windows Phone version within the week.

Hope so. If not, Moliplayer is lovely, but it has its drawbacks. They all do, I suppose. No silver bullet, all in one app.

IDK, I call PLEX my "silver bullet, all in one app"! It'll stream anything I've got to my phone, Surface, whatever..

I think I have Plex on me phone. It's getting crowded on my 64gb SD....have to search it out. Couldn't comprehend 128gb SD. Wow.

Assuming you're in your own home or have unlimited data.

I don't know. Although the app is supposedly universal, they don't always get the same updates. If I'm not mistaken WPCentral posted about the app getting support for subtitles on Windows Phone about a month ago and it's still not supported on Windows 8... Oh and... wow.. I just updated the app on Windows 8 and tried to open an MKV file... The first file I tried didn't work, so I guess it doesn't support all MKV files. The files works great in VLC.

Work in progress, I suppose. Thanks for your input.

Read the article. It states that not all mkv are supported.

I know it does not support all formats, I read the article, but I was hoping it would support standard MKV files used in most torrents, but I guess not.

On my Surface RT it doesn't even associate the extension with the video app, and I don't see a way to force it. Was excited for a minute there. As far as WP, I love Molliplayer, but when you use mkvs it changes from hardware decoding to software, which is much harder on the battery. So that's not ideal either.

Works on my Surface 2 now, but I searched for updates in the Store to get it.

When will the XBox music app get a life. Arrrggghhhh !!

Stop complaining over and over

I will complain over and over as long as I care for Windows phone O.O

Yes! You tell him... He doesn't care about the quality of the platform..

Yes, tired of people expressing "off topic." If a comment is similar, fair game. Hijack someone's comment, to boot.

Guess some people like poking nose into everything. :)

Actually, you have a good point.

No, keep complaining over, and over, and everywhere suitable.. And, this is a perfectly suitable place...

yup! i just tested a mkv movie on my Surface 2 (RT). worked like a charm!! and i was dying for vlc player for RT to come out the whole time! thank you MS!!!

I tried on original Surface RT, but it didn't even associate mkv with the app. My wife has a S2, I'll have to try that I guess.

make sure you updated the app? i tested it on other mkv's and there are a few that give off errors. so it aint 100%.

Have you tried other players? There have been some available for quite a while that work pretty well and have Play To support.

Yeap. Playing a movie as we speak

If rt is supporting mkv too than it should be coming wp too soon.

Yup..WinRT included.. It's the same modern app across all versions of Win8x

Finally! I've been waiting forever for this app to support Mortal Kombat 5!

Lmao! It took me a minute to get it, but that was a good one :)

Rocky I, Rocky II, Rocky III, Rocky IV, Rocky V...
Oh LOL now I get it!

My Xbox Video isn't opening since the last update..!! Have to use Moli or VLC now..!!

What happens when you try to open it?

Nothing..Just the lil animation of being pressed and....Nothin..Did it a million times..!! Now don't ye suggest a Hard Reset please..Don't wanna download all the data again..!! (Around 52 Gigs)

You should try the metro app troubleshooter from the Microsoft website. It fixes most of these bugs of apps not opening.

Go to C:\Users\"your username"\Appdata\Local\Packages and delete the Xbox Video savedata. Try opening the app once again. If it still does not open then try uninstalling and reinstalling the app. Hope that helps. Make sure you can see all the hidden files and folders. Try this workaround if the apps troubleshooter from Microsoft doesn't work.

The reason why I have VLC and moli on my phone is to play mkv videos Video must support mkv

Yea b**** now ur talkin once vlc is out...

I have no idea what that is so someone can kindly explain that to me.

MKV is a high quality video format, it is very common find on blu ray rip movies and other HD videos
Also it has the good option to contain the subs in the same file

It is a container format only, not a codec, the content can be a hi quality or low quality video.

Damn it. You just made it more complicated!

Yes is a containear, but MKV is common for high quality formats and is rarely find used by low quality Don't complicate people, almost all MKV are from high quality videos

Land that mkv support along with the centralized hub to access the videos, camera roll videos, downloaded video, share downloaded video capabilities and erase the videos from camera roll too.

We need 10bit support on Xbox One

I just tried 5 MKV files after updating. 2 played, 2 gave an error, and the last one only had a blank screen with no error. First bullet definitely applies.

Mkv support has started n it will be flawless soon...

Soon you say? So 2016 then?

MKV is only a container, Xbox Video only support some codecs.

Mmm. Hopefully its codec support expands. But this is a decent start. Considering swapping to XB Video on my Surface Pro...

So now add .srt file support (already is on the WP version, right?) and I wont need any other play.

That's the new Microsoft I want! :)

I was wrong , if I think for wp. LOL

Did SRT support implemented as well?

Not yet. I think only in the WP version.

Just updated it. Problem is it wont play 99% of my mkv files because they're encoded in dts. Get your act together Microsoft! The Xbox One won't play dts mkv files either!

Yea mine won't play if audio track is DTS. It will if the file has any alternate audio tracks in ac3.

DTS is not supported because it is a paid codec. Convert to DD if you want multichannel audio.

Bullshit not true. My Archos player running on the Minix Android box plays everything you throw at it. I also got a Plex app on my Xbox one but it's shit unusable with MKV. Due to this I temporarily cancelled the plex pass. Sick of MS incompetence with playing media.

I can't follow what you are a sayin between you and the comments above. Elaborate a wee bit, please.

off topic, but now just waiting for the music app to support FLAC files...

Mmm. I would be interested in this on my Surface. I've found a way to convert to Apple AAC without needing iTunes so I don't feel it's necessary on mobiles... at least not until we start seeing phones with 128GB storage+micro SD (though I would still happily welcome the feature now).

If you have an SD slot, WP does it.

That's the problem though, having a micro SD card slot haha
But yeah, with flash mem prices the way they've been for the past year or so, I really don't get why more phone manufacturers don't offer 128GB options...

I like to see Microsoft is going to the right direction. I do certainly believe that Windows 10 will be a big hit better than WXP and W7.

Does Xbox video support flv files?

Hheheh Peg Leg, yep always the same shit.

I think it will come to WP version soon

I really want this on xbox one, it's where I watch a lot of my downloads.

This removes any need for me to have vlc.

I wouldn't say "any need" but it does lessen the urgency.


This is what i need.. My Movie collection format all MKV

Been waiting for this. Awesome !

Cool but why are they always late to do stuff like this. If I still need MPC for other formats then what good is Xbox video in the first place

People use it really? I'm good with VLC..

Native support across devices like XB1, WinRT, WP and my dumb friends who don't know what VLC is. If they can do it, why not!

If it's a third party player we are considering, PressPlay is probably the best player in store right now. VLC is a popular choice and fully free, but PressPlay is far more stable, and supports gesture for seek and volume, kind of like MoliPlayer Pro of WIndows Phone.

I like me moly pro, but I like the layout of the MS apps better. Idk. I guess as long as we have a solution.

This is great news, just tried out .mkv files with h.264 1080p AVC and Dolby Digital 5.1 in AC3 audio and it played.
Unfortunately, no DTS (DTS-HD, TrueHD or LPCM like bluray lossless) support yet though.
Seems like only codecs that are supported in .mp4 and .m4v like XBOX Video could already do.
I didn't try any .srt subtitle streams included though and no chapter support - essential if I am putting my GoT collection on here.
Fingers crossed for the advanced audio codec support!
And metadata support would be great, I spent a lot of time making my TV collection organised.

Same shit said above, except you explained more. Thanks.

MS keeps the surprises coming. Good move.

When is I coming for WP??

A very welcome addition. But from a quick testing, I'd say we should not change default players just yet. It's still a very much work in progress.

Bring support to windows phone

YAY ... all the pirates can play their thieved content

Or legitimate copies since a rip is 16-40% the size of an original bluray and thus more efficient with 99% same visual quality.

Yay people will use Xbox video to play content.. Maybe they will see a movie listed by accident that they want to see. Maybe they will spend some money. Awesome!

No man. We see it on Xbox, we'll snatch it then let Xbox play it back. Lol.

Just need it on my Xbox360 now.

Can't wait until ultraviolet support starts!!! Bring it xbox entertainment!!! Why is it not here???

and still not .SRT support, while the WP version does support it. Universal they said.

I see everyone likes their vlc. Meh. I use windows media player for audio and media player classic: Home cinema for video.

Please update mkv support for windows phone quickly

what ? why not wp ? I remove 5 mkv video files because it does not support mkv = _ = " convert to mp4 waste my time .

does this app play subtitles (SRT) and if yes, how?

Well I updated the video app on my pc and now it's fked. Any video I try to play is broken. http://i.imgur.com/J2ray8W.jpg

Thats the punishment of impatient people who push update button too quickly without waiting for other naive people getting burned first.

Dan, it would have been nice if you could have added some more info about what MKV means for the end user. I have no idea what this file format support is or means. thanks.

Neat! Now waiting for .flac support for Music application.

Nice to see this on Windows RT. Now all those crappy mvk players on the store can go away. Unfortunately as with those mkv player apps the video update still only plays audio for my files, no video.

Give us RAR support like Kodi (xbmc).

I never actually used Xbox video for anything so when I tried to use it, I can't find a way to play my videos. So xbox video is just a free download? You have to have a subscription to even use it?

Now if only they had MKV support on windows phone...

I wish this came out two weeks ago while I was on vacation! I had downloaded a tv show to watch in the hotel rooms and it was mkv file.
I have a pro and an. RT. The RT is what I had the HDMI cable for but for some reason vlc player was gone and it wasn't in the store anymore. I had to pay $5 bucks or so for another app, k-lite, which isn't bad but its buggy.

I did just check my Win 8.1 PC and it took the update last night. Mkv is working. I'll try the RT tablet next.
Windows Central Newsletter
Get the best of Windows Central in in your inbox, every day!
Thank you for signing up to Windows Central. You will receive a verification email shortly.
There was a problem. Please refresh the page and try again.