Yes, Microsoft is giving out free Xbox One consoles to "Xbox fans"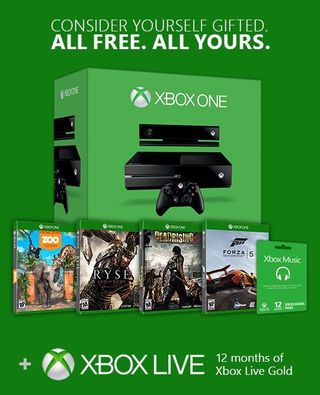 If you have seen someone bragging that they are getting a free Xbox One from Microsoft, it might be true. The company has been sending out emails to "fans" and surprising them with free gifts, including Xbox One consoles and games, due to their loyalty.
According to the official Xbox LIVE twitter account, the Redmond team is picking their winners specially by considering "a variety of things like Gamerscore, LIVE tenure, and other factors in markets where Xbox One is available". Recognized gaming site, Game Informer, has speculated "based on anecdotal evidence" exactly how Microsoft is picking its lucky winners:
In addition to the Xbox game console and various games (including Forza 5, Dead Rising 3, Ryse, Zoo Tycoon, and Killer Instinct) being given away, Microsoft is also including 12 month subscriptions to Xbox Music and Xbox LIVE Gold.
Are any of our readers one of the lucky winners?
Sources: Game Informer, Twitter
Windows Central Newsletter
Get the best of Windows Central in your inbox, every day!
That's genius marketing. More popularity with little money. I am sure this will be reported by all blogs.

I'm a fan. I don't own an Xbox so if I get one I'll be all in by buying games, accessories, Skyping with my friends, listening to Xbox music, using Xbox fitness, showing off Xbox glass with my WP, taunting my friends that are getting PSBore. Pick me.

I think this guy would sale his... So they should pick me

Come to America everyone else is already here lol

I think this great! I'm a fan, but I probably won't show up on their radar. Still a cool thing to do.

are they still giving them away

Yes they are and I'm 9 so can I plz get any kind of Xbox,as long as it works

Just wondering if Microsoft given free xbox one for xbox360 fans

Please Microsoft I really wanted a Xbox one I love if it's okay with you ur all very awesome giving out Xbox one please reply thanks have a good day:)

Gameinformer is wrong. One guy on Reddit got a free one with only a gamerscore of 15k but the account was 8 years old.

A shame because my account is 10 years old but I lost the password to it and can't get it back because it was an aol email address from eons ago lol. Oh well

Http://Answers.Microsoft.com ask for help to unlock it another way.

Same reason I cannot have a "Sholokov" gamer tag anymore.

I've got 270k G, 6 years on LIVE, Master VIP on Rewards and spent 100s on games/xbla/gold etc and I won.... Wait for it.... NOTHING!!! and people with 15k G and 2 years on LIVE are getting stuff.... Yeah, they're the real fans MS!

It comes in waves, just wait and see.

You're not entitled to any more than what you bought and paid for. It's clearly some kind of lottery and not every LIVE subscriber is going to get a free Xbone.

First time dealing with entitled gamers?

Same person who spends a dollar on the lottery for the first time and wins while the others spending weekly and win nothing. Too much entitlement with people these days.

But its in the article in black and white. It is for people who have the master level of over 75k G..... You don't hit that level by only spending a dollar!! And yet we already know people with a sub-75k total are getting a free item.

Pay attention when you read! it SEEMS that the prizes started kicking in if you are "Master" level in the Xbox Rewards program.

Oh yeah, we are on a MS website so anything said must be true.

Yeah, I really hate people that write everything in caps.

I've had Xbox live since the first day it launched back in 2002, I got 69000+ GS and never won anything... I don't feel bad tho MS sent me a thank you for being with them since the beginning

I've got a gamerscore of 15k...but have only had my Xbox since December 2011...Shit, not eligible I guess.

Wow that's a gamerscore I'll never reach simply because I don't care for achievements but shit, maybe I should have!

I was lucky enough to win a console. I thought it was a scam at first, but I gave them a call and completed my order. Microsoft Store sent me an order confirmation and I should expect it soon. Gamerscore might be a factor. My tenure is 5 years and I have 329,000 gamerscore. I'm also an Xbox Live Ambassador. My gamertag is Epic Louie.

Did he shun you or what? lol

Now this looks awkward they need to figure out how to line up replies

I do, I work at Gamestop and I'm a disabled veteran.

Congrats on the free XB1 man. That's awesome.

Well you earned a thank you from everyone, not just Microsoft. Glad it came your way!

And no that's one of the great reasons to have a high gs

Lou, Thank You for very much for your service and congrats.

Thanks for your service Lou!! You should of got one just for being a veteran, in my opinion.

Congrats Lou! And as a fellow vet, thanks for your service.

Don't know you bro, but proud of you, can we be friends? :-)

Thanks guys, it was a pleasure. I accepted your friend request, Kenzibit.

I know a guy that only had 19,000 points and has only had XBL gold for 3 years yet he still won an Xbox one...

I have over 30,000... but have only one year or so of Live Gold since I don't play much multiplayer... and I have a Roku for Netflix and Hulu. I'd have more achievement points if I had the time to play more. No free Xbox One for me, and I thought I was a fan. :(


My gameracore is 6000+ so I'm not getting one.

Mines is 40077 I should get one. Plus im an evangelist for their products. My Microsoft account should be famous by now. I use Microsoft's ecosystem religiously l was a first year windows phone adopter windows 8 user surface owner Bing searcher and pay for a subscription of office 365 as well as Skype. I also use Xbox music pass and regularly buy dlc and movies from the Xbox video and game store. I think that merits one lol. But I never win anything.

You wont win this time too because they know you can buy yourself ;)

Nor me. I have better things to do than play games..

I won a Killer Instinct code foe the full game with all the characters. I have about 107000 gamerscore and been on XBL for 5 years. Too bad I won't be able to afford an Xbox One for a while to take advantage.

You wanna like, give that to me lol

If I wasn't planning on getting am Xbox One once I can afford it I would happily lol, but unless there is a deadline to redeem which the email doesn't show in gonna hold on to it lol

okay if theres a deadline man, remember me! lol

Prices for the game will go down. Sell the code on Ebay, put the money in your Xbox piggy, and once you get the Xbox you can still get KI if you want it, and much cheaper.

They are NON TRANSFERABLE ... Check the small print. Sorry mate.

Just noticed this. I wonder if I could somehow sweet talk MS into switching it to an Xbox One, or more likely a years Xbox Music pass haha

Funny. I also have 100,000+ gamerscore and five years on XBL and got the exact same code.

I'm in the same boat. 92k & 5 years. Free copy of KI

Well mines only just over 15000 with 8 yrs kennync

Count me in the running with 78,216.

Why do I never win anything? Cruel, cruel world.

Lets us know if more emails keep coming so I don't lose hope

Microsoft will be giving me my Xbox One beh beh! And possibly one of those nifty tablets as well. Or at least they will be giving it to someone else who will then give it to me.

I got Killer Instinct, 8 years of,Live and 158k Gamerscore.

Let me guess...they'll be giving those prizes to people who have already spent the equivalent to the price of the Xbox One in Gold features etc. That's normally how these "fan rewards" work...=P

I was wondering how long it would take for someone to find something wrong,about free games and consoles. Thanks for indulging.
It would surely be fairer to reward "fans" who couldn't care less about Xbox, someone who haven't spent a penny on the system. Jesus wept...

75,000?!?!?! Who has the time?!?!

I was just gonna say the same thing. Maybe a kid with no real responsibilities outside of school. But even then, that's a crapload of games. I also guess if you play games for a living in some form, that might work. Otherwise, I don't know how grown men and women get these kind of gamerscores.

I have a fulltime job and 2 kids. I started my account before my kids were born but still steadily play games. Its my way of unwinding. Although to be honest I spent a lot more time gaming earlier this year when I severely broke my ankle and was laid up for a few months.

they should factor in if youre a microsoft fan. ive had more microsoft profucts from zune to surface to xbox to windows phone than anybody i know lol. hell off word of mouth alone, ive sold more products for microsoft than the colorful shirts at the dang microsoft store!

Same boat, lol. But at the end of the day, I'd rather someone less fortunate win over myself who can manage to pay for this stuff and not have to worry about eating for that week or something.

I've got 92k at 8 years but no email. Still hopeful?

They should make owning a Windows Phone a requirement!

They should add active Hotmail accounts and length of use as well. ;)

My hotmail account is from 1997!!! Oh yes! Email was just becoming widely available as computers along with some weird thing called the "web" and one assignment in class was to create a hotmail account. I still use it to this day.

Whoa! That's when I was born.

Uh, hate to tell you but email has been around a lot longer than 1997. I was starting a new job as an Search Engine Specialist in 1997.

I didn't say email was invented or started in 1997....I know that email was around before then. I stated that email was becoming widely available for several reasons around that time. Hotmail launched in 1996, bought by Microsoft in 1997 and was one of the first and most widely available email programs. Once again, I never said email started in 1997 but that it was becoming widely available, partly due to the ease of access to hotmail and other email clients, the "web" and computers as a whole around that timeframe.

I know. We are the few... and the proud. I keep promoting mine to people. I got four to sign up and they love their Windows Phones.

I was a original Xbox Live beta tester with 64316 Gamer score and I have nothing.. :-(

Finally, this is the first time these "virginity points" have came in handy :P

Me! I've had 4 Xbox 360's, a wp7, a wp8, 2-30gb zunes, and of course, several windows computers! Oh, and I lost my job 6 months ago!

Lol sounds like my situation

Don't see how people can hate MS so much. Nice give away!

No dice so far. My account is 9 years old and my gamerscore is 70,900. Regardless, I've already pre-ordered my Xbox One. Forza 5 looks amazing!

I got one pre ordered so I am not to worried about it would be nice to have 2 I have 3 360s now....I am an ms fan boy they can def always count on money from em :-)

LOL, got 580 points... I better start cracking... :)

Yeah same here, I'm not even over a 1000 yet... :(

Well count me out I got like 2500 ish gamerscore but my account is all the way from original Xbox. So who knows

Oh well, would have loved a free Xbox One, but I will take what I got and be happy...Killer Instinct. Original Xbox LIVE beta tester, 156k gamerscore.

135000 + and I've been with Xbox live since the first day..literally. When it was first available on the 360, boom. There I was. No Xbone still.

Have the One preordered though. Not really caring about this

26840G, 1 Year.. I'll be happy if I get a "Better luck in 10 years" email.

I've got at least 4 friends that won - I missed out this time. I did fortunately get one of the ~80 LIVE 10th anniversary Xbox 360 Consoles. Just hit 11 years on LIVE, was in the beta, 231,883gs right now too. :)

If you have over 75K gamerscore you deserve it. Glad for these people.

The funny thing is if I won I wouldn't know I switched my account name a while ago and gave my 6yr old my old account that is like 8+yrs old, I don't monitor that email makes me think to check now!!!

I have 225000 gamerscore and been on live for 9 years. I got an Xbox one with forza coming my way for free!!! Eat it

Too bad they don't track Netflix. I would have won. I'm frustrated in this giveaway only in the context of my personal life. I made the tough choice to forgo the purchase of an Xbox One (cancelled a preorder last week I made ten minutes after they went live) in order to cover an unexpected, yet necessary medical expense for my wife. I love Xbox, but I love my wife more. Then I find out about this giveaway and I thought it was cool. If it was given to hardcore gamers and Xbox evangelists, I would never have said a word. The only problem is I found out about it from a guy who got a free Xbox One who had no intention of ever getting one. He probably read the email from Microsoft while holding his PS4 pre-order reciept in his hand. So this guy is more than likely going to put it on eBay the moment it arrives while people like me, who made the painstaking decision to not purchase one to keep and use, get to watch him do it. No good deed goes unpunished indeed. I'm not expecting any sympathy. I made my decision to cancel and I will stand buy it. But, seriously, this is the equivilent of not buying an expensive car only for it to be given to someone who doesn't drive.

You sound bitter. Don't worry friend, all will be balanced. You'll have the Xbox one you desire, your wife will be happy, and your friend will regret getting rid of his

I know it's a giveaway, and I don't feel necessarily entitled to a console, but it sucks to hear that they are using GamerScore as a metric. It's obviously something they cannot prove/measure, but I've been the influence on many Microsoft purchases (several consoles and LIVE subscriptions, 10+ Zunes, and 4+ Windows Phones), in addition to being on Xbox LIVE for 10 consecutive years. The GamerScore thing is speculation and all, but if they really ARE making that the #1 metric, I'm disappointed, because the fact that I don't hunt down every minuscule Achievement shouldn't determine my loyalty, it shoudl be by the fact that I own and have lead to the ownership of so many of their products for so long. Again, I don't expect a console, and know giveaways aren't something people deserve, I'm just a bit jealous people are getting these, and that they are basing it on "loyalty" with metrics which don't really prove it.

Yeah, its hard to express this without sounding bitter, but I feel the same.

I've got 273 games with achievements in my games list, although only 33,000 points (not one for doing all the achievements). Come on Microsoft, hook me up!

I get Killer Instinct free....which would be ace if I was actually getting an Xbox One! I'm on over 135000 Gamerscore from over 300 games with a 6 year Xbox Live tenure.

This is unfair because some of them has 200.000G using hacks to unlock all achiev. with cracked games, so great job Microsoft.

No dude. Hacks are rarely successful anymore. Microsoft tracks that and instantly resets the gamerscore to 0. Everyone I know with over 200k is legit. Sure they spend a little too much time playing games, but more power to them!

Been on Xbox since Halo 2. Off and on, but I won't buy a Playstation. Xbox all the way. Gamerscore was my number 1 reason for getting a Windows Phone. Have not regretted it, love Microsoft! Mooncow027 23,866gs

Hey, great. almost 20k in gamerscore, on xbox live since 2006, just got surface rt, htc 8x, upgrading to lumia 929. oh well, hope to get xbox one when i can afford it. Just saying, "XBOX ON," will give me a gamerection.

10 years, 75k. Sweet F.A for me.

I have more than 100.000 GS, I'm an Xbox Ambassor, I was in the Kinect 1.0 private beta, I have been an Xbox 360 customer since 2006 and no love for me. :(

So it seems like achievements weren't all for nothing after all...

74406, 3 years Xbox live, got 1000G in games like DMC4. I am going to get 600G this evening, I REALLY want to win something for once(even 1 month gold is fine:D), hope that I'll still be eligible for this lottery!

Anyone who gets the full 1K on DMC4 deserves a free console!

I got a code for Killer Instinct as well. Been on Xbox Live 11 years (Xbox LIVE beta memeber) and have 100K+ gamerscore, also an ambassador. I did get the Kinect sensor beta as well, so I certainly cannot complain. Microsoft have been very good to me. It seems like you have to meet a requirement either gamerscore or tenure and that enters you into a lucky dip to win, not everyone who meets the criteria will get something.

I think loyalty should be measured by tenure and how frequently one plays on their xbox. A high Gamerscore often means that the player pursues achievements only. I've been on Xbox live since it was beta tested in the UK in 2002, and bought a launch 360 (still working, btw) and play almost every day. Yet my score is in the late 30k region. This is largely due to spending far too many hours wandering around Skyrim and the Mojave desert but does that make me any less loyal?

Same here. Just over 3,000 Gs after 5 years and countless hours.

Well if you cant sell em, give em away!! ;)

Hmm honestly im a pc gamer ;)

Well since I only have a 1550 score I guess I'm out. :) Never played an Xbox too, only points are from games on the phone. Jumped on PlayStation from the beginning and on PS3 now. Although Windows Phone and Microsoft's new direction has me planning to switch. Came to Windows Phone 7 after HP screwed up Palm, have my wife and kids all on Lumias now. Fell in love with Windows 8, was running consumer preview as soon as it was available, have 8 on everything now. Microsoft's long term plan of unity across the ecosystem has me on board 110%. And now especially since backwards compatibility is gone for both consoles, I'll be making the switch to Xbox one next year. Have to get my Surface 2 first this fall. Giveaways like this are another reason to love Microsoft, congrats to all the winners.

Wow so youve missed so many games

I have had live since day 1 and almost 70k gamerscore :( Is this US only?

Almost 100k gamerscore here, and 9 years of gold. I'll go fuck myself I guess.

Speaking of prizes, I got a signed copy of a Forza Motorsport 5 picture through the mail last week. Not sure why I won it, and I'm still wondering who signed it! Nice to have on my wall though!

Speaking of free, I'd be very grateful if anyone who hasn't already, goes to https://twitter.com/nokia_uk/status/397785504592064512/photo/1 and RT's that link - basically Nokia have said that if that link gets 1,020 retweets, then I get to keep the 1020 they sent out to me. Also I will pick one person who will receive a Lumia 520 if I am successful. I've already had George and Richard from WPC RT it, and I assure you it is completely legit! Thanks in advance, and get RT'ing!

Erm, no it isn't, but thanks for your.... Input..

Anytime. (I also don't have twitter)

I should be getting a free one, since I *still* have the One in pre-order (from the first day it was possible) and MS *still* didn't even announce a release date in the Netherlands! Yeah I know, I'm loyal ;)

7 Years Gold with a 44K score and went through THREE Xbox's in that time and I was a day-one owner of the Original Xbox.... but I doubt I'd get one :( But congrats to those that do get one. Do we know how many they are giving out?

I'm getting Killer Instinct for free.

Something tells me market research suggests demand for the Xbox One is a bit soft. And this is a way to stimulate interest and seed a few boxes out so people see how good they are and spread the word. This means they are pretty confident that those who get consoles are gunna like em and tell us to buy one. Hats off to em for being pro-active on the marketing front, especially, coincidently just after the news of only 720p CoD Ghosts. Interesting to see just how much detail will be dropped in the lower res.

39k here on an account that was in the original beta and has been gold ever since. Nothing for me....yet(I hope). Regardless, I have one pre ordered.

29K, been gold since the original release of XBL... MS never sends me anything free (except that helmet for my avatar)... I would like to hope that I would get a fre XB1, but I am realistic and realize that I will only get one in exchange for money. Congrats to everyone who get a freebie though!

Agreed. While I love free stuff and have been a member since before day one, I don't expect anything. Would be nice though. :)

Maybe I shouldn't have opted out of my Xbox Emails...lol...

YOU HAVE WON 12 MILLION FROM THE NATIONAL NIGERIAN BANK, PLEASE EMAIL Mr Rushford FOR DETAILS.

Seven years a gold member and 25K gamer score, no invite :( *sniff*

I've won one as well. From what I can gather from talking to my fellow Xbox Ambassadors last night it appears that the following may be a factor in you being chosen. Bear in mind that this is pure speculation based on the people that have one consoles. High gamerscore or tenure is not required but appears to increase you chances. Members of the Xbox Rewards program appear to have a higher chance. A higher incidence of winners in Ambassadors and people who contribute to the forums etc. on xbox.com Even then it appears to be random within this. I imagine that countless people fit this criteria and that xbox are only giving away a finite amount of consoles. Great gesture on their part but they will benefit in the end because we will be buying games for them. Don't know if this is the case but it used to be that console makers would run at a loss with the sale of every console and they only ever made money through game sales so this isn't really costing MS a lot anyway.

I've been an Xbox Live member since the beta of it on the original Xbox. Where is my free Xbox One?

I've doubled what they want for "Master" level with around 150k gamerscore. They didn't give me an Xbox One. They instaed sent me a code for all the characters in Killer Instinct when it comes out. I'd have preferred the Xbox.

idk, K.I characters are like the "jelly of the month club" ⬅ its the gift that keeps on giving xD

4 years and 25,700(Legend level) achievements points. I like my chances.

Damn it and i only have 1440 points :(

THIS IS COMPLETE MISINFORMATION. 1st off, there has been a proven 7 year old with a 1 year old account with 2k gamerscore that has won a bundle, or someone like me with 9 years and a 48k score. Major nelson has commented on 3 things. 1) these winner are hand picked by actual employees. 2) All winners have to be over 18+ 3) your account has to be spotless, if youve ever been banned or suspended, your name is out of the hat. I have a clean record, and I also volunteer many hours to the xbox ambassador program assisting other xbox users. As blessed as i am for winning, i really cant tell folks to stfu who are whining. If you win something, consider yourself lucky. MS doesnt have to do this AT ALL.

Why not just give it to the people who really deserve it like our American hero's give it to our veterans who put their lives on the line so you all have the opportunity to sit in the comfort of your home and play the game's you love forget gamer scores and people who play a lot it just means the aren't out there protecting this great country I love called America give it to those who deserve it those who lost their limbs over seas that's who should get the free Xbox one's

I won one with the Forza. I am just waiting on it to arrive. I have been a very active gamer for about 5 years. I was apart of the ambassadors program as well as other beta testing. I was very blessed to win because I was trying to figure out how I was going to get one and still be able to buy for Christmas. So I am totally happy and just waiting now....

Hay im trying to get my cousin something that he wants and he said he wants the all new xbox one. He loves video games and he most loves the xbox 360. Then he says he wants the Xbox one and so thats what i wanna get him. He is a huge microsoft fan and wants one so bad. so please send me a xbox 1 for my cousin at 739 Riverside Circle Eden NC 27288. I dont have enough money to buy him one. Thanks - Logan Edelen

<p>I am asking for an xbox 360 for my little boy, I cannot afford anything this Christmas, even a used xbox would be great. My son is 11 and has disabilities and I am disabled. We live month to month just barely, if anyone can help you can reach me at mammajoojoo @ aol . com, Thank you so much.</p>

Please i need one its my ten yr old sons birth day and he wants one so badly he keeps asking me. And i want to get it for him but i cant work right now cause im battling cancer and if i wasnt i would. Please if u can make this hapoen it would make my son so so happy.

OMG!!! please i so wont this beast!!!!

I'm a huge fan of xbox and I love xboxs

Can you plz send me a xbox one I'm big fan

Plz send me a xbox one I wot one so bad I got all of them just not xbox one

please please please send me an xbox one i am xbox biggest fan

I do not have the money for a Xbox one

Somebody came in and stole my xbox one and 2 xbox 360. I don't have the box and I couldn't even turn it into my insurance because they won't cover it and my insurance will just be raised. I have 5 children and we had to wait 6 weeks before I got mine. I've spent probably a couple thousand dollars to xbox and when I really need them to help me. Everybody that else gets one. I can't even email just xbox and talk to them. This just sucks and I had over 60 games plus I can't even try and buy another one plus all my information was on it. I have to save my money to buy another tv. I had turtle beach x32 head phones first Gen xbox one and know I have nothing.

I think you deserve one my friend, sorry to here what happened it's always the way, they look after people who are not in actual need of one, and good people like yourself suffer this isn't right! All the best if you sticking with them as I have had enough of xbox live altogether.

Everybody wants one. We have 6 generations that would have been playing. Now Im just trying to get them to talk to me and see if there the true company that I believe they were. I not only play games I use the Internet for television apps so I don't have dish or cable that was it our xbox's were how we watched tv.

No matter I hope someone deserving gets one

I have a Xbox 360 and I love it! Can I have a free Xbox one plz. :) email paulsander6@gmail.com

I'm on disability 734 monthly , if u could please donate me a player , I could get games from time to time , after med,, rent, electric I'm nearly vanquished ,so help me if y'all can

My address is 1915 locust st she Decatur al 35601

I really love your company may I have an Xbox one please

I really like to get a Xbox one

I'm a big fan of Microsoft

Can I have a Xbox one my email is jessefig12@gmail.com

I'm mad as well cuz I got scammed by someone and I spent money on a Xbox one

Hey windows Microsoft, I've been a member on xbox live for like 6 years gamerscore of just under 30k I really wanted an xbox one because of this gta5 update, I have only just brought another xbox 360 because last one I had broke after serving me well and am really annoyed at rockstar not releasing that update on 360 I now have to save money for xbox one just for this freemode update! I won't be playing xbox no more because of this!.. all I ever do is pay money for what exactly I don't know? Shame on you very disappointed I missed out on this I doubt it real they giving out free consoles to LOYAL customers as I would already have one.

I would like an Xbox One because my Xbox 360 recently broke because of a update that it couldn't install so I have no consoles exept for my brothers ps3, so please I could really use an Xbox one

I'm a big fan of xbox and Microsoft I've played xboxone before but do to medical problems I'm not in a good financial standpoint and can't afford to buy one if there was anyway I could have one or even a discount on one that would be greatly appreciated thanks for your time and have a great day

Hi i saw your video and wanted to know if u have any used or damaged xbox ones . i will definitely appreciate it. Thanx Steve Slover

I seen the video in I would like a free Xbox one

Hello I would like the free Xbox one console system do you have any damaged ones you don't want because I saw the video saying I could get one for free thank you

Hello. I've been an Xbox fan for a very long time. I've owned the original Xbox since 2005-2009 then I upgraded to an Xbox 360. I cannot afford an Xbox one and if possible I would like to receive a damaged Xbox One if you have any. I've seen the video that said I can get one for free. That's why I'm here. Thank you! :)

Thank you, Micrososft for all the years of brilliant products, helping in everyday lives whether we at home, work or just playing, you've really help millions of people around world in so many ways.We all just a small cog in the world machine but without you guys, we won't have the tools to make it go around. So with all the these's guy holding their hands out, i like'd to put mine together and applauded you for your good work. Thank you

My little brothers and I were looking forward to getting an xbox one console for xmas, but Dad got laid off work, so Mum had to cancel the layby to pay the rent.. I read microsoft give out slightly damaged systems. It would be cool if you could get us one before my birthday in January, 2016. I am hoping to get the game Starwars Battlefield and the boys wanted lego dimensions. We have a 360 console but would love to upgrade to the xbox one. We are huge fans of xbox....the only system. We are in Australia.... Regards Liam email mum fcoles71@gmail.com ( It would be a cool surprise) Mum is stressing over xmas for the boys.

Help 3 boys in desperate need for an xbox one....we want one for xmas...but dad got laid off work...mum is stressing over xmas...knowing we won't be happy without an xbox one. I heard microsoft are giving out damaged systems, If you could send us one it would be amazing.. Technology is our life and xbox is the only thing that keeps us from being naughty boys. The brothers live with 360 playing mine craft. Our am hoping to get the free system to play STARWARS battlefield for my Birthday in January. My brothers are 8 and 11 , I am turning 16. It would be amazing to experience the Xbox one console. I know mum will do her best to try and get us one. Can you email mum and surprise her and us with a system. Regards Liam Coles Mum's email fcoles71@gmail.com

Hello i heard about Microsoft giving away damaged xbox 1 consoles and i would like to get one and i also watched the veido on microsoft channel on youtube so ya thank you

Hello i heard about micorsoft giving away damages xbox 1 consoles and i would like ti get one i also watched a video on Microsoft youtube channel about it do ya thank you

I would like a damaged Xbox one console l
Please I bagging u

Can I get a free Xbox one I been I have a Xbox 360 but I really want a Xbox one gmail is :::::jaiseanmurphy1111@gmail.com

Hello Microsoft, my name is Hamil, I appreciate what you folks are doing with gaming everywhere and every type of technology owned, I would appreciate and love a damaged Xbox one that you fine folks aren't using, I don't own a game system, well I actually own an Xbox 360 I recently gave it away to my son , his grades in school we're awesome, so I decided to give it to him for Christmas, I don't have funds to purchase THEE Xbox one, just enough to pay bills and buy food, so I would greatly appreciate one, if not its OK , I still and always will love your establishment. God bless you...

Hi I love Microsoft and all but I've wanting a Xbox one for a while I've been saving up to get one but instead I wasted all my extra money on my 360 with acsssories and games Xbox live dlcs and specials but if you could give me a Xbox one please please I've been a fan of Microsoft for long every since the the Xbox can out (I don't like PlayStation and I will never buy one) so if can plz plz I'm the only one of my friends who doesn't have a Xbox one I'm embarrassed can I please get one.

Hey Microsoft I have been wanting a xbox one for a long time and my family can't afford it and I want to get one can you please give me one all my Friends have one but I don't and they laugh at me can I get one please you can send me a email if you can give me one [email removed]

Hi Microsoft I was wondering if I could get a Xbox one for free all my friends have a Xbox one except me can you give me one please if you can't can't give me one I understand but if you can [email removed]

Hello i would like the free Xbox one game system one game system do you have any damaged ones you don't want because i saw the video saying i could get one for free thank you

hi I seen your videos just wondering if you had any damaged Xbox ones to give away

i have worked so hard to try and get a xbox one I can't afford one and i love xbox but if you don't pick me i will understand there are so many people and a very little chance but a simple chance will suit me thank you for reading

Microsoft please can l have a Xbox one. The Xbox one is over my budget so can you guys give me one.

Xbox is my favourite gaming console

Hi Microsoft I'm interested in the Xbox one for free [email removed] thanks my son needs another one as his has packed up many thanks

Hi Microsoft I'm interested in the Xbox one for free as my son has packed up [email removed] many thanks

hi microsoft i been playing xbox all my life and all my friends have an xbox 1 except for me and i would like one. if you dont want to give me an xbox 1 you dont have to but if you do here is my email [email removed]

My name is alcir Figueroa and I have been using xbox since it first came out I own an xbox 360 e console since the past year and a half and I would love to extend my gaming experience, and by this I mean by playing in an xbox one, I have played in my best friend's but I feel kind of jealous of not being able to afford one, I would love to receive one even if it's scratched [email removed]

Hello microsoft i would like an xbox one console with kinect ive never had an xbox console i have asked my parents but they denied me plz help me out!!!

hi I'm a big fan of Xbox I got a Xbox 360 an all of my friends and family have a Xbox one and I would like to get one I could play with my friends and family then thank you for having me as a Xbox fan

Hello what i want to say is that i am a real big fan of xbox but unlucky me i dont have money to buy it so pleas take me as winner [email removed] pleas take me thank you

Hey Microsoft It would be an honor to get an Xbox from you, all my friends have one and they keep braving in my face about not having any money to buy an Xbox I've seen the video that said I can get a damage or scratch Xbox for free that's why I'm here . Thank you. [email removed]

hello microsoft i am abhinav a big fan for xbox but my parents are not allowing me to buy it as they cannot bear much cost so i hope i win a xbox if i win i will be very thankful to microsoft and please give only 1 please [email removed]

hey whats up microsoft my name is bradley townsend and i would really like an xbox one. why. because haveing an xbox one would change my life i grew up in a family where i got nothing and my mum bought everything for her self. my dad gave me a way out of that life and right now the one thing thats missing in my life is an xbox one. i love gaming and experiencing new consoles and i found thayt microsoft were giving away xbox one consoles and so i thought that i could possibly get one from you guys so please help me make my dream come true which is being able to enjoy gaming from a new console. [email removed] please help my dream come true.

Hi and thank you for your consideration from an xbox loving diehard microsoft fan. Would love a second hand console if one becomes available...long live the green X [emial removed]

me i would like a free xbox one i cant afford one

Hello Microsoft i love microsoft stuff.But my friends think that microsoft is poor but i want show them microsoft is awesome so plzzz select me.

oooo me n my man love xbox we r the number one fans

Hi Microsoft, I was dreaming of having an Xbox One but I can't afford one. So if you have one that is slightly damaged or a new one, please contact me on my email [email removed] Thanks

I can't beilieve MICROSOFT is doing this. good oppotunity to get an FREE XBOX ONE my FAVORITE CONSOL. I HOPE I get one MICROSOFT PLZ!!! My XBOX 360 is Damage PLZ!!!

Hey,I want a xbox one please.Thank you

Hello . i am big fan of Microsoft .I am love Microsoft . I never download windows .i always Buy it . now i want a xbox one but i can't afford it . its too expensive in india . so if i get from you i will very thanks full to you . I love Microsoft .And i Will always

I heard that you were giving out free a free Xbox on YouTube. I really love your company and I really appreciate everything yo guys do for the Internet of world reality. I've always wanted to get an Xbox one. My momma dose not have enough to buy me one . So I just ask you could you please grant me with one.

Can I have a Xbox One for free

I have a 360 I'm a big fan the Xbox One in Microsoft can I have a free Xbox One
:)

I am a big fan Microsoft and Xbox I really want a Xbox one and i really fan Microsoft 4years

I am a big fan Microsoft and Xbox I really Want a xbox one and I really fan Microsoft 4 years [email removed]

please send me an xbox one I'm your biggist fan ever.

Hi i want a Xbox One S i have been a Long fan so please give one to me thank you!

Hello need a xbox one to communicate with my son who is in the army. My old console D I ed after only a year. Disappointed.

I played xbox for 7 years the first counsle i ever played i would rilly apriceate a xbox one i cant buy one its to much for me so hopfuly i can get one

Hello my name is Lovish Lekhari. i got a ps3 and it is complete trash!!!.
I will always from now on be a microsoft/xbox fan, as long as i receive a free xbox one .
i promise i will never go back to Play Station

Hello my name is Lovish Lekhari. i got a ps3 and it is complete trash!!!.
I will always from now on be a microsoft/xbox fan, as long as i receive a free xbox one .
i promise i will never go back to Play Station

I HAVE APPROX 50 XBOX GAME RIGHT NOW BUT I CAN'T PLAT THEM BECAUSE MY XBOX SYSTEM HAS TRASHED & CRASHED I NEED A NEW CONSOLE WHETER IT IS XBOX 360 OR XBOX ONE I NEED AN XBOX I AM NOT FORCING MICROSOFT TO GIVE ME BUT GIVE ALL OTHERS BUT ALL OTHERS WHO REALLY HAVE PROBLEM WITH THEIR CONSOLES PLZ. PLZ. PLZ. PLZ. & PLZ. IF POSSIBLE GIVE ME AN XBOX IF NO THEN NO PROBLEM LEAVING X BOX IN OTHER TOPIC MICROSOFT IS ONE OF THE BEST COMPANY EVER REALIY!!!!!! ALTHOUGH THANKS MICROSOFT FOR AN NEW TECH GENERATION HOPE MICROSOFT WILL BE LAUNCHING MORE MODERN TECH.... THAN ANYONE IN WORLD BEST OF LUCK FOR THEIR NEW EVERYTHING THANKS LOVISH LEKHARI

OK..........my name is game freak and i love games a lot ihave been playing xbox consoles since when i was11 , Since the start of microsoft ever first gaming console system which was the xbox original i always wanted it and worked hard so that my parents could get me one but i got it and i loved the games a lot until i was completely addicted to the games that the console had the later the xbox 360 was released but so sad i couldnt have this one . Time went by but i still had a chance a play the games in the great xbox 360 in the gameshop i was greatly stunned and loved the graphics a lot compared to ps3 but now microsoft launched another gaming console the ultimate xbox 1(one). I loved to see the gaming console and also have it but i couldnt because of money .But now i plead so much for microsoft that they should pllllssssssss give me a free xbox1 pls <email address removed>. THANK YOU MICROSOFT FOR THE XBOX ONE GRAPHICS I SAY KEEP IT UP !!!!!!!!!!!!!!!!!!!!!!!!!!!!!!!!!!!!!!!!!!!!!!!!!!!!!!!!!!!!!!!!!!!!!!!!!!!!!!!!!!!!!!!!!!!!!!!!!!!!!!!!!!!!!!!!!!!!!!!!

The Xbox one was all my son wanted for Christmas but I was diagnosed with cancer recently and was not able to afford one. My son is a big gamer and I would love to be able to give him the only thing he wanted

Hello team i am ashutosh i am a big fan of xbox and xbox game but i does not have enough money to buy one for me So if microsoft give me a xbox consol for free 'NOT A SPECIFIC ONE' if you give me Thanks

Hello my name is Will and honestly I wouldn't be writing this or even probably reading about this stuff if it were like 3-4 years ago. I would have an xbox one 4k television paying my car off (which was new when I got it 15 miles on it haha) and getting a good job settling down, I honestly was doing well on the other hand now me and my mom are both disabled, my step dad passed away a few year ago and I literally lost everything. I started when my mom got cancer about 5 years ago and I started to get depressed she had stage 3 breast cancer, anyway it hurt when I found that out (she is doing better now), then my stepdad passed about 3 years ago just before I graduated from college with a MASTERS IN BUSINESS ADMINISTRATION woo hoo!!!! That is when it all went down hill. Everything became a mess I went into rehab for severe depression and anxiety and now me and my mom barely take home $1,800 a month together from disability lost my NEW CAR, credit cards, cellphone, had to sell cash in my mom's life insurance policy to catch up on rent just to say a few things. I live in Berwyn IL 60402 I have an xbox 360 and have been an avid gamer since xbox originally came out I believe in 2012 maybe 2014 if not mistaken anyway my gamertag is "svveatypalms" without quotes and yes there are 2 v's that make up the "w" in svveatypalms. BTW other then financially my mom's health is better and i am continuing to try to make myself better and get back on the right track, thank you for reading!!

to microsoft. i have played everthing microsoft xbox/xbox360/xbox1 for ten years they have never let me down ones. but i was so disappointed when i bot a xbox one s because it didnt even work i did every thing i could to fix it but nuthing work. so my hopeing that if microsoft wonts to ceap its customer they will give me a xbox one s. if i win one i will be able to ceap there trust untill i die. but thank u microsoft for everything you do and make is so fun and great. I hope i get a message back from microsofrt. and thank u for having the time to read this message.

microsoft im dying to get an xbox one s or xbox one plz send me out a free one i really want one plz read and send me one :):):):):)

microsoft pls. help me I don't have any game console but I got my moms phone and I have been searching finding websites in where I can find some free xbox ones for about three months alreadyi also tried xpango but it's a risk at that website because they might hack to my account so that's when I was watching on youtube and I saw this free xbox one and I watched it and now here I am and I just wish you might be the solution for to my problem, pls.microsoft. from:lheogreg

i have a ps3 and it suck compared to xbox i coundlnt afford xbox im broke and really need xbox one or s

xbox is better than playstation thats a fact

<p>Can i get one xbox for free i dont have have it and i want to test it and tell to my friends for xbox</p>