You can get DOOM's first level for free this week, more updates coming soon [Demo now live!]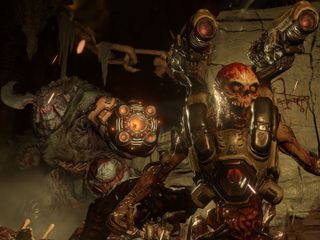 id Software and Bethesda Softworks will offer players a chance to download and play the first level of the recent first-person shooter DOOM for free for the next week on the Xbox One, PlayStation 4 and PC. More content for the main game is also in the works.
In addition to the free demo level, id Software plans to release a lot of post-release content for DOOM for free, including new multiplayer modes such as the Capture The Flag variant Exodus, a Capture and Hold mode called Sector, and three free-for-all modes, which will include classic DOOM deathmatch. In addition, the SnapMap editing tool will soon allow a way to add Hell-based content to player-made levels, along with a way to create true single-player maps, with the weapon wheel.
The first paid multiplayer DLC pack is coming this summer. It will be titled Unto The Evil and will add three new multiplayer maps, a new playable demon, a new weapon and more. Two more DLC packs are also in the works, with more information set to be revealed in the coming months.
Update: The Doom demo is now live in the Xbox Store, go get it!
Windows Central Newsletter
Get the best of Windows Central in your inbox, every day!
cool will windows central post an article when this is live to download?

thz i couldn't download it on my xbox im on preview. odd going to try from the website.

They chose now to give it away first level for free? I've been killing in this new DOOM for 2 weeks!!

It's a demo. So we still have to buy and then re-download the entire game :)

I know, I mean demo should be released before the official game release, so players can have a good idea about the game!

Nice, missed demos of this type on x1, used to be a staple of 360

Still waiting for proper sli support in this game