You can now save your Outlook web email attachments right into OneDrive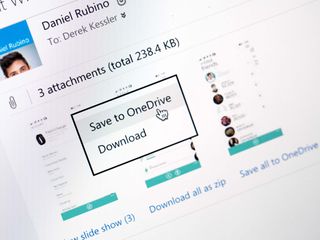 Outlook.com email users now have the option to easily and quickly save attachments right into OneDrive cloud storage. The update to the web email service adds a "Save to OneDrive" that, well, lets you save attachments to OneDrive.
Thankfully Microsoft has made this a straight-forward process:
Files saved in this manner are put into a OneDrive folder with the all-too-obvious name of "Email attachments" to make finding the later easier. The first hints of the new feature appeared over the weekend, but now it's available to all Outlook.com users.
Source: Microsoft (opens in new tab)
Windows Central Newsletter
Get the best of Windows Central in in your inbox, every day!
Derek Kessler is Special Projects Manager for Mobile Nations. He's been writing about tech since 2009, has far more phones than is considered humane, still carries a torch for Palm, and got a Tesla because it was the biggest gadget he could find. You can follow him on Twitter at @derekakessler.
How can a user sync a shared folder to their PC? When will WP have ability to auto upload photos to OneDrive for business?

Please also allow attaching all file formats to any mail directly, and also editing trailing mails when forwarding? At least in Windows 10 for phones.

I used to save them to SkyDrive, but then this British news agency kept complaining

I find OneDrive better, with it's ONE PLACE FOR EVERYTHING IN YOUR LIFE

Funny, I used to do the same thing. Lol

Nice feature...but it doesn't show in my outlook account - maybe later.

Same here...As per the source link - "If you don't have it yet, please check back over the coming week."

Maybe it's region based, I don't have it still :)

Very nice change! I'm glad we finally have this. It'd be great if they updated the mail app in Windows to support it too, but I may just resort to using web instead.

i know isnt the place but have anyone seem this?

Rumours rumours, we need devices!

Yippee..!! I love new features :*

But not on the outlook app :(

I'm the only one that did it since one year? I simply save them in OneDrive folder?

No you are not the only, but you can save you attachment in you single specific OneDrive only on you PC now now we can save attachment to our OneDrive also from others our Microsoft Account (I have other 3 or 4) in the right OneDrive, also if we aren't on our PC, also from any other device with a web browser...

Yeah from other PC is a useful thing!

i know isnt the place but have anyone seem this? Lumia 940 with windows 10 on january 21 2.7Ghz Snapdragon 805 processor Adreno 420 graphics 3GB RAM 32/ 64/ 128 GB storage 5-inch Full HD (1920×1080) screen Gorilla Glass 4 NFC USB 3.0 24MP PureView camera with LED Flash and 4K video recording at 60 FPS 5MP front camera with 1080p video

Whatever it is its probably fake.

Theres an image with The specs in here http://www.nokiarevolution.com/wp-content/uploads/2015/01/lumia-940-rumo...

The picture mentions "Windows Phone10" .. But the new name will be Windows 10 for Phone

Yup right forgot that The name wp Will not be used anymore.. Windows 10 for Smartphones but who knows .. Maybe the spec continue showing it till some future moment .. Anyway if windowscentral didn't showed I believe its a prank :P I just only believe if they release some info.. Windows central Mia trusted place ever.

Windows 10 mobile, not phone.

For all we know, unicorns existed once, and they later evolved into present-day horses, losing the horn in the process.

Nope, horses came a different branch ;) But there very well may have been Unicorns that evolved into the whales that have horns ;)

That seems more plausible, yes.

IF that's even a real device, I'm still not budging from my 1020 unless that measely 24MP camera can easily trash the camera on the 1020. If it can't, then it still doesn't qualify as a new flagship.

Ok that'll be REALLY useful!

Saving to an "Email attachments" folder, how bare bones! One would expect to be able to save to a folder of one's choice.

That would most certainly require more than two clicks, hence, cumbersome. This way you can always move it from that folder to one of your choosing later on.

That's what I thought. One click for convenience, then move to the required folder. Same as photos, into photo roll automatically then move where you like later. Seems sound logic, imho.

Why not have both options?

Everytime when I want to attach an attachment from Windows Phone it will go to gallery. Can it go straight to the file manager or OneDrive for us to search the files that we want to attach?

Anyway... The feature to Dave an attachment directly to OneDrive is coool :)

Thats great. Now, i feel that outlook account in windowsphone should have The option to send/reply/forward the mail from different aliases as well, which works on outlook.com. I need this. I ttied to manually config The account but could not be accessable, this is quite annoying.

Different alias should show under folders in Windows phone.

One Experience,take that Android and iOS!

Now we can only hope that Windows 10 brings kickass native email apps.

Waiting to see what Microsoft does with Accompli. Lot of potential to be the best email client.

The Mail app is already perfectly fine. I dumped the client version of Outlook completely.

even from windows phone??

Why is news on this site being published several days later these days? Becoming sloppy a bit

Deja Vu. Seems like I have read this article a few weeks ago :o

It doesn't work on the Metro IE...which is primarily what I use. I avoid all things legacy as much as possible. So, once again, fail on Microsoft's part.

is that why Outlook is down right now? LOL

Will be great! Love working in Outlook.com.

Hey guys, remember untill 2 years ago how we all hate Hotmail, cuz it was too slow and buggy web based email service? Then Outlook came and took over and along with MS made it to be among the best (if not the best) email service in the world? Now everyone absolutelly loves Hotmail (live, outlook, etc). I use to have Gmail as my main email service and used Hotmail email address to sign to some services (mostly online games), But now, I use my Gmail account for that and made my Hotmail account as my main email account. :)

How about to windows phone?

Is there a default setting where all the email attachments are saved to OneDrive directly??

Good....now this should be followed in Windows Phone.... There is no way for us as of now to save non office files....

Woohoo! This will be super useful. I'm glad they added it.
Windows Central Newsletter
Thank you for signing up to Windows Central. You will receive a verification email shortly.
There was a problem. Please refresh the page and try again.