You can try on clothes on your TV with your Kinect-equipped Xbox One and The Mall shopping app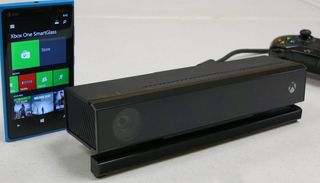 Xbox One owners now have a new option for buying things directly from the game console. The Mall shopping app recently launched, and it includes the unique feature of letting people try on virtual clothes and see how they look on the big screen before they buy them, if they also have the console's Kinect camera-sensor add-on.
Here's how The Mall app works:
In addition, Xbox One users who also have an iOS or Android device can also purchase items on The Mall app via the PowaTag app:
The Mall app is currently available just for U.S Xbox One users but will expand to the UK and Canada in February 2016.
Source: 123Kinect
Windows Central Newsletter
Get the best of Windows Central in in your inbox, every day!
Think of the possibilities...digital stripping...

.... and enhacements. lol

Sounds cool! I order alot of my clothes from internet, because I can't find my styled clothing from local stores.

They should do this with brick and mortars too if they're going to digitize their clothes. I think Uniqlo did something like this.

Drag :D what no! xD I meant Hip Hop clothing (not that "Swag" stuff)

No windows app to compliment the Xbox one experience?

For real. You'd think that would be blatantly obvious.

Xbox One market share is waaaaay higher than Windows Phone market share. And this is one of those apps that doesn't really make sense on a tablet or PC.

of course not. .. I have been a windows phone user since the mogul, i have gone through multiple windows phones and have sworn in the past to never use anything else... Today i am looking at the nexus, i am sick of my friends using their phones to get discounts at green beans coffee, level up, and other places. Today they were bragging about their apps that can map wifi.... I am a very dedicated person and have been dedicated to MS, i am honestly torn up about how much hope i had for windows phone.

What do you mean by "map wifi"? Windows Phone has a built-in Wi-Fi Sense. Is that what you're referring to?

Ekahau Mobile Survey is one.

Dude, wait till you get x86 apps in your Windows Phone, and you can bragg to your friends with the much better Ekahau Site Survey

Stay strong young Padawan, I sense the force is strong in you. Once you go down the path of the dark side, there is no coming back. :) Honestly, with Uber coming out with a Universal App today, I'm finally starting to think this may actually work out. I'm staying until the Surface Phone hits next year, then I'll make my choice.

I was the same as you. I've had wp since launch and I was looking forward to the lumia 950xl but when my contact was up i decided to get an LG g4 as all the reviews had been good and I fancied another os for a change and I am really enjoying the phone but when I look at the apps on this phone to what I had on my wp it really is only billing apps like bt, EDF energy ect I was missing as im not a mobile gamer and I do my bills on my surface 3. The app gap is really not as big an issue as people make out I've found. Would I say go for another os over wp no but if you are look at the LG g4 for me nothing on android is as good to use a this phone is found even the camera is good. Posted via the Windows Central App for Android

Exactly what's the point of that, I understand most people have Android and Iphones, but it makes sense to cover Windows phone as well if your making an app for Xbox!!!! Maybe it will come soon when it's expanded since the UK or Europe has a bigger market share of Windows Phone....

At less than 3% is makes absolutely no sense to make a WP app, just ask Microsoft about Age of Empires World Domination....

Never. Just buy android already.

i think that is dependent on this app called PowaTag - which i assume, is absent from the Windows stores.
The Mall app is a separate entity.
i don't really live in the US, so i don't know. but that's how it seems to be.

I can think of a companion app. You get scanned by Kinect and the modeling data is no on the Windows universal app for you to continue trying on clothes on your computer and phone.

That... Wow... That's cool. I have no words.

How many years overdue is this?! Finally a good real world use for the Kinect.

Finally a good, real-word use for the Kinect? Clearly you have not been following Kinect development. It has been used to assist the deaf and hard of hearing with real-time sign language translation, by doctors to perform surgeries, by physical therapists to aid recovery of stroke victims, by trainers to facilitate exercise, has been used in the conducting of symphonies, in the business realm by turning any surface into a 'touch-controlled projection screen', used to be able to assist disabled home-users in controlling their TV content until Microsoft killed gesture navigation on Xbox One, and a whole lot more.

jeez, not this "where-my-gestures-gone" guy again >_>

Geez, not this I-have-no-capability-for-empathy-but-I-am-an-apologist-for-multi-billlion-dollar-corporations guy again (><)

Never used gesture controls. The voice controls works waayy better. Just saying Xbox play netflix was so much faster and easier than flailing about. To each his own. Oh wait this is sounding familiar...

not quite sure that description fits, but nice try.

Where can I get this sign language translator you speak of? does it also translate spoken words into text or is it just a one way type deal?

It's overdue since a year before the original 360 Kinect's launch, when Project Natal was promised to enable this exact scenario.

Xbox Fitness would like a word with you.

That sounds great! Can't wait till February when it's released in the UK.

Figured it out. Selection is limited. Have of them don't even have the "try it on" option. It is just a paper doll cutout over your body. Has potential, but is a little gimmicky right now.

Sucks that I don't have access yet. Can you check if there are achievements ? I know someone that will go to town with this app once its release in Canada.

This is amazing and long overdue. I love the technological age that we are entering. Now all I need is a similar experience for haircuts and I'll be set!

Needs an app to pay which is not available for Windows Phone. I emailed them and they said it is being "worked on". Also, the items are very pricey. They also said they will be working with other vendors in the future. I was rather impressed to get a quick response from sunrise who actually read my email and provided a relevant response.

Remember the old trailer where this was shown for Xbox 360? It had the scan skateboard in it as well. Excited that it finally got out.

A static image to display? What a waste of time this...

Ok Microsoft, listen up.....
You have your Microsoft stores located in Malls across the US. Most of them have some sort of Xbox demo just outside. Make another demo using this app for stores in those malls. Show those companies you can cross refrence them in your advertisement and you will be someone they don't want to lose.... If it works well, every teenage girl is going to want an XBox One soon.....

...stole my idea...guess I should have worked on it.

Call me a crazy woman and stuff...but an app like this sounds waaaaaaaaaaaaay too tempting.

Would be a nice way to try on the clothes I want from ThinkGeek and Teefury, not to mention a few others.
Windows Central Newsletter
Thank you for signing up to Windows Central. You will receive a verification email shortly.
There was a problem. Please refresh the page and try again.