Is your device getting the Windows 10 November 2019 Update on November 12, 2019
Windows 10 November 2019 Update starts rolling out on November 12, but Microsoft is trying a different update approach, and here's what's going to happen.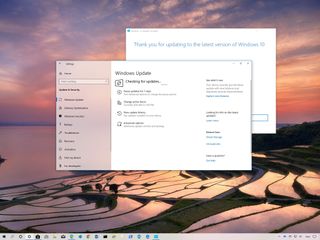 On November 12, since no major problems were found, Microsoft has now started the slow rollout of the Windows 10 November 2019 Update (version 1909). This is the eighth refresh since the original release, and it's a continuation of the May 2019 Update with several improvements. However, you won't find new significant features or visual changes, because the company is trying something different this time around.
Instead of releasing two big semi-annual updates every year, starting with version 1909, Microsoft is trying to push the first feature update of the year as the most significant, and the second feature update as a collection of improvements to complement the previous release.
Check out our in-depth Windows 10 November 2019 update reivew
As a result, version 1909 is being offered as a light cumulative update on devices already running the May 2019 Update, making the update experience less disruptive. And on devices running an older release, such as the October 2018 Update, the upgrade experience isn't not changing.
However, even with these new changes, it's still not guaranteed that your computer will receive the latest feature update on day one.
Black Friday buyer's guide: Best deals on the best Windows laptops
In this Windows 10 guide, we'll outline the deployment process that Microsoft is likely to use to make sure every device has a smooth upgrade to the November 2019 Update.
What devices are initially getting the November 2019 Update?
In the same manner as the May 2019 Update, the November 2019 Update will be offered as an optional update. This means that the update will not install automatically until you start the process manually.
Starting on November 12, leveraging Microsoft AI and Machine Learning technologies, devices that indicate that won't have problems running the new version will receive the notification to download and install the update manually from the Windows Update settings page. Usually, these devices can include Surface and computers from popular brands (such as those from Dell, HP, Lenovo, ASUS, etc.) that came originally with Windows 10.
However, the update experience will depend upon the version that you're using. For instance, if you're already running the May 2019 Update (version 1903), then you'll receive the new version as a cumulative update like those your device installs every month. Using this process will only update the parts of the installation that have changed, resulting in a faster and less disruptive update experience that doesn't require full reinstallation.
On the other hand, if you're running an older version, such as the October 2018 Update, then you'll still be able to download and install the November 2019 Update manually, but it'll take more time, and the process will require full reinstallation like in previous releases.
Although you'll have the choice to upgrade whenever you're ready, devices using a version nearing the end of service will eventually receive version 1909 automatically to make sure that they continue being supported. The good news is that this doesn't always happen as soon as the new version releases. Usually, the automatic update happens weeks after the release of a new version.
As the rollout progresses, Microsoft will diligently continue to monitor and collect telemetry data and real-time feedback from consumers and manufacturers to prevent problems from spreading. Then when the November 2019 Update has proven to be more compatible, it'll expand to other devices (usually within weeks of the original release date).
In the event that an unknown issue appears, the company will temporarily block the feature update on devices that could be affected, and the block will remain until the problem is resolved permanently.
As per usual, even though, the new version will initially be available on select hardware configurations, other factors can prevent your device from getting Windows 10 version 1909. Some of these factors can include a specific piece of hardware or peripheral connected to your computer, incompatible drivers, programs, security software (such as third-party antivirus), and your location can also affect when the new feature update is available.
Can I upgrade manually to the November 2019 Update without waiting?
After the November 2019 Update is ready, you'll get a notification in the Windows Update settings page, but if you don't want to wait, you have multiple options to upgrade manually as soon as the new version becomes available, including using the Update Assistant or Media Creation Tool.
However, if you're already using version 1903, you should only use the Windows Update as using the other tools will require reinstallation. The Media Creation Tool and Update Assistant are alternative methods to update devices running the October 2018 Update and older releases.
Update Assistant
The Microsoft Update Assistant is a tool available to upgrade devices when Windows Update isn't working. However, you can also use it to apply a new version of Windows 10 without having to wait until it arrives automatically.
Once the assistant receives an update to support version 1909, you only need to download the tool from this Microsoft support website (opens in new tab). Then it's just a matter of starting the tool, and clicking the Update now button to begin the upgrade process.
Media Creation Tool
In addition, you can also use the Media Creation Tool to install the Windows 10 November 2019 Update without having to wait. The utility is similar to the Update Assistant, but it allows you to perform an in-place upgrade or clean installation, deleting your files, apps, and settings.
After the tool receives the update to support the new version, you can download it from this Microsoft support website (opens in new tab) by clicking the Download tool now button. Then start the Media Creation Tool, use the Upgrade this PC option, and continue with the on-screen directions to upgrade.
If after the upgrade, the device isn't working correctly, you see errors, it's showing performance problems, then it's best to perform a clean installation to start with a fresh copy of Windows 10. (As always, don't forget to create a temporary backup in case you need to roll back to the previous installation.)
Wrapping things up
On November 12, Microsoft will release the Windows 10 November 2019 Update to the world, but if your device isn't getting it, there could be a good reason. If you don't want to deal with errors and issues, it's recommended to wait even if you get the notification, and upgrade once you know that the new version doesn't have significant issues. To stay informed on the latest issues, you can keep checking Windows Central, or you can also check the Microsoft dashboard website for Windows 10 version 1909 (opens in new tab).
Windows Central Newsletter
Get the best of Windows Central in your inbox, every day!
Mauro Huculak is technical writer for WindowsCentral.com. His primary focus is to write comprehensive how-tos to help users get the most out of Windows 10 and its many related technologies. He has an IT background with professional certifications from Microsoft, Cisco, and CompTIA, and he's a recognized member of the Microsoft MVP community.
Yes because I pressed the Update Now button

I got it immediately after the cumulative (Tuesday) update was done last night on my Surface Book 2

Got it last night on both my wife's 3 year old laptop and on my 2 year old gaming desktop. No issues with either and I was surprised how fast it was to install. Not much to it really, more of a glorified Windows Update Patch than a annual release. BUT, we take what we can.