Zoom improves password requirements and introduces longer meeting IDs in latest update
Zoom is pushing out weekly updates following an alarming number of security issues found on its platform.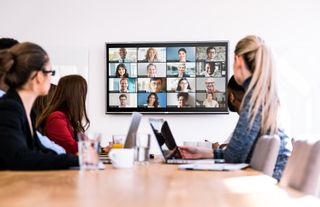 (Image credit: Zoom)
What you need to know
Zoom has pushed out another weekly security update.
The latest iteration brings new and improved password requirements.
It has also improved meeting ID generation for increased privacy.
Zoom has issued the latest of its weekly updates regarding its push to make the platform more secure.
Last week, Zoom announced a collaboration with industry security experts from the likes of Netflix, Uber, and EA. Now, we are beginning to see the fruits of those labors.
In a blog post on April 14, Zoom announced updates to its password requirements, random meeting IDs and more. From the release:
Zoom has also updated Cloud recordings, turning on passwords by default for all accounts and enhancing password complexity.
Zoom has restored third-party file sharing after temporarily disabling the feature as part of its security review. It has also updated Zoom Chat so that users can hide the message preview for desktop chat notifications. If you turn it off, you'll get a notification about a message, but won't see the content of the message in the preview.
Zoom also says that it has fixed "issues related to missing data and delay on the Zoom Dashboard."
Zoom has endured a torrid time since its rise to prominence due to increased remote working and social-distancing/lockdown measures. Following its rise in popularity a swathe of security and privacy concerns were raised regarding the app, so much so that Zoom came forward to apologize, and vowed a 90-day new feature freeze whilst it reviewed its security.
Zoom has recently confirmed that since the pandemic, it has seen its usage uptake increase to more than 3 million daily downloads.
While it's good that things are getting fixed, it's also kinda disturbing that they probably knew their security was like Swiss cheese (no offense to the cheese makers) and responded only after the issues did their damage.

Money first. These things should be OS level applications.
It speaks to microsoft inability to provide the resource and to get the appstore running.
Third party apps like this and team viewer should not control hardware and network unless through a OS container architecture.

Isn't Zoom very new? If the install base is small you'd need lots of new installs to catch up to the usage rate of other offerings.

Not really. They were founded 9 years ago. They were really intended as an enterprise solution though. Their sign up still asks for your business or school e-mail, though you can use whatever you want. They have a lot of business oriented features. Check out the wiki page on them, https://en.wikipedia.org/wiki/Zoom_Video_Communications. Given their target market though, I'm surprised their security was as loose as it was. Hopefully it is better, but fixing it because you got caught isn't inspiring. If they hadn't blown up so much and gotten more visibility and scrutiny, would they have?
Windows Central Newsletter
Get the best of Windows Central in in your inbox, every day!
Thank you for signing up to Windows Central. You will receive a verification email shortly.
There was a problem. Please refresh the page and try again.