Zumba Fitness World Party Xbox One Review: Dancing makes the world go round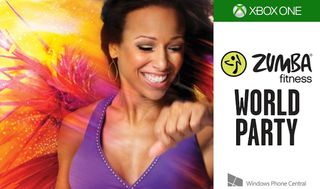 The Xbox One includes a free fitness and exercise game called Xbox Fitness for Xbox Live gold subscribers – see our console review for a detailed description. Not to look a gift mouth in the horse, but Xbox Fitness has a lot of room for improvement. Where's the personality – the verve? A player serious about working out might want something more.
Luckily, Majesco Entertainment (publisher of Double Dragon: Neon for Xbox 360) and British developer Zoë Mode (makers of fellow Xbox One launch title Powerstar Golf) have a fitness game of their own for early Xbox One adopters. Zumba Fitness World Party is the latest game in the Zumba series. Combining dozens of workouts with surprisingly good music from around the globe, World Party is a title that fitness-focused Xbox One gamers should not overlook.
Head past the break for more details, exclusive screenshots, and our first-ever Xbox One video review!
Authentic dance workouts
World Party is based on the Zumba dance fitness program, which consists of real life classes, workout videos, and of course: games.
The debut Xbox One game utilizes the new Kinect in order to provide highly accurate motion recognition. Players dance along to a live-action instructor (who appears on a CG and sometimes fanciful background) and imitate the instructor's movements. Gameplay-wise, World Party more closely resembles Dance Central than a strict workout game. Each step is a legitimate dance move; it just so happens that dancing provides a great workout.
Your silhouette appears at the bottom corner of the screen. As you perform moves, various ratings from "Good" to "Zumba" will appear over your silhouette. The instructors themselves don't provide verbal feedback or instructions; they just lead you in the dance.
Earn six "Zumbas" in a row and the background will start to glow with streaks of light and other visual effects. These can be distracting and/or cheesy, but they also make the game more interesting to watch than a plain old workout video.
At the end of a song, each player receives a star rating based on his or her move ratings during the song. One thing I love about Zumba is it's fairly easy to get a 5-star rating the first time you play a song. I hate when dancing games demand accuracy above and beyond my physical abilities.
Game Modes
Before we get to the meat of the game (World Tour mode), let's look at the other modes World Party offers:
Learn the Steps: A tutorial mode in which players can practice the basic steps of the game's 13 dance styles. Given World Party's multicultural focus, these include such diverse styles as salsa, reggae, Bollywood, and capoeira (AKA "Sexy Dance Fighting").

Moves can be practiced at slow or normal speed. One annoying aspect of the tutorial UI: you have to raise your hand and return to the menu in order to progress to the next move. There should be a shortcut gesture. Regardless, each style tutorial offers an easy Achievement, so you'll want to run through them at some point.
Quick Play: Choose a single song to dance to. The game's 44 songs contain a bagful of licensed tracks like Lady Gaga's "Born This Way" as well as recognizable world classics like the theme from "Carmen," the Capoeira chant from Only the Strong, and a Russian medley that starts out with the Tetris theme! Full list here.
Full Class: Modeled after real life classes, players can choose from several 20-, 40-, or 60-minute sessions. Oddly, you can't view the songs contained in a class's playlist. That makes finding a class that you like a crapshoot. On the plus side, players can create a custom playlist with 2-10 songs of their choosing.
World Tour
With a name like World Party, it's only natural for this Zumba's campaign mode to span the globe. Select from seven locations to visit: Brazil, Caribbean, Europe, Hawaii, India, Los Angeles, and Puerto Rico. After choosing a destination, you'll be treated to a brief live-action introduction to the region. Then you'll set out to complete the area's 6-8 songs consecutively.
By earning high star ratings, players can unlock collectibles like postcards, passport stamps, souvenirs, and bonus movies. A good idea, but the non-video content mostly disappoints. Each item is a tiny image that can't be zoomed in on. Come on, the game disc has more than enough room for full-screen photos!
It's always nice when a metagame ties various modes together, and World Party knows it. Any progress made in World Tour and other modes contributes to the player's level. Starting at level zero, there are 10 levels to advance through. Each level gained unlocks new bonus content.
Multiplayer
Besides an excellent array of music from around the planet, World Party's other big advantage over Xbox Fitness is local multiplayer. Every mode except for Learn the Steps supports two simultaneous dancers on Xbox One and Xbox 360. Fellow launch game Just Dance 2014 lets up to four dancers play at once, but two people works fine for a game with the goal of providing a serious workout. I get the impression that World Party tracks motion better anyway.
Teaming up with a friend or significant other for world dance sessions is great fun. Each person gets to select his or her own Xbox Live profile and earn Achievements – a huge advantage over the Just Dance series which stubbornly continues to deny Achievements to anyone but the main player. Both players earn stars independently of each other, so a less skilled dancer won't hurt the other player's chance at a good rating.
My Zumba
World Party has a few decent aids to aid in tracking player progress. The Weekly Report displays time played, calories burned, and routines completed for every seven days of the year. The stat tracking could probably be a little more extensive. How about using the new Kinect's heart rate tracker? But it gets the job done.
The Goals feature allows players to create up to four goals to work towards simultaneously. You can basically set how many calories you want to burn and then a time period to make it happen. World Party also offers Community Goals in which all online players can participate, such as collectively reaching calorie and routine milestones.
Menu Madness
The only downside to World Party's Kinect integration is its menu system. The motion controlled menus work well enough (much better than Just Dance 2014's) but they're still of the slow "highlight a selection for a few seconds" variety.
World Party only supports a few voice commands (making voice mostly useless) and lacks controller support. Every Kinect game needs controller support in its menus (something Just Dance gets right).
Achievements
This Zumba offers 39 Achievements worth 1,000 GamerScore. Most are quite easy and/or simply involve completing every song/tutorial/World Tour collectible. As I said before, World Party is far easier than Dance Central – Achievements included.
The one that will take some doing requires players to complete a full 60-minute class. I believe you could just stand still during the class, which would help people like me who struggle with longer workouts.
There are also two co-op Achievements, so you'll need a friend to get the full GamerScore.
Overall Impression
I went into Zumba Fitness World Party with hopes for a good workout game and low expectations for the soundtrack. What I found is an exercise game that stimulates the mind too, thanks to its robust selection of multicultural songs and dances. The green-screened backgrounds and visual effects could look better, but World Party rocks the block with its soundtrack and dance moves.
If you're looking for a fitness or dance game this year, the latest Zumba provides a better workout and more mature presentation than its competitor Just Dance. Find it at retail or as a digital download. Just don't call me out when you out-dance me; I was born this way.
Windows Central Newsletter
Get the best of Windows Central in in your inbox, every day!
Paul Acevedo is the Games Editor at Windows Central. A lifelong gamer, he has written about videogames for over 15 years and reviewed over 350 games for our site. Follow him on Twitter @PaulRAcevedo. Don't hate. Appreciate!
Speaking of Xbox fitness, anyone else notice the heart rate doesn't show? I tweeted Xbox support on it, and no help so far.

A gift mouth in the horse? That's what I'm talking about. LOL. I would love a gift mouth.

Zumba sucks. I got 50/50 on the first one...do they really need 5 or 6 zumba Xbox games???

This is the first, and so far only, Xbox One version.

Exactly. Also, each sequel has been better than the game before it. That's what sequels are supposed to do, so why complain?

What happened to the video review? I can't get it to open

Sorry, had an embedding error. It's fixed now.

My main question: how much room do you need moving around? Small apartment which in my first two attempts at Xbox Fitness have been possible but a little cramped.

Pretty much the same as Xbox Fitness if you're just playing by yourself. To really enjoy the Kinect, it's a good idea to arrange your playing space accordingly. Maybe push tables out of the way, etc.

Thanks. It's a small apartment so even with everything pushed out of the way, I seemed to be able to do about 80% of what Fitness wanted me to (just one workout so far). Good enough to still work up a sweat, but not as good as it could be in terms of the feedback from Kinect. Since Zumba is similar, I may wait until we move before buying it.

Great article on a really difficult game to review. I do hate those exercise games in general though lol.

These are the games where Kinect makes sense.

Is it coming for windows phone?? :D

I LOVE the xbox 360 zumba CORE. and i have been doing it for over a year now. just got the xbox one, so i bought this today. will be trying this out for my first time tomorrow morning :)
Windows Central Newsletter
Thank you for signing up to Windows Central. You will receive a verification email shortly.
There was a problem. Please refresh the page and try again.