Zynga Poker makes its much-awaited debut on Windows Phone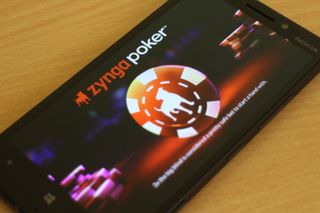 After soft-launching in select regions last week, Zynga Poker is now available to download for Windows Phone. The popular Texas Hold 'Em game features the widest variety of tables and allows you to play with your friends or against fellow players online.
Here are the features on offer:
Win real world prizes during special events
Modern, sophisticated look with rich animations
Intuitive lobby gets you to your favorite table faster by remembering how you like to play
Smarter, precision betting controls built for your fingertips
Play casual Texas Hold 'Em or competitive Tournaments like Shootouts and Sit-N-Go.
Win up to 225,000 FREE chips daily with Lucky Bonus Slots!
Play Zynga Poker seamlessly across all Web and Mobile versions – just login with your profile!
Full support for Turkish, Italian, French, German, Simplified & Traditional Chinese, Portuguese, Japanese, Korean, Indonesian.
Head on over to the link below to download the game, and let us know you fare in the comments.
Windows Central Newsletter
Get the best of Windows Central in your inbox, every day!
Harish Jonnalagadda is a Senior Editor overseeing Asia for Android Central, Windows Central's sister site. When not reviewing phones, he's testing PC hardware, including video cards, motherboards, gaming accessories, and keyboards.
I was expecting the popular IOS android game finally comes to windowsphone to be some where in this article.

No 512mb RAM support banner :P

I wanted this game when I had to play , now I don't play it
But so nice to be in our store ,
EDIT: The game isn't available to my Lumia 820
I don't know why
Maybe because I'm running preview for devs..

Available for my 620, India, running preview for devs...

Not available here, region US . I have Lumia 630

Maybe the problem with US region

I'm in Pakistan but have to change my region to US cuz of Cortana but this game isn't available for my 630. Well it says that. How can it be not for US?

Switch region to UK, reboot, install game, then switch back to US. It's a bit annoying but it worked. Lumia 920

What? Not available in the US. Not everyone lives outside the US. I'm so tired of all this non-US stuff. Microsoft is just ignoring US users. This is what's wrong with the platform. I'm switching to Blackberry. /s

Not available for Lumia 920 too, preview for dev

Available here. Lumia 820, Preview for Devs, Italy. :)

untill windows 10 arrives. nothing is possible to be launched successfully on wp. it will be again in the beta shit.

Not available for your device...what ? I have a 920.

Nit available for my 820, US.

Available for my Lumia 620, India

+1320 US region .Cyan FI-CV ROM. P4D.

Unavailable, perhaps it's because my region is Indonesia? Lumia 925 BTW.

My region is US but it still shown unavailable.

Not available. Lumia 830. India. Preview for Developer.

Unavailable for my 830, US region, GBIE country variant. I don't have preview. :(

It's not available for me
720 USA

For those who are not able to download: Change your region to India. It may not work if you have preview for dev.
I've just download it on my British Lumia 830.

Not available in philippines. L1520.

Change mo yng region mo sa india.

Unavailable for L930 on dev preview build

Downloading fine for me.
UK, Lumia 1020 - DP build.

Strange, I have Lumia 1020 GBIE on dev preview and it's unavailable

Italian L920 with DP ... Available

Not available 1520.3 dev preview USA

Change your region to india

Next : Zynga Bubble Safari. Please port it asap ! My fav game. Lol.

Not available. US 920 with preview

Anyone know if I'm going to be awaken at 4 in the morning to tell me my chips are lonely? I had to delete Farmville for that rat tactic...dont even want to try this if it does the same thing. ANYONE FROM ZYNGA LISTENING? Stop hijacking our alarm clocks, you hacks!

THANK FRIGGIN GOODNESS! I was waiting for this for a loooong time man! Glad we have it now :)

Just set your region to India and you will be able to download it (630 works just fine)

Not available for me too. 720 DP

Available for me in Australia on L625 with dev preview. Though I haven't played it in a while, the Texas hold em game from GeaxGame is pretty good, not sure how this zynga one compares.

Not available for your device :-/ India 920 DP.

I think it is available only for 512 MB devices and not 1GB :-o

Unavailable for L630. Tried 2 regions not helping.

Available using L1020 Australia

Desperate move from a desperate company.

I wish clash of clans come soon

Unavailable for my Lumia 1320

Not available either. I've been playing goex poker, which has been on WP for a while and decent. WP store doesn't even show that poker under related which is odd

not available on my 8xt...

Not available bullshit!!!

Not available for 1020 in US on ATT. NOT running dev version

Unavailable Lumia 630 Greece Region

I got it by changing my local to Canada

It's unavailable for me. Lumia 630. Showing region error when it is set to US.Help !

Not available for me in Greece as well

Mine doesn't appear download or unavailable..

I can't get it on my US 830. Guess ill be waiting longer o well

Strange, not for the U.S.

What the hell the UI is very boring and there are lots of bugs.... There is no choice for table

Is there a rule of some sort that prevents those online poker parlours from releasing apps to smartphones? I like poker but hate it when someone shoots in with All-in -and just because there's no real money involved.

Downloaded fine for me. 820 DP in the UK

It's available on Windows 8.1 in EN-MY region only at this time.

Changed to UK (England) region and downloaded to both my WP (with dp) and my Windows tablet, no problems

Available with 1520 philippines but phone region is US.

im loving the app on my asus t100 runs well looks great but i cant work out how to rate on the windows shop