0h n0 puzzle game goes live on the web, iOS, Android, Windows, and Windows Phone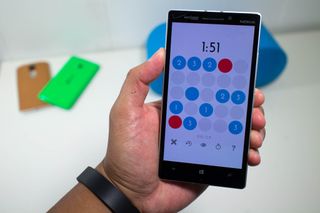 Q42, the developers who released puzzle game, 0h h1, for free without any ads, in-app purchases, or other catches, have just released another puzzle game. This one is also free without any strings attached. It's called 0h n0, and they've released it simultaneously for the web (0hn0.com), iOS, Android, Windows, and Windows Phone. If you're into puzzle games, 0h n0 is just as addictive as their previous game. Check out a sample gameplay in our hands-on video.
0h n0 is a little logic game that follows three rules:
Blue dots can see others in their own row and column.
Their numbers tell how many.
Red dots block their view.
The puzzle boards are generated randomly. They come in four different sizes:
There's a tutorial available to show you how to play. I honestly had to go through it a few times to fully understand how to play. Once I've understood the rules, the game suddenly became enjoyable.
There are 4 buttons below the puzzle. There's an undo button if you want to back one step. There's also a hint button if you need a little help. The timer makes the puzzle even more challenging by displaying elapsed time and the time to beat. I prefer to play stress-free without the timer.
Tapping once on a circle changes it to blue, while double tapping changes it to red. Tapping once more changes it back to grey.
While 0h n0 looks simple and easy, it can be harder than it seems. After playing a few rounds, I've got a few tips that can help you out. Start by looking for a blue dot that already sees all its dots and then fill out the remaining space with red dots. The next step is to look for numbered dots that can only go in one direction. As you fill up the puzzle board, it becomes clearer what color goes on what space.
If you've got some free time, definitely check out 0h n0. And did we mention it's free? Go give it a try and let us know what you think in the comments.
Get the Windows Central Newsletter
All the latest news, reviews, and guides for Windows and Xbox diehards.