0h n0 puzzle game goes live on the web, iOS, Android, Windows, and Windows Phone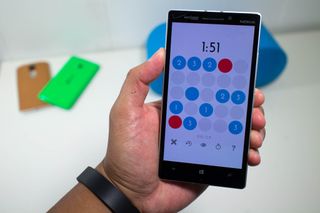 Q42, the developers who released puzzle game, 0h h1, for free without any ads, in-app purchases, or other catches, have just released another puzzle game. This one is also free without any strings attached. It's called 0h n0, and they've released it simultaneously for the web (0hn0.com), iOS, Android, Windows, and Windows Phone. If you're into puzzle games, 0h n0 is just as addictive as their previous game. Check out a sample gameplay in our hands-on video.
0h n0 is a little logic game that follows three rules:
Blue dots can see others in their own row and column.
Their numbers tell how many.
Red dots block their view.
The puzzle boards are generated randomly. They come in four different sizes:
There's a tutorial available to show you how to play. I honestly had to go through it a few times to fully understand how to play. Once I've understood the rules, the game suddenly became enjoyable.
There are 4 buttons below the puzzle. There's an undo button if you want to back one step. There's also a hint button if you need a little help. The timer makes the puzzle even more challenging by displaying elapsed time and the time to beat. I prefer to play stress-free without the timer.
Tapping once on a circle changes it to blue, while double tapping changes it to red. Tapping once more changes it back to grey.
While 0h n0 looks simple and easy, it can be harder than it seems. After playing a few rounds, I've got a few tips that can help you out. Start by looking for a blue dot that already sees all its dots and then fill out the remaining space with red dots. The next step is to look for numbered dots that can only go in one direction. As you fill up the puzzle board, it becomes clearer what color goes on what space.
If you've got some free time, definitely check out 0h n0. And did we mention it's free? Go give it a try and let us know what you think in the comments.
Mark Guim is Video Editor at Windows Central. He switched to Windows because the MacBook Pro isn't Pro enough. You can follow him on Twitter at @markguim.
Wow love puzzle games like these

75% of games in windows phone store are puzzle games lol

I think you meant to say endless runners

We need some action packed games :@

That's how mobile gaming is.

I have both android/ios. A lot of games are puzzle games. Yes windows phone has less games and the store is a disaster. Sometimes you miss out on good games because search results are horrible or the are hidden gems. I've found many like that. IOS does have more none puzzle games, android has quite a lot though. If you're thinking about percentages that is. Yes it has a lot of none puzzle games but they are usually easy to find that's why they seem more noticeable. Or they have proper ranking system. I mean if you set your region to US versus Canada all of a sudden the ratings change what you see. The store is a huge mess. A game is a game, it should not have separate ratings based on region.

This. Store search is a big mess, I usually only go to WCentral to find good games/apps instead of search it on Store. Posted via the Windows Central App for Android

Yup, rating system should go worldwide!

512mb ram supported?? Now those using low end devices have nothing to complain about.

It's a simple puzzle game!!

Looks cool :D good to see some new game support.

That sounds good, but I hope hard games like racing action n so on comes simultaneously in future.

So reverse minesweeper, okay sounds fun.

That's exactly what it is. (which I like.)

LOL, I totally read as "Goes live on Web OS, Android and Windows Phone. Long live the PALM PRE!

I dont care anymore... I have bought a new htc-android today so i can play thousand of games . ;)

Nobody here cares about that.

Hahaha, android? Gosh... Poor you :-\

But it left you so bored that you came here to troll?

I feel sorry for you. Android is so boring that you come have to come here for entertainment. Same thing I tell the PS4 fans who come to troll in Xbox communities and articles.

+1320
PS4 was a terrible let down
Being a SONY fan since childhood.
Now Microsoft.

Good joke.u have apps in play store but u can't install all in ur flop phone::D

Nice little game. Would be nice to see which ones are done in the puzzle you are working on (so you know you've got it right). But still, nice game

Cool game. Should be merged with 0h h1 though

Great! By the way, there's a game like reverse Tetris named 1010! at store, it's also fun to play ;)

I had an idea for a similar game like this. That looks fun.

Excellent. Love puzzle games, and good to see people creating new types of puzzles!

This is how apps should be released... Simultaneously on all platforms

Couple of great games for WP. Timely support for all platforms and the web, and no gimmicks.

I hope they add Xbox and OneDrive supprt in the future. Microsoft should be more strict with this.

Just ran by it today, didn't realize it was new. Great game!

There are some good people out there while Snapchat being a dick.
Windows Central Newsletter
Get the best of Windows Central in in your inbox, every day!
Thank you for signing up to Windows Central. You will receive a verification email shortly.
There was a problem. Please refresh the page and try again.