10 Xbox and PC games that DESERVE sequels (or full reboots)
With Final Fantasy VII and Resident Evil 2 (and soon 3) getting full remake treatment, we decided to look back at our top ten games that deserve another look in 2020.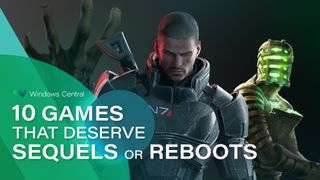 We live in an age of remakes and reboots, whether it's movies, TV shows, or of course, video games, modern technology is allowing us to see classic franchises reimagined in a whole new light. While Hollywood's efforts on this front have been a bit... hit and miss... shall we say, the video game industry has fared far better at it thus far.
In 2020, we're getting a full-blown remake of Final Fantasy VII, launching initially on PS4 before heading to other platforms. We're also getting a remake of Resident Evil 3, following on from the huge success of Resident Evil 2's remake, and Resident Evil 1's remake before that. We're also finally getting a new Half-Life game, albeit VR, but I guess it's better than nothing.
Still, there are dozens of dormant franchises from all major publishers that definitely deserve another look in 2020, and we decided to run down ten of our favorite titles that deserve either sequels, or full-blown reboots.
Play Everything
(opens in new tab)
The Ultimate Xbox subscription

Xbox Game Pass brings you more than 200 games for one monthly fee. Xbox Game Pass Ultimate also adds in Xbox Live Gold so you play online with friends.
1. Dead Space
In a time when the horror genre was struggling to maintain relevance and desperately needed a shot of originality, Visceral Games stepped up and delivered with one of the most, well Visceral, horror franchises of all time – Dead Space. It exploded on the scene in late 2008 with a fresh and frightening take on survival horror that elevated the scares, the tension, and the gore.
It's safe to say that Dead Space 1 and 2 will go down in history as two of the best horror games ever made, but unfortunately, pressures from its big-budget publisher (EA) forced the development team into some lose-lose situations with other projects that ultimately led to the studio's closure in 2017. With this universe left in limbo since the shuttering of Visceral Games, it's due time we see this spooky space saga make a return.
2. Mass Effect
It's been a rough few years for the folks at Bioware. Whether you enjoyed Mass Effect: Andromeda or not, it was apparent to many long-time fans that the quality players had come to expect from the franchise just wasn't quite there. The mediocre reception of Andromeda was only amplified by 2019's critical and commercial flop – Anthem.
Bioware needs to make a strong statement with its next release and while the team has confirmed development for the highly anticipated Dragon Age 4, players are left wondering when they'll get their hands on the next sci-fi epic. Rumors begin circulating in late 2019 that a new Mass Effect was in development, so here's to hoping we get a fresh taste of that franchise sometime very soon.
3. Silent Hill
Remember when just a few years ago we were going to be getting a new Silent Hill game from the twisted minds of Hideo Kojima and Guillermo del Toro? That was truly a magical few months, wasn't it? Unfortunately, Konami (in a very Konami move), canceled development and devastated anyone who was excited about the project – which in all fairness, always sounded way too good to be true.
Silent Hill is one of the most iconic survival-horror franchises in video history and pretty much created the bar we use as a standard for modern psychological horror. The fact that this iconic series has been so mismanaged for so long is downright embarrassing. If we don't get a proper Silent Hill reboot early in this decade, it might be time to storm Konami headquarters (or not, because you know, illegal).
4. Phantom Dust
Phantom Dust is hands down one of the most criminally underrated Xbox IP. In what can only be described as Magic: The Gathering meets Dragonball Ball Z, this arena-based brawler was a prime example of a title that just simply launched ahead of its time. Created as one of the very first Xbox Live focused games way back in 2004, Phantom Dust combined unique deck-building with 3rd-person action-oriented combat, to offer something that to this day, still plays unlike anything else.
At E3 2014, Microsoft unveiled a trailer confirming the development of a Phantom Dust reboot. Unfortunately, like many things one gets excited about, the developer assigned to the project shut down and the project scope was minimized to a simple remaster. With a stable of new, capable studios, it's about time Xbox finds the right team to revive this incredible franchise.
5. Dino Crisis
Capcom is on fire right now. With hit after hit coming in the form of amazing titles such as Monster Hunter: World, Resident Evil 2, and Devil May Cry 5, it seems like this developer has really gotten their groove back in recent years.
After setting the gold standard of video game remakes with Resident Evil 2, it seems only fitting that Capcom should dive back in and give some other legacy franchises the RE Remake treatment. The time for Dino Crisis is now! Dinosaurs may not be as hot as they once were, but it's time to face the truth - we all have a Dino Crisis shaped hole in our hearts that needs filling.
6. Disco Elysium
There was one title in 2019 that came seemingly out of nowhere and completely dominated discussions in the PC gaming community. Disco Elysium from ZAUM Studio was met with immediate critical recognition. This off-beat, choice-centric RPG was unlike anything many players had experienced before.
This indie darling even managed to win 4 separate categories at the 2019 Game Awards – more than any other game last year. These monumental wins were met with unanimous support, which highlights just how powerful of an impact Disco Elysium had on the folks who had the pleasure of experiencing it. While there was certainly a decent amount on content packed into the game at launch, fans are already eager to get their hands on a proper sequel.
7. Knights of the Old Republic
To many, Knights of the Old Republic is considered one of the best Star Wars games ever made and coincidentally, it's the second Bioware franchise on our list today. Fans fell in love with the deep RPG mechanics and gripping dramatization of Star Wars lore. The storytelling and characters within these games were so powerful they even managed to make their way into mainline canon in recent years. With reports of a new film and TV show based on this universe, the time has never been better to bring back this beloved series.
8. Crackdown
Some folks might be a little confused to see Crackdown make our list, after all, Crackdown 3 was just released back in February of 2019. The latest entry in this superhuman sandbox series aimed to be the groundbreaking sequel fans were clamoring for, but it just wasn't. Don't get me wrong, I stand firmly in the camp of people that believe Crackdown 3 was a fun game, but unfortunately, that doesn't mean it was a good game and it surely wasn't the game the series deserved.
There were a host of factors that negatively impacted the development of Crackdown 3, some of which were just out of Microsoft's control, but that doesn't make up for the extreme amount of wasted potential this sequel initially had. Crackdown is one of Xbox's most important co-op franchises and it's about time Microsoft treated it as one.
9. Left 4 Dead
Why can't Valve complete a trilogy for any of its franchises? For years and years, Left 4 Dead 1 and 2 were the co-op zombie shooters of choice on Xbox and PC. With a beautiful blend of strategy and survival, the simple premise just worked incredibly well. It's been over 10 years since Left 4 Dead 2 released and fans are hungry for that sequel.
The rumor-mill has occasionally churned out small pieces of information that might allude to a Left 4 Dead 3 in the near future, but with nothing official, it's hard to stay super optimistic about the franchise's future. Thankfully, Half-Life Alyx proves that Valve is actively working on new games based on existing properties, so there's still a chance the king of zombie shooters may be resurrected to reclaim its throne.
10. Banjo-Kazooie
Dear Xbox lead Phil Spencer, dear Rare studio head Craig Duncan, we demand a new Banjo-Kazooie. It's time to give the people what they want! Let's face it, Banjo in Smash Brothers Ultimate was ultimately just a tease for hardcore fans who haven't had a proper title since Nuts & Bolts dropped in 2008.
After waiting over a decade, it's understandable that some folks are getting a bit impatient. It seems like every E3 there are rumors that a new Banjo-Kazooie will be revealed, but so far we haven't gotten confirmation of even as much as a remaster of the original games. Xbox desperately needs a powerful platformer to compete in the genre with the likes of Nintendo and Playstation. The bird and the bear mean a great deal to so many people, so here's to hoping that E3 2020 is finally the E3 we get a new Banjo-Kazooie titled confirmed.
Over to you
What games would YOU like to see re-imagined or continued? Drop a comment either here or on our YouTube channel.
Xbox
(opens in new tab)
Main
Miles Dompier is a Freelance Video Producer for Windows Central, focusing on video content for Windows Central Gaming. In addition to writing or producing news, reviews, and gaming guides, Miles delivers fun, community-focused videos for the Windows Central Gaming YouTube channel. Miles also hosts Xbox Chaturdays every Saturday, which serves as the Windows Central Gaming weekly podcast.