Deal Alert: 10tons celebrates 10 years with huge $.99 game sale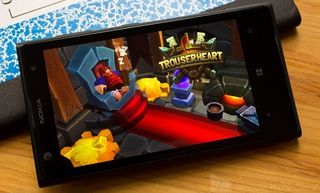 10tons Ltd, the developers behind such games as Trouserheart and Sparkle, are celebrating their company's tenth anniversary with a huge sale of their games across all platforms. Through this weekend, all 10tons games for Windows Phone, Android, iOS, Mac, Ouya and Blackberry 10 will be just $.99. Due to limitations of the Windows Store, games for Windows 8 will be $1.19.
10tons' games are known for their fun look and quirky nature. Many are matching puzzle games with beautiful environments and sweet soundtracks. Others are strategy-based battle games with zany storylines. And with the serious discount to just $.99, they are definitely worth a try.
You can download their Windows Phone 8 offerings below:
Azkend: A mystical tile-matching puzzle game with an archeological twist.
Azkend 2: A sequel to the first with a new storyline, this time, in New York. Here's our review.
Boom Brigade 2: Battle aliens in this strategic mission game. You can catch our review of Boom Brigade 2 here.
Dragon Portals: More than 70 levels of color-matching puzzles. Catch our review here.
Heroes Of Kalevala: Choose a hero and lead your tribe to prosperity.
Joining Hands: Hold hands with your fellow Peablins to keep the Bogeyman away.
Joining Hands 2: In this sequel, the Peablins investigate a meteor crash near their forest home. Check out Sam Sabri's review of Joining Hands 2 here.
King Oddball: Rock the world as you battle humans to the bitter end. King Oddball is a fun game and you can read our review here.
Sparkle: Bust up orbs to save the woods from destruction in this fast paced arcade game.
Sparkle 2: The orbs return in 90 new levels of fun. You can read a review by our very own George Ponder here.
Tennis In The Face: Like John McEnroe meets the John Rambo, Pete Pagassi launches balls to the wall to prevent the evil Explodz, Inc. corporation from destroying the city. Catch our review of this unique Windows Phone game here.
Trouserheart: Hey, who took the king's pants? Find out in this award-winning battler. And check out our review here.
Thanks, everyone, for the tips!
Get the Windows Central Newsletter
All the latest news, reviews, and guides for Windows and Xbox diehards.
Happy Friday? I think it is. But next Friday, will be even better ;)

Why is next Friday your birthday or summat

Not in Finland.. :( Just going to watch Hands-Ons of 1520, 2520 and One from yt and fap fap fap.. :/

Next Friday is Xbox One and Lumia 2520 & 1520 day.

well i am excited about the xbox one! the 2520 and the 1520. i am not that interested in!!! i need the 929 or something tho!! :(

So its not your birthday then

No, but if u wanna gift me an x1 then it is :)

But it's already Saturday morning :P

i am about to get a new phone but i dont know when?! the 929 wont come out and the others rumored devices that Nokia are still holding onto with the release of windows phone 8.1. i dont wanna get the 929 then something dope comes out later i will just die

This is great. Thanks guys! ^.^

To top up happy friday, Hugo Troll Wars is now available for Windows Phone 8 :-) http://www.windowsphone.com/s?appid=e98b5489-b4b9-4e91-bfce-7cfc01b867b4

Looks interesting will give it a try.

Looks awesome, downloading.

I've got 2 dollars burning a hole in my pocket. Which 2 should I get. Most votes wins.

Happy B-Day to 10tons and hope the will continue to focus and support even more on WP platform and provide their amazing games!
Today i bought Trouserheart and King Oddball -----> 2 EPIC AAA GAMES with only 2$
Happy to support sales for top quality games like this!

If they are not xbox games I simply have no interest...

SHUT UUUUPP these games are better than most Xbox games on WP. Support third party devs AND Xbox games!

I partly agree with the comment above you. As independent WP game devs almost never include Facebook and Twitter, personally I miss boasting about my scores and playing against friends in non Xbox games.

What are the limitations of the windows store? I'm curious

Limited to at least $1.19 I think?

Bought Tennis in the Face and Trouserheart

Recommendations?? So many games

please please please make a seperate site page for XBOX and NON XBOX games.

There's almost no new Live games to justify that