16 Essential keyboard shortcuts everyone should know using Continuum for phones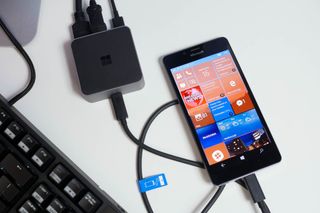 Continuum for phones is a fantastic new feature that Microsoft is including in Windows 10 Mobile. The feature allows you to transform your phone easily into a computer-like experience by using the Microsoft Display Dock (opens in new tab) or Miracast to connect the handset to an external monitor, keyboard, and mouse.
Once you have set up Continuum, you can easily go to the Start screen to open and work on any Universal Windows app. Although, Continuum isn't exactly the same experience like working with the desktop version of Windows 10, it's very similar, and you can get a lot of work done when you're not near to your main computer.
In addition to the familiar user interface and being able to work on the same Universal Windows apps, you can use on the desktop version of the operating system using Continuum, you can also get a lot of work done faster using keyboard shortcuts to navigate and perform different tasks.
As you probably already know, Continuum in Windows 10 Mobile supports many of the keyboard shortcuts you can use in Windows 10 for PC, but not every shortcut is supported. Here's what is supported in the Continuum experience:
Swipe to scroll horizontally
| Keyboard shortcut | Action |
| --- | --- |
| Keyboard shortcut | Action |
| Windows Key | Open/Close Start screen |
| Windows Key + A | Open Action Center |
| Windows Key + C | Open Cortana in listening mode |
| Windows Key + E | Open File Explorer |
| Windows Key + I | Open Settings |
| Windows Key + K | Open the Connect quick action |
| Windows Key + L | Lock your handset |
| Windows Key + O | Lock device orientation |
| Windows Key + P | Open display settings |
| Windows Key + S | Open search (Cortana in search mode) |
| Windows Key + U | Open Ease of Access Center |
| Windows Key + Tab | Open Task view |
| Windows Key + Backspace | Go back |
| Windows Key + Spacebar | Switch input language and keyboard layout |
| Windows Key + Print Screen | Take a screenshot. However, you need a keyboard that includes the Print Screen key. If not, you can't take screenshots on the external display |
| Alt + Tab | Switch between open apps |
It's worth pointing out that a few other Windows shortcuts may work as well, but we're listing only the shortcuts officially supported in Windows 10 Mobile using Continuum. For example, Ctrl + C and Ctrl + V shortcuts to cut and paste content work inside of apps, but they are not fully supported across Continuum in places like File Explorer (you cannot cut and paste files with these shortcuts, for example).
Also, note that in order to use Continuum for phones, you need a new handset, such as Lumia 950 and Lumia 950 XL. Older Windows phones do not support the feature due to hardware limitations, even once they're updated to Windows 10 Mobile
Do you have any specific shortcut you like to use with Continuum for phones? Tell us in the comments below.
More resources
If you want to read more about Windows phones, make sure you check these resources:
Windows 10 Mobile on Windows Central – All you need to know
Continuum news, tips, and tricks
Microsoft Lumia 950 XL on Windows Central
Mauro Huculak is technical writer for WindowsCentral.com. His primary focus is to write comprehensive how-tos to help users get the most out of Windows 10 and its many related technologies. He has an IT background with professional certifications from Microsoft, Cisco, and CompTIA, and he's a recognized member of the Microsoft MVP community.
Saw the 950 ad in TV now.. Don't think it will shine.. Ad is ok..but phone design is uninspiring ..!

I went from the 1520 to the 950xl, the 1520 was better made

Bs. 1520 only had 16gb and no qi. With a mozo back cover the 1520 is crap compared to the 950xl. Ymmv

In Europe and Latin America, Lumia 1520 was launched with 32GB and wireless charging built in

I would respectfully disagree. They're both well made. One has sealed battery and the other does not. Sure, the removable back on the 950XL feels a bit flimsy because of the material but that doesn't mean the overall construction of the device is less.

I miss my 1520 :/ Using iPhone 6 now but still miss my Lumia 1520 phablet.

1520 & WP8.1 just works, not a flimsy pre-beta like 950/XL

I was looking how to change input language. Good to know now thx.

Got mine today...I like it...

Going from the 925 to the 950xl was good for me. The compass and GPS drove me crazy on the 925. If you stood still on a intersection the map would jump all over the place. Also the 950xl feels very light compared to the 925. I don't know how you can make a black slab any more differnet. MS provides a remoable back so you can buy any cover of your choosing just to make it personal. I am really enjoying continuum on the phone. Showed it off the a lot of folks at work and they were impressed. But the hard core Apple folks asked why would you use a phone that when you have a tablet. My respnose. Who needs a tablet anymore with the larger phones and Continuum.

It's funny, I often have my sp3 sitting next to me while using continuum on my couch. I really enjoy using it.

These keyboard shortcut keys are not just for phones that support the complete Continuum experience. I have a Lumia 640 running the latest build of W10M and received a 1ByOne foldable keyboard for Christmas. All the standard shortcut keys work. I was blown away by the ability to use all the keyboard shortcuts in OneNote. I can take thorough now while on the go when I don't have my SP3. I showed this to a iPhone-using colleague while casting my screen to a 32in TV: "it's a freaking PC on your phone!" And the man knows nothing of the 950. ha!

I also noticed this a while ago on my 640. But I'm curious, where you able to get your mouse to work? I used a Bluetooth 3.0 keyboard with a built in trackpad, and while the mouse cursor appeared and moved, it refused to acknowledge a click.

Alt+F4 also works. We need a full guide on Continuum, now that many (like myself) probably got the Display Dock for Christmas. For example, the cutting off of the display is annoying. Telling people where that setting is would be beneficial.

If your a Windows user, who uses shortcuts, If they would on this, they would be the same on a Windows computer.

I got my dock free with the Lumia deal last month and I guess it's an indication of what you can actually do with it in my eyes that I only tried it out yesterday. And I was right. Nothing. Useful would be to connect to your home network to play videos but none of the apps I have allow this via Continuum. It's just as easy to use my Surface and stream.

Continuum does not worth a lot these days because we don't have yet remote desktop. I've invested a lot in this technology and I still have to carry my convertible tablet with me.

Plex would do what you're looking to do.

Looking at Plex now. Can't play videos from my NAS on to my phone.

Some NAS units can run Plex Server.

I have a qnap nas and a 950 phone. The plex server runs great on the NAS and the app works great on the phone.

Does anyone else have issues with the continuum display not scaled in the screen correctly? ie. The 4 corners are not aligned to the screen in use?

On my Roku I have that issue I can't see all the start

Make sure your TV/Display is set to native resolution. I have a Toshiba TV that does the same thing with my Roku. Look for Picture Size or something along those lines in your TV settings. What make and model display is it?

I have this issue when I'm using the Miracast app on the Xbox... However, if I use a miracast adapter connected to the same TV, I get full resolution and it works well.

I have the same issue on my Xbox one

It's a Samsung smart tv es7000 I think. On the official Ms display adaptor the desktop is slightly zoomed in too far, when using a fire TV stick, the desktop is only half the screen! The tv(s) are setup fine on 1080p and display correctly for other devices, it's only continuum that isn't displaying correctly, so I'd rather not change the other TV settings of alignment etc...

Does Win + Spacabar works with MS Foldable Keyboard? I mean: I'm able to type in Russian (if I remember its layout)?

Essential Continuum tip for Continuum users that use Continuum with their Contiuum-enabled phone: RUN APP Essential Continuum tip for Continuum users that use Continuum with their Contiuum-enabled phone: CONNECT MOUSE Essential Continuum tip for Continuum users that use Continuum with their Contiuum-enabled phone: TURN YOUR PHONE ON Essential Continuum tip for Continuum users that use Continuum with their Contiuum-enabled phone: TO USE A PHONE YOU NEED TO BUY IT Essential Continuum tip for Continuum users that use Continuum with their Contiuum-enabled phone: A PHONE IS A DEVICE THAT MAKES CALLS

Say "Continuum" one more time, I dare you.

I think there is a point buried in there but I have yet to find it.

The Courier guy just delivered my FREE Display Dock! Can't wait to try it out on my Lumia 950 XL!!!

Does anyone remember Palm computers?
Windows Central Newsletter
Thank you for signing up to Windows Central. You will receive a verification email shortly.
There was a problem. Please refresh the page and try again.