55 tips and tricks to make you productive like a boss on Windows 10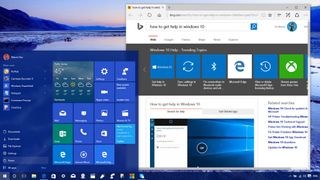 Windows 10 includes many great features that let you get your work done faster, but it's not just about the features. Another advantage of the operating system is that you're not limited to do a task in only one particular way. Windows is one of the most versatile operating systems you can find that allows you to accomplish the same tasks in different ways.
On every version of Windows, there is always a way to perform tasks faster or more practical for you. For example, if you are continuously typing, and it's hard to let your hands off the keyboard, you can always use keyboard shortcuts to do a particular action or navigate the operating system. Also, there are a ton of features to keep you productive, connected, and features that can help you delegate certain tasks and even more with Windows 10.
Today, we'll be looking at a few keyboard shortcuts and some tips to help you get things done faster and stay productive throughout your Windows 10 experience.
If you've used Windows 8 in the past, you will probably notice that many of the shortcuts and tips that we'll be seeing today have been previously introduced. However, looking at the fact that many users have skipped Windows 8, and millions of users are now jumping straight to Windows 10, for many, a lot of these tips and shortcuts will be new.
Snap View
Although Snap view was introduced years ago, in Windows 10, the feature has received some improvements. You can now snap up to four apps on your display, and Snap Assist, which will pop up automatically after snapping the first app, will suggest additional running app you may want to snap side-by-side. Below you can find the keyboard shortcuts to use this feature:
Windows Key + Right arrow: Snap active window to the right side of the screen.
Windows Key + Left arrow: Snap active window to the left side of the screen.
Windows Key + Right + Down arrow: Snap active window to the bottom-right corner of the screen.
Windows Key + Left + Down arrow: Snap active window to the bottom-left corner of the screen.
Windows Key + Right + Up arrow: Snap active window to the bottom-up corner of the screen.
Windows Key + Left + Up arrow: Snap active window to the bottom-up corner of the screen.
Virtual Desktops
While most popular operating systems have included the concept of virtual desktops for years, Windows 10 now includes the same feature to allow you group applications on separate desktops making you more productive by keeping you focus on a particular task. You can quickly click the Task View button on the Taskbar to access and manage virtual desktops, but you can also use some keyboard shortcuts to work faster:
Windows Key + Ctrl + D: Create a new (empty) virtual desktop.
Windows Key + Ctrl + Left arrow or Right arrow: Switch between virtual desktops.
Windows Key + Tab: Enter and get out of Task View, and it also works to access the current virtual desktops.
Windows Key + Ctrl + F4: Close current virtual desktop – apps and open windows will merge to the main desktop.
Game DVR
How is Game DVR relevant to productivity? Windows 10 happens to ship with the Xbox app, which includes a game recording feature, and the video recording function can be considered a screencast tool as it also works to record any open application. It's worth pointing out this feature won't work to record activities on the desktop or open windows, such as File Explorer. You can use Game DVR using the following keyboard shortcuts:
Windows Key + G: Open the Game bar, click the Red button to begin recording active application.
Windows Key + Alt + R: Start/Stop recording.
Windows Key + Alt + M: On/Off the microphone during recording.
Windows Key + Alt + T: Show/Hide recording timer.
Files are stored in your account Captures folder inside of the Videos folder.
Now every time you need to remember how to perform a task or you need to teach how a feature works to someone else, you can use Game DVR on Windows 10 to record quickly and easily a video.
Cortana
Cortana is Microsoft's digital assistant, and even though, you can use it hands-free, you can also perform a few tasks using keyboard shortcuts:
Windows Key + C: Open Cortana in listening mode.
Windows Key + S or Windows Key + Q: Open Cortana in search mode.
File Explorer
File Explorer is the one place you can always go to browse and find anything on your PC, from documents and pictures, to OneDrive and network share files, to connected drives and system files. While most people are used to navigating File Explorer using a mouse, you can always use various keyboard shortcuts too. Below you will find the most common keyboard shortcut you can use in File Explorer:
Windows Key + E: Open File Explorer.
Alt + Right arrow: Move back between folders.
Alt + Left arrow: Move forward between folders.
Alt + Up: Move up a level in File Explorer.
Ctrl + E: Start a search for a file or folder in File Explorer.
Ctrl + F: Open search functionality in File Explorer and support applications.
Ctrl + Shift + N: Create a new folder.
F2: Rename selected files.
F5: Refresh active window – commonly use to refresh web pages on a browser.
Alt + F4: Exit/Close apps or windows.
Power-user shortcuts
Although, Windows 10 only brings a small handful of new keyboard shortcuts, the operating system includes most of the shortcuts you got used to in Windows 8.1, Windows 7, and previous versions.
Below, you will find a list of keyboard shortcuts everyone should know to either perform certain tasks or navigate the operating system:
Windows Key + Tab: Open Task View to view all the running apps. You can also use Alt + Tab to view and switch between apps, or press and hold the Alt, while repeatedly hitting the Tab key to select the app you want to go.
Windows Key + Comma: Make all the windows transparent to view the desktop.
Windows Key + D: Minimize all open windows to access the desktop. Repeat shortcut to restore all minimized windows.
Windows Key + Home: Minimize all open windows except the currently active windows you're working.
Windows Key + T: Move through icons in the Taskbar – running apps will show thumbnail previews of the current running instances.
Windows Key + 0 through 9: Open a pinned app on the number location in the Taskbar. "0" opens the app located in the 10th position. If you have more than one instance open of a particular app, you can repeatedly use the same keyboard combination to cycle through the instances.
Windows Key + Shift + 0 through 9: Open a new instance of a running app. Of course, it's only supported on apps that support multiple instances.
Windows Key + Spacebar: Switch between input languages installed on your computer.
Windows Key + A: Open/Close Action Center.
Windows Key + I: Open the Settings app.
Windows Key + P: Connect to an external display. Options include extend, duplicate, and a second screen only.
Windows Key + PrtScn: Take a screenshot. Screenshot gets copied to the system clipboard, and image file will save to the Screenshot folder in your local Pictures folder.
Windows Key + Plus sign or Minus sign: Zoom in/out using the Magnifier built-in tool.
Windows Key + X: Open the Quick Link menu (commonly known as the Power User menu).
Windows Key + Shift + Left arrow or Right arrow: Move a window between monitors.
Free up the Taskbar
By default, Windows 10 includes the new search box in the Taskbar that might be taking some valuable space to fit more pinned apps. If you want to reclaim some space right-click on the Taskbar, select Cortana, and choose to Show Cortana icon only. You can also remove the Cortana and Task View buttons from the same Taskbar menu.
Resize two snapped apps at the same time
In Windows 10 version 1511, Microsoft is also adding another improvement to Snap, which is the ability to resize a snapped window while simultaneously resizing any adjacent snapped window. You can try this when you're working with two apps, just position the mouse cursor over the line of the two snapped apps, do a left-click, and drag to the right or left to resize both apps at the same time. To make sure this features is enable, go to Settings > System > Multitasking and turn on When I resize a snapped window, simultaneously resize any adjacent snapped window option.
Use this trick to minimize inactive windows
Left-click and hold the title bar of any window, shake the window and see all the foreground windows minimizing. (This feature was originally introduced in Windows 7).
Clean up your desktop
We tend to save a lot of files and folders on the desktop, but after a while, it becomes too cluttered to the point you can't even see you desktop background image. If you want to keep saving files on this location while keeping the desktop clean, you can quickly hide all the content on your desktop by right-clicking on the desktop, selecting View, and making sure to uncheck the Show desktop icons option.
Pin Recycle Bin to Start for quicker access
If you decide to hide desktop icons, one thing you can do is to pin the Recycle Bin to Start. Just right-click the Recycle Bin, and select Pin to Start.
Scroll any window even when they're inactive
It used to be that Windows only allowed you to scroll active windows. Now in Windows 10, you can set an option to scroll both active and inactive windows by just hovering with the mouse cursor over a window. This feature enabled by default, but if it's not, go to Settings > Devices > Mouse & touchpad, and make sure to enable the Scroll inactive windows when I hover over them option.
Pause notifications to focus on your work
If you need concentration and silence during work hours, or you're about to watch a movie, you can open (Windows Key + A) Action Center and click the Quiet hours button to stop notifications temporarily. Unlike quiet hours in Windows 8.x, you can't set how long you want to suppress notifications, you have to go manually back to Action Center and click Quiet hours to re-enable the feature.
Pin specific settings to Start for quicker access
While accessing the Settings app is as easy as using the Windows Key + I keyboard shortcut. Sometimes you also need to have similar quick access to particular sections of Settings to check for updates, personalize your account, change Bluetooth settings, etc. Windows 10 makes it super easy to pin settings to Start. Just open the Settings app, right-click a section you want to access, and click Pin to Start. (Pin settings to Start works with all the main groups and sections of Settings, as such you can pin "Personalization" as well as "Windows Update" inside of "Update & security.")
Quickly open a new instance of an application
If you ever want to open an additional instance of an app quickly, just click the icon on the Taskbar or Start menu with the middle button on your mouse. You can use this action on Microsoft Edge, Chrome, Firefox, File Explorer, Calculator, and other apps that support multiple instances.
Search "My stuff" to actually find files on your PC or OneDrive
By default, search results in Windows 10 are limited and not very accurate, as the operating system tries to include results for all categories, including the web, apps, settings, and files on a small canvas. However, you can get much better results when you click the My stuff button during a regular search. When doing a search on "My stuff", you will get a richer experience with filters, sorting capability, and better results from your PC or OneDrive.
Create reminders using Cortana
One of the best things about Cortana is that it's truly your personal assistant that can do a lot of things for you. If you have a lot of stuff on your plate that you need to get done, you can let Cortana handle your reminders. This ability lets you continue focusing on the work you need to get done. Just follow the steps below:
Launch Cortana and in the search box type Set reminder and hit Enter.
Create your reminder and set when you want to get reminded.
Click the Remind button to complete.
The best part is that the reminder will sync across your devices where Cortana is enabled.
Let Cortana track your packages
While Cortana can automatically track packages from different mail carriers, it can only track packages automatically if the tracking number appears in one of your emails on the Microsoft account you're using in Windows 10. However, you can always add items manually that you want to track using the steps below:
Launch Cortana and open Cortana's Notebook.
Scroll down, click Packages and make sure Package tracking cards option is enabled.
Click Add a package and enter the tracking number for the item.
Click add to complete.
Now, you should see package tracking cards every time you open Cortana with the most up to date status.
Send text messages using Cortana
If you use a Windows 10 Mobile handset, you may not know that you can enable Missed call notifications on your phone and on your PC running Windows 10 version 1511 to get notifications from missed calls. But this feature also allows you to send SMS messages from your PC without you having to reach your phone -- just follow the steps below:
Open Cortana on you PC and phone, go to Cortana's Notebook, and on Settings, check that you have Missed call notifications.
Open the search box on your computer, type Send text, and hit Enter.
Click the + to add a contact and type your message.
Click the Send button.
Use Cortana for quick math and conversions
Instead of opening the Calculator app or going online to perform a calculation or conversion, you can always type in the Taskbar search box what you need to know to get instant answers, such as "49 * 34.7" or "72 Fahrenheit to Celsius". (Remember that these are just a few examples to help you stay productive, but you always ask Cortana anything.)
Keep in mind that we're not including the entire library of keyboard shortcuts or tips, we're only sharing the ones we're considering useful to make you a little productive.
Do you have a favorite keyboard shortcut or tip that helps you to be productive using Windows 10? Tell us in the comments below.
More Resources
If you want to see more how-to for Windows 10, make sure you check the following resources:
Windows 10 help, tips, and tricks
Windows Central Newsletter
Get the best of Windows Central in in your inbox, every day!
Mauro Huculak is technical writer for WindowsCentral.com. His primary focus is to write comprehensive how-tos to help users get the most out of Windows 10 and its many related technologies. He has an IT background with professional certifications from Microsoft, Cisco, and CompTIA, and he's a recognized member of the Microsoft MVP community.
Nice article. But way too long. Will read it in installments.

Love the 'Shake to Minimize Inactive Windows' trick, awesome.
Many of these shortcuts work in Windows 8.1 too.

How can you open a new instance of an app with a laptop?

Shift and left-click instead of middle-click.

That depends on your touchpad settings and drivers. On my dell touchpad pressing the left and right button together, acts as a middle click. Of course there might be a shortcut from windows that may work if you don't any drivers installed.

There is, Shift and left-click does the same.

Brilliant, thanks for that little gem - using my Surface keyboard and never a mouse my first thought was how can I do that - now I know, thanks again!

Isn't the shortcut described for windows key + tab actually what happens when you press alt + tab. Windows key + tab just opens the overview mode, but it doesn't actually switch anything. IIRC Posted via the Windows Central App for Android

You're right, you can use Windows Key + Tab to open Task View and see running apps. Alt + Tab, which is the key next to the Windows Key, let you switch between apps. Thanks,

Shortcut to switch virtual desktop is Windows Key + CTRL + Right or Left Arrow (you missed the "CTRL" in the article)

One to print and keep I think. Lots of shortcuts which could be really useful! Thanks

No problem. I'm glad these shortcuts can be useful to you. Thanks,

Can you also receive text messages through Cortana?

Not yet, unfortunately. It's only send messages and get notified of missed calls.

Yeah that was a half baked idea lol. Luckily I get replies to my wrist via the MS Band.

Mugging yourself off again

Yes you can.... Its in Cortana settings

You cannot receive text messages on your PC with Cortana, only send them.

errr because it is a PC and not a Phone... got some right bright sparks on here, do you put your pc in a shopping basket and wheel it round with you? tad ott ;)

What's your point? I'd find it way more comfortable to check out my text messages from my PC than my phone when I'm using the former. If I can already send them then it's surely possible from a technical level, MS just hasn't got around to it yet. Fingers crossed for Redstone.

Yeah each to their own, doubt you will get your dream as SMS is free for the majority of people across the regions networks so lacks the incentive as it is very limited compared to all the IP chat software you have at your disposal even on your phone nevermind a PC....SMS uses a mobile data network so you need a phone account for it to operate so therefore you need a phone anyway... it works fine in continuum on the 950 but from a PC is a bit like trying to get two people from norway to communicate in chinese... :)

X-topher, you are missing the point. Cortana currently allows you to compose a text on a Windows 10 desktop/laptop and then send it via SMS message using your Window 10 phone as a condiut to the Cellular network. It is basically just allowing you to use any Window 10 device to interface with your existing SMS phone service. It's very handy if you are already sitting at your computer with a full keyboard to type on. However, the functionality is limited because it doesn't show you the full chat history and it doesn't display incoming messages. Therefore, it can only be used to blindly compose a new outgoing message and you still have to stop what you are doing and go get your phone for anything else SMS related. The full functionality is probably coming in the not too distant future (there are signs of it in the Messaging app), but it isn't hear yet. Being able to make and receive calls from any Windows 10 device by acting as a virtual bluetooth headset to your phone would be nice too, but SMS is more likely to be used I think.

I receive text message notifications trough Cortana all the time.

No sorry, I know exactly what they are trying to acheive, You are mistaken the phone doesn't come into it when you send a sms by pc you are not routing it thru your phone you are using its number as an address and then sends it via IP with the sms been converted at the exchange and then to the phone,this is easy and has been available since the early 00,s with ICQ etc. The problem is their is no way to assign your phone number to your pc ip address when receiving a message because SMS is an ancient tech that hasn,t got a clue what an IP address is, so it cannot convert back to an IP. This is why ip chat apps are so popular on PC,s as instead of routing IP-SMS-IP it is a simple IP-IP bringing new features like include a file pic video etc with the message also knowing if a recipient is available Online. so it is not impossible for what you ask to recieve sms on your pc it is just a waste of time creating this tech when there is a much bettter method in IP Chat...

Actually, I do think it's routed through the phone, in fact Cortana warns you that sending the SMS might take a moment depending on your phone's Internet connectivity. The Cortana app on the PC sends the SMS to the Cortana app on the phone, which then sends the SMS.

I assure you it sends it via IP there is no interaction with the phone... turn your phone off and try...When she says she is sending via your phone she means she is using your phone number assigned to your microsoft account as an address as opposed to your email etc... SMS is pretty much redundant these days and will be phased out as there is no need for it anymore because any phone comms mast will now also be connecting to the phone with 3g/4g thus enabling IP chat.

Sorry, but you are wrong. I just turned off my phone and the message was not sent until I turned it back on. Not to mention this feature always worked for me before I ever assigned a phone number to my MS account. Have you actually tried what you told me to try yourself before telling me so?

Yes... Doesn't send the text, I see no interaction or log on the phone to suggest the phone is trying to send the text via sms so i assume the text is being sent via IP and my mobo operator is blocking its conversion to sms...

The phone does notify you as soon as the SMS has been sent. You're trying really hard to prove your point but I don't really see how it holds up more than mine does.

I get missed call info so my phone is set up correctly... If that is the case and Cortana is just basically pushing the text to the phone to send then there is no real reason why it cannot push the reply back to you PC as it is bypassing the age old problem of the network operator not allowing free ip-sms texting on their private networks. It could be down to the reply sms being the property of the mobile op and microsoft infringing their usage terms by pushing it... In the scenario as it is both devices have to be together to work if you open it to fully remote texts then both devices dont need to be in the same place and all the dodgy shenanigans that could cause...

Two things... 1) It absolutely does get routed through the phone. Contana says it is using your phone to send the message and I just tested it by disabling my phones cellular connection. 2) Apple has similar functionality between iOS and OSX. It allows SMS and phone voice to be handled through a Mac (I believe it connects with Bluetooth to the phone, but not sure). So yes, there is no reason that MS can't do the same, except that it is stil a work in progress and only partially implemented at this point. Which is what all of us were discussing and trying to get through your thick skull. :) I'm just messing with you. Now you know.

On point 2) That is already available using Whats app web by connecting via bluetooth which again puts both devices within a certain range to work.. The issue with Cortana is that I could be in Bejing and texting people on a phone in the usa as i,m not connected to the pc within a range ie bluetooth, maybe they are working on a geofencing limit when both devices location can be tracked....

Now do you understand the issue?

Works perfectly for me on the 950... We know who is half baked... Finding the settings such a tough ask... Even allows you to only work when on headphones/headset

You are talking about using Cortana voice to compose/listen to text messages on your phone. They are talking about the topic in the article, which is composing cellular SMS texts via keyboard on your laptop/desktop and then sending them remotely through your phone.

Oh man! I need that wallpaper. Where can I get it?

Open the article in Chrome. Go to the 4.Cortana page (one of the shots which shows most of the desktop - others will do). Right click on image and select "Search Google for Image". Select the image from the "visually similar images" section.

here you go: http://i8.download.fd.pchome.net/t_1680x1050/g1/M00/0C/0E/oYYBAFRgFoKIVw... 1680x1050 "dead sea hd"

One thing needed is now interactive live tiles.

I love shortcuts, so thanks for doing this! I had no idea about the click and shake! You listed the same shortcuts for snap and switch virtual desktops. I think you left out the control key: Win + ctrl + left/right.

On page 8 it says "Right-click and hold the title bar of any window, shake the window and see all the foreground windows minimizing" but it's left-click and hold

Force of habit. Fixed. Thanks,

It's funny when I read people pretending Windows 10 is "unproductive" because of the start menu, yet completely gloss over the vastly improved app snapping, scrolling inactive windows and even virtual desktops which I consider to be much more important for productivity. The snapping improvements are one of my favourite Windows 10 features.

Except thats been available since w7

Nothing of what I mentioned was available in Windows 7 - sure, there was snapping but it's become much more advanced now, which is what I'm talking about.

Yup, you only got two half's of the screen. Use hydravision on W7 much better :P. On 10 with virtual desktops it is just plain awesome, for instance I can have several docs open in a virtual desktop all how I want with hydravision. Another with standard snapping. Plus with an additional monitor in extend mode sooooo much utilised space :P.

You can also enable quiet hours by right-clicking the Action Center button, I prefer this because it's faster.

Sure thing. Merry Christmas! :)

Merry Christmas to you too! Thanks,

8. It's Left-Click and shake, not Right-Click. :)

You can refresh the page to see the change. Thanks,

Alt + tab and Windows +tab are my favorite shortcuts for keyboard input in Windows 10. I also use ctrl+shift+esc because Windows 10 or apps freeze or bugs occur regularly. Theyre getting less by the month, but still there. ​

Some really cool tips there guys. Thanks

"Productive like a boss" sounds like an oxymoron.

Right clicking the windows button(start menu) gives you a whole bunch of short cuts too.

the most usefull article I've read on this site, big thanks

I AM SO FLIPPING SICK OF KEYBOARD SHORTCUTS!!!!!!!! I wanted a MODERN operating system that didn't force me to use TIRED processes to get things done! It's like Microsoft (and all you fools who actually LIKE Windows 10) have insisted on going back to Windows 2000! If I had Satya Nadella and his senior staff in front of me right now I'd beat them unconscious.

1. Nobody is forced to use these keyboard shortcuts, all that is listed here can be achieved with a mouse as well (or touchscreen for that matter), the keyboard shortcuts are just quicker if you're already using the keyboard anyway, which you're probably doing anyway if you're on a PC and using it productively. 2. If you're sick of keyboard shortcuts then don't use them. That's elemetary logic for you there. 3. I'm not a fool for liking Windows 10. 4. Using keyboard shortcuts does not mean I'd like to use Windows 2000 or whatever nonsense, it means I'd like to be way more productive than I could ever be with a mouse alone. If you have an allergy of keyboards then don't use a PC because that's one of the primary two input methods for it, deal with it or bust. 5. Your sacred Windows 8 had plenty of keyboard shortcuts, in fact, most of these aren't even new to Windows 10. 6. Resorting to violence will make you look like even more of a fool you already make yourself look like anyway. I'm glad you don't have the rank that would allow you to force your strange distorted view of a "modern OS" onto us. 7. You are a sad little troll who cannot even stop ******** and moaning like a spoiled brat on Christmas Eve. Seriously, get a grip. What are you even doing here? This is pathetic. 8. I won't answer to any more of your posts. 9. Merry Christmas.

@ScubaDog, dude you need a vacation :).

Agreed... Life is to short.

Game DVR used to work earlier but it dosent work now, i am using NVIDIA GeForce 610M

Nice article and if i find one gem it's worth the read - found 2 so far and more to read, so thank you Mauro, much appreciated.

Wow, never knew about the hide desktop icons!!! Will *** in handy :)

Great article, Book marked + on pocket for future reference:). Would be awesome if we could "trap" input devices to a or specific virtual desktops. Such as locking the keyboard and mouse on virtual desktop 2 and 4. With 2 and 4 being shown on an second screen.
Currently I have to use a VM to achieve this, which is pretty clunky.
I use my trackpad and laptop keyboard for screen 1 and the VM which is extended on screen 2 - which uses a usb keyboard and mouse.

Provided that boss is really productive at all...lol

Great article. Thanks for throwing all this together!

Now that's a very useful info thanks to WC team merry Christmas

OT: Guys, any news about 'flip to silence' ?? It will be back to w10m ??

Off topic: Is there any Imo app working in windows phone. Or will it will available in Windows 10...?

1. No
2. No one knows the future

Any clue as to what the keypress for tablet mode is? I'm STILL searching for basics like that and how to boot to Start Screen without being in tablet mode. In W8 it all just worked. W10? Still waiting...

Very cool. Learned a few new tricks. Many thanks! Posted via the Windows Central App for Android

Very good article! Thanks for the tips and tricks. :D

It's worth mentioning (to me, anyway :-) that once you press Windows+Tab you can right-click on an app's icon/window and move it to another virtual desktop. Handy if you want to move things around a bit.

Mauro!! My favorite blogger is back! Thanks for this one sir.

Great Job Mauro. It's always interesting to use windows and more interesting when one knows the shortcuts. But, I'm being skeptical about my PC. A 1.5ghz intel processor preinstalled with windows 10. I always wanna update but I'm scared it'd affect my functionality. Any help, guys?

Windows button + alt + left or right direction -to make your screen go vertical -left or right.
Windows button + alt + up or down button -to make your screen go horizontal or upside down.
Windows Central Newsletter
Thank you for signing up to Windows Central. You will receive a verification email shortly.
There was a problem. Please refresh the page and try again.