The $180 ReCore Collector's Edition for Xbox One includes a statue of Joule and K-9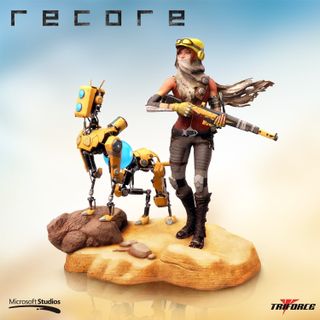 Microsoft is selling a ReCore Collector's Edition for Xbox One for $179.99 (opens in new tab). It will include a hand painted statue of the upcoming action game's two lead characters, Joule and K-9.
In addition to the statue, the ReCore Collector's Edition will include a lithograph of the game's main characters and a "Corebot Alphatbet Decoder Dial" which we would assume might come in handy while playing the game. The Xbox One disc for ReCore will be put into a steel case.
ReCore, which is being co-developed by Comcept and Armature Studio under the leadership of Mega Man creator Keiji Inafune, will be released on Sept. 13. It's also an Xbox Play Anywhere game, which means Xbox One owners can get the Windows 10 version for free and vice verse. In addition, pre-orders will get an Xbox 360 download code for Banjo Kazooie: Nuts and Bolts, which can be played on the Xbox One via backwards compatiblity.
See at Amazon (opens in new tab)
Do want! The game looks like a lot of fun.

I'm a sucker for CE's with figurines. This looks great albeit a bit "Star Wars-y". Still may order....

...ouch! $240 CDN. Added to Wishlist and will contemplate....

bb(surprised that they haven't started to charge for gc like they do in US but who knows maybe its a hidden charge) had a nice promotion for all e3 preorders you'd get 25x bonus of rwz points & a bonus of x10 rwz points for after that period if you made a preorder

I hope there's a digital code with the Collector's Edition, seeing as the game is Play Anywhere. This has become a little bit of a worry for me. I love my CEs, but with Play Anywhere being with digital-only, I now feel like I have to make a choice; one I will regret either way.

Ms store site seems to be giving mixed info on it on pages for games that support it
Windows Central Newsletter
Get the best of Windows Central in in your inbox, every day!
Thank you for signing up to Windows Central. You will receive a verification email shortly.
There was a problem. Please refresh the page and try again.