256 GB Surface Pro shows up for Japanese market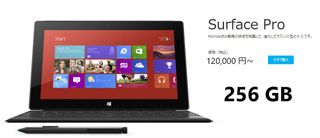 Until recently, the largest amount of storage you could pick up for a Microsoft Surface Pro has been 128 GB. Now a version of the tablet has surfaced in Japan with 256 GB and a 120,000 YEN price tag (approx. $ 1,200).
The new larger capacity sized Microsoft tablet will also include a pre-installed copy of Office 2013 Home and Business. Only Surface RT tablets have come pre-installed with Microsoft's productivity suite, so this marks a first for the Pro model.
In addition, the Surface will be meet with a variety of Japan only Touch and Type Covers. The new designs will be produced by artists: Beams, Rodeo Crowns, and Arise.
Are you jealous of our Japanese friends or could you care less for a 256 GB Surface Pro?
Source: LiveSide, Microsoft Surface Japan (opens in new tab), MSN Japan
Windows Central Newsletter
Get the best of Windows Central in your inbox, every day!
256 GB... Now we're talking :)

They have lots of porn to save

Yes, Japanese way to relax

Happy with 128.... Not even needed to use an expansion card yet!

Same here, but I would have given an extra 100-200$$ for the 256GB version if it was awailable at launch, would be even more epic if it had 8gb RAM.
About the new covers I could not care less since I am not likely to spend another $100 on a keyboard unrtil the one I have is dead.


256Gb storage with 8Gb of RAM, I'll empty my wallet in first sights of light! :P

So is there no demand for these in US? Yes, we know Japan is far more advanced in tech compared to US, but I would assume there is a demand for this in US. Especially at that price.

All Europe still without surface

Both RT and Pro are selling in various European markets.

yeah right ... I'm from Romania and I can't find any surface here :(
I think I'll wait for the surface 2 then

When companies say european market, they usually mean the 5 countries in west euro.

And hopefully without GMO foods too!

Surface is overrated. Look up convertible laptops like Lenovo ThinkPad twist

All Africa and middle east doesn't have surface

You are not entirely right..in Dubai at least you can find bought Surface Pro and Surface RT. The Surface Pro, I don't think it's launched yet but you can find it in some shops;)

I thought that the Chinese Surface had Office preinstalled too...

While there is a good chance I would have gone for a 256GB model, I've still got plenty of space left on my 128GB model after installing Office 365, Visual Studio 2012, and a few dozen other applications and apps. Even with a steady accumulation of assorted code, documents, autosynced photos, and other content, I'm holding steady at about 25GB free.

Well, I guess tentacle porn requires a lot of space...LOL Jokes aside, I think that the more space the better. If anything, to avoid external hard-drives etc. After all, the Surface Pro aims at replacing a normal laptop. And while the price is still too high for what it is, it's more fair. Unfortunately with the policy of 1$=1€, it's still to damn high to be able to sell as well as they expect I think, specially since the RT version fullfills easily all the basic needs of someone who wants a combo tablet/laptop to work.
(Gamers on the other hand would be better of with the Pro...but gamers will buy a normal PC)

I am very happy with my 128 Pro. :-)

The pre-installed Office 2013 on a Pro is the real news!

I would definitely have purchased one with 256GB. I have to get creative about what content I have synced on my 128gb Surface unfortunately, otherwise it would just about have zero free space.

Definitely 256. I do a lot of photography and keeping pictures on SD cards (slow) or even flash drives (I have a USB 3 SanDisk that is pretty fast) isn't the same as having it on the internal SSD. Forgetting the speed difference, even with the external drives setup as folders most programs, including the built in photo software, doesn't show the pictures as being on the Surface. It wants you to import them to view them. I have 100GB of pics on my externals. The more space and options the better.

Same here, I´m also a photographer and would definitely have picked up a 256 gb version given the chance. It is a bit of a pain that you can´t add to the library external drives and photos on the sd cards.

It the photo libraries work like the music one you can get it to the library by doing the mount drive trick, just bing sd card music in surface pro library.

the 64GB will support a 128GB card, and with Skydrive and compatibility with flash drives, you don't need it. The IPad doesn't even come close. If you need more than that, then you should just use an ultrabook. I really like the touchcovers! They should make those available throught the Microsoft store and let Americans have the option of buying those.

i dont get why people keep mentioning skydrive as extra storage space. you do know that shit syncs with your local harddrive for easy acces? so it doesnt really add anything to your original storage capacity.
Now you could not sync it and just fetch everything from the cloud every time but that seems cumbersome.

If you strictly use the Metro app, I believe it's strictly cloud based with nothing being local. It does make it a possibility for more storage, but it is cumbersome to go through all my files on my Surface RT. Not sure if it's the slow Tegra 3 or network limitation.

Hmmm... I don't think you have thoroughly explored the ability of SkyDrive. You can install on one PC, sync folders from that computer to your SkyDrive, then access it from your tablet and have full access to all those files. And if you create a file, you can save directly to SkyDrive and not to the local hard drive. So you can very much extend your storage space this way. You can also save to SkyDrive from office directly, from any computer running office 2010, without having SkyDrive installed on the machine your using (like at work or school or a friends house... Anywhere). Also you can log into SkyDrive and use office web apps to create office documents with limited (but better than google docs) formatting, and this can be done from any browser on any PC that doesn't have Office installed.... So yeah, lots you can do with SkyDrive.

Ok, I just bought the 128GB Surface Pro last night, should I return it?

There is no mention of when this might be available anywhere else and it could be months. Decided if you can wait that long.

I'm going to test this out first, but I can't see myself waiting for X months.

Hate to say it, but I would return it. I've been jonesing for a Surface Pro but Haswell is right around the corner which will significantly affect battery life (possibly add another 4-5 hours at a minimum). I'd like to see MS offer that with 256GB of storage and MS Office pre-installed. They want to move units? This would do it in a heartbeat.

Techiedude

I can't see myself getting a surface pro regardless of the amount of storage. The screen is too small and I have no desire to touch the screen with my fingers.

I thought the same thing. Then my wife got me the Pro and I haven't used my laptop since. It is only the 64Gb version but I just use my Homegroup with my PC and it works great.

My guess is the US sees the same $999 deal with s Haswell chip for the Holidays. Let's see a 13.3 with Haswell and 6GB RAM and WiFi AC

Just want the next generation of surface with haswell to have this storage.

Come on Mike, no props for sending in this article that I found! For shame! :P I would of expected more giant robot touchcovers though

Or he could just pick one up next time he goes to Japan. Since he can switch keyboards around the problem with having a keyboard in an alien language disappears. I will definitely pick one up next time I'm there, which would be during August.

Hmm, this is so amazing. If they don't announce anything I'll ask my partner to pick one of these up instead.

.
Good to have so much storage but we need LTE/4G connectivity!!!

Internet Sharing works great on Windows Phone. It also saves on the cost of separate data plan for the Surface.

Dammmn them even though Japanese are awesome but still xp

Is no one at all jazzed about those awesome looking covers and jealous that only Japan gets them? =P

While the 256Gb of storage is really nice I want to be able to upgrade the system memory to 16Gb instead of just 4Gbs.

I'll be jealous of the first market to get a 16:10 Surface Pro.

No way! Ugh...gimme gimme! It's my birthday next month (bats eyes)

Jealous. I bought a 128 pro at launch, but am more jealous of the bundled Office they (and RT) gets.

I read "pre-installed" when it comes to Office 2013. To me, based on Microsoft experience, that means it is pre-installed to save you the trouble of downloading it or having to install from DVD Drive or USB... But not necessarily "licensed". It may simply be a "trial". Hopefully not, but we'll see I guess.

Now, admittedly, if Microsoft had priced Surface RT with Office 2013 at $299... Then actually advertised that Office was "included for free"... They would have sold a ton of them over iPad. Just now, Microsoft is finally getting around to advertising the fact that RT includes Office.

Microsoft upgrading the SSD to 256GB is ok. What Would Be Very Nice would be, Microsoft Making the SSD ACCESSIBLE for the Customers to be able to Upgrade the SSD to what Size the Customer Wants or what the Customer Can Afford. Microsoft had designed the Surface Tablet to be a Full Fledged Computer in the Form of a Tablet.
When people buy a Computer, they Usually Upgrade the Storage. The Hard Drive / SSD to a Larger one. Microsoft had listened to what the Customers have Been Demanding and Upgraded the SSD to the 256GB Model to make the Customers Demands Feel like they were listened to and answered. If ANYONE AGREES WITH THIS POST, then Comment Here in this Post as Well as Contacting Microsoft either Directly by yourself or by just Copying and Pasting this Post to Microsoft. If and When you Copy and Paste this Post with All of the Following Comments, send it to Bill Gates at Microsoft to his Company E-Mail Address https://www.windowscentral.com/e?link=https2F%2Fclick.linksynergy.co... and if enough E-Mails go to Him there, then Microsoft Would Have to Listen Again to Us Customers Who are Making Another Demand that should have Not have even been an Issue in the first place, because Microsoft should have Made the SSD ACCESSIBLE ON BOTH SURFACE RT AND SURFACE PRO MODELS!!!!

I could care less about a 256GB Surface Pro - which is to say that I care quite a bit!