3 tips and tricks you can use to raid skeleton forts in Sea of Thieves
Skeleton forts in Sea of Thieves are full of riches beyond your wildest dreams, but getting to that booty is very difficult if you go in unprepared.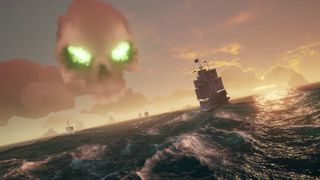 The vaults found in the hearts of Sea of Theives' skeleton forts contain a huge amount of treasure — over ten thousand gold coins worth of chests, skulls, and artifacts, to be specific. However, getting into the vault is not an easy task. You'll need to sail your way through heavy cannon fire to even get to the island, and once there, you'll need to fight your way through 15 grueling waves of skeleton enemies.
A pirate crew prepared with a plan, though, can complete this gauntlet much easier then a crew that isn't. Here's three tips that will help you conquer skeleton forts and take all the loot within.
Sail at full speed towards the fort
Since forts are protected by gun emplacement towers that will lace your vessel with cannonballs, it may seem like a good idea to pepper them with your own weaponry to destroy them before moving in. This won't help — the AI skeleton gunners are deadly accurate at any range, and it can be difficult to line up a good shot on the top of the towers with your cannons. Any errors in your crew's play and you'll be meeting a watery grave.
Instead, turn your ship to directly face the fort and go full speed, making sure to keep your sails in the wind if possible. You will get hit a few times, but getting right up to the island puts your ship in the cannons' blind spot, meaning your ship is no longer in danger. An added bonus of not fighting the tower gunners is that you'll hear them start shooting ships of other players if they approach, warning you of their presence.
Cutlasses are your best friend
Firearms are great, but unfortunately for you, ammunition for them is scarce during raids. There's only one ammo box at each fort, and they're usually in dangerous places near where enemy skeletons respawn. For this reason, you would be wise to bring along a cutlass in place of one of your two handheld guns.
Not only do cutlasses not require ammo, they're also a great weapon for taking on hordes of foes because of how fast you can swing them. A group of players with cutlasses can cut down over a dozen skeletons in seconds, so there's no better weapon to bring with you.
Lure skeletons into cannon sightlines
While it's true that cannons are primarily meant for ship-to-ship combat, their ability to decimate infantry on land should not be underestimated. A well-aimed cannonball can kill a large group of foes, so if your crew is starting to get overwhelmed, it may be wise to use them during the raid to do some heavy damage.
The skeleton enemies will mindlessly chase players everywhere except into deep water, so luring them all to the beach where you anchored your ship is a good idea. They can't follow you through the water, and they'll be left wide open to your vessel's cannonball barrage. If your ship isn't in a good position for this, then you can employ similar tactics in the forts by baiting them in front of the cannons in the fort's center area. Don't hit a powder keg with one while a teammate is near, though, or else they'll be instantly killed.
Your thoughts
Do you have any strategies for raiding skeleton forts? Let me know in the comments.
Read: Sea of Thieves buyer's guide
Sea of Thieves is available now for $59.99 on Xbox One, or you can play it as part of the $9.99/mo Xbox Game Pass.
Windows Central Newsletter
Get the best of Windows Central in your inbox, every day!
Brendan Lowry is a Windows Central writer and Oakland University graduate with a burning passion for video games, of which he's been an avid fan since childhood. You'll find him doing reviews, editorials, and general coverage on everything Xbox and PC. Follow him on Twitter.
This isn't entirely accurate. There are usually 2-3 ammo boxes on the islands and while ammo can be a challenge in the thick of things, it's usually plentiful. The biggest challenge to a skeleton fort is other enemy crews trying to take it from you. You should always have your anchor up, sales up and 1-2 people on your ship (If Galleon, 1 if Sloop) to spot other crews coming and fight back. Those on the island should be prepared to retreat to your ship to assist against other players as necessary. The skeletons can wait. Additionally, look for gunpowder barrels on the island. These can be dropped centrally (one at a time) and gold skeletons can be lured to them to allow you to kill them with a single well placed shot to the barrel. Supply barrels throughout the fort typically contain a large number of bananas to help you stay healed while fighting. Make sure to heal between waves and stock up between waves. Crew members fighting skeletons should stick together as a team as skeletons go down faster/easier that way and where a large number of skeletons have guns, you can flank them a bit and lessen your chances of people shot. Also helps for shadow skeletons since someone may need a lantern out if it is nighttime. Once the vault is open, prioritize the high value items first (the stronghold chest and skull are the most valuable). It helps to have someone run items to the shore and others to run them from shore to ship.

Where are the other two boxes? I've only ever seen the one ammo box on the catwalks above the central building. And I've searched everywhere, lol.

There's usually a gate/tower on the outer wall that has a cannon, ammo, a barrel or two and often gunpowder. The third may vary depending on the fort.

My problem is all the other pirates that won't even end let you anywhere near the fort.

Try communicating with them in voice chat! I've actually found that most crews will gladly accept some help on the raid and will reward you with a share of the booty :)

Knowing how to kill the different types of skeletons is essential too I would say, water, lanterns etc..

You don't necessarily need those things though, they just help you. I did three tips, so it's not really meant to be a full guide. I went with what I thought were the most important things.