5 high-capacity power banks that are great for the traveling techie
These aren't your pocket-friendly power banks, but they can be your lifeline when battery life runs short across multiple devices.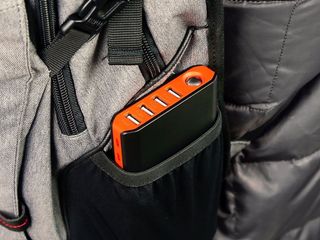 Given today's power-hungry phones and tablets, any power pack under 20,000mAh shouldn't be considered high-capacity. While the majority of these beefier backup batteries aren't suited for storing in your pocket, they're still compact enough to toss in a backpack, suitcase, or laptop bag for a quick charge when you need it. Check out these five power banks that provide enough battery to keep up with the most demanding tech-lover.
Note: When we state how many charges you can expect to get from each battery pack, we're using a hypothetical 2500mAh phone as our basis.
CHOETECH 20,000mAh Power Bank
Rocking dual-USB outputs — one dedicated to Quick Charge 2.0 speeds — this power bank from CHOETECH has a 20,000mAh capacity. What's more, it can charge off of either a Micro-USB cable or an Apple Lightning cable, giving flexibility to anyone dealing with multiple devices. Keeping you on top of how much charge is left are four LED lights on top next to the main power button.
The first USB output provides a steady 1-amp charge and even devices that don't have Quick Charge 2.0 technology can still utilize the second blue-coated output thanks its safe auto-detection feature. When topped off, you should get 6 to 7 charges off this power bank.
See at Amazon (opens in new tab)
Anker PowerCore 20100
Okay, so maybe this power bank can fit in your pocket — it's also one of the most compact power banks available for its ample 20,000mAh capacity. Anker's PowerCore 20100 delivers 2.4 amps to both of its ports for a total output of 4.8 amps. It has four blue charging LEDs on the front for easy checks on how much battery life remains in the PowerCore; and when you do need to recharge you can do it with the included Micro-USB cable. Anker also features their Power IQ and VoltageBoost technologies to provide the fastest and safest charge to each connected device. Expect approximately 6 to 7 charges when the PowerCore is at full capacity.
See at Amazon (opens in new tab)
EasyAcc Monster 26,000mAh Power Bank
If you're after more than just a pair outputs to keep your phones and tablets charged up, the EasyAcc Monster packs a 26,000mAh capacity and provides four USB ports as well as two Micro-USB inputs on the side that can work in tandem decrease recharge time up to 50%. With a total output of 4.8 amps, the more devices connected means a slower charge, but the overall convenience, functionality, and capacity outweigh reduced charging times.
Next to the USB outputs is a built-in LED flashlight that's handy for seeing in the dark, and on top are four tiny lights that indicate how much battery life remains in the power bank. EasyAcc has added plenty of safety features to prevent any damage to your connected devices, too. Capable of providing 9 to 10 charges, the EasyAcc Monster makes a great external battery to have on hand.
See at Amazon (opens in new tab)
Anker Astro E7
The Astro E7 features a huge 26,800mAh capacity with a maximum output of 4 amps to charge up to three devices simultaneously. A single 2-amp (max) Micro-USB input charges the premium LG battery cells inside when connected to a proper power source. A small LED flashlight is located on the front, adding easy visibility in the dark, while four charging LEDs can be found on top of the power bank. As with most Anker power banks, their PowerIQ technology pushes the fastest and safest possible speed to each connected device. Fully charged, you can expect approximately 10 charges off the Astro E7.
See at Amazon (opens in new tab)
Intocircuit 32,000mAh Power Monster
This beastly backup battery rocks an impressive 32,000mAh capacity that's able to provide power to phones, tablets, and even laptops. It has two USB ports on the front — one 2.1-amp and one 1-amp — next to a DC output for connecting any one of the included laptop cables. On top of its brushed aluminum chassis is an LCD display that provides readings of its power level and charging status. With over 13 notebook connectors and AC adapters for the U.S., UK, and EU, the Intocircuit Power Monster is the ideal power bank for serious traveling techies. Expect around 12 charges when it's topped off.
See at Amazon (opens in new tab)
Got a 50,000 mAh power bank and it's sweeeeet.

Geez only 50,000 mAh? lol Use that for the apocalypse.

Yea I have an iPhone haha :P

I have a 20000 nAh capacity power bank but it hardly charges my phone to 79% for 1 time? Am I officially ******!!?? I have a Lumia 720 and use the 2.1 V plugin in for my phone. There are 1 V and a 2.1V? Which should I be using?

Oooh that doesn't sound good. Either it was a cheap rubbish power bank or it's at the end of it's life cycle.

Lego that to the back of a Surface to charge all your extra tech! Lol :) Charges for days!

Just type in eBay 50,000 slim power bank or something. It's just like having another phone in your pocket.

This article was brought to you by the good folks at Amazon. Posted via the Windows Central App for Android

Yea I wish windows central would tell us which articles are sponsored. Full disclosure and all. Plus I think it's a legal requirement.

Are these generally worth the money though? I mean you can get much smaller devices (size) with a capacity of 10k-15k mAh for under £15.

I have an Anker in that range for personal use. It's wonderful. No more looking for power outlets.

Meanwhile if 26,000mAh built into Nokia 3310.... >_< lul...great scott haha

Even without 26,000 mAh, the mighty 3310 can hold power up to 2-3 weeks without a single charge!

Nokia 3310. I think most popular mobile of all time.

I'm looking for something with USB-C and a 3amp output, would the QC2.0 port on the Choetech fit the bill at all?

I got the iVoler 10000mAh External Battery Pack. It has a USB-C port for charging (3A in) that's also usable to recharge a USB-C device at 3A OUT. There's also a USB-A port for charign at 2.4A. It's a little pricey at $32, but it's small and fast.

No it won't. QC 2.0 runs 2.4A max while USB-C optimally runs at 3A and 5V (15W)... ​It's a shame they didn't consider the USB-C version of the Anker: the Anker PowerCore+ 21000mAh! http://www.amazon.com/Anker-PowerCore-Ultra-High-Capacity-External-Volta...

If only they'd come out with one that has USB-C, a small LED flashlight and the ability to jump my car. I'd buy that in a heart beat.

There used to be plenty of A type that had that

Good thing you didn't mention Kmashi. I bought one, it went bad, returned for RMA and haven't heard back from the company since. Thieves stole my money.

Need a USB Surface Pro charging cable, then these would be perfect devices. Hate that the only way to charge my Surface is from the wall

My advice. Buy one with built in Qi wireless charging. Its often very convenient for your Qi wireless charging supported phone. No cable clutter anymore or accident breaking/snapping of the powerbank charging port due accedental drops or cable snagging as you leave the table in a hurry. Your device is then rendered useless. It's the weak point of all charging banks. My 2 cents from years of experience with powerbanks on the road/travel. I wish they made two way Qi charging as well. Nokia had a smaller charging bank of about 400 MaH that could be charged by Qi but also charge phones with Qi wirless charging. Amazing device. This technology should be applied more. It make take a while longer, but I can tell you it is a blessing compared to all the different cable clutter you have to take along. For these types of practical purposes cable should be a thing of the past. Cableless/wirless charging should be the new norm for mobile devices.

I have a 20000 nAh capacity power bank but it hardly charges my phone to 79% for 1 time? Am I officially ******!!?? I have a Lumia 720 and use the 2.1 V plugin in for my phone. There are 1 V and a 2.1V? Which should I be using?

Is there possibly a device that can charge my SP3?
Windows Central Newsletter
Thank you for signing up to Windows Central. You will receive a verification email shortly.
There was a problem. Please refresh the page and try again.